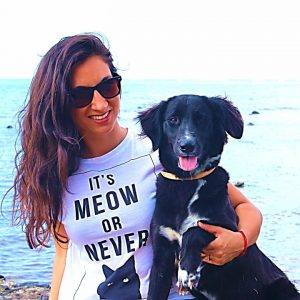 Luckily for me, Shark and I have that thing in common : we don't make long-term plans. We just follow our intuitions and desires. Well, that doesn't mean that we live in a fantasy land. One of us has to earn money… and it only can be me, right?
2016 brought me a new job opportunity. So we both moved out to Cartagena de Indias, in Colombia for a year. It allowed us to explore this wonderful country, but also Peru, Bolivia and Chile. On the way back home, we made a stop in Florida.
For 2017, my ambition is to develop the blog and my activity as a freelance in order to work from my laptop and from anywhere. Then we will see where the wind will take us!
So basically, our project is to explore the most of things everywhere we go and share our experiences with you on this blog to inspire ypu to travel with your dog.
It's the easiest and fastest way to share stuff with the world! Just so you know, I am a creative person but I am sooo far from being a IT expert. I lived on a very small and isolated island for the last 2 years, with no TV and poor internet access. When I came back to France, my super connected blogger best friend nicknamed me "the wild girl", not just because I was a bit unsociable, but especially because I was quite disconnected from the virtual world. Well, as you can see, she managed to transform me into a digital girl…
Because it's fun! And also because I talk about my dog who comes from a tropical island. But the most important reason : it is really my dog who inspired me to create a blog. Don't get me wrong. She didn't inspire me like a muse. Although she's beautiful and I love her, there's no way she'll get me to write poems or make paintings about her. She inspired me in such a way that before I shared my life with her, I never felt the desire to create a blog. But from the moment I decided to take her with me when I left Rodrigues island, I started to do a lot of research on how to travel with a dog, learn so many things, get good tips and useful information. Therefore, I felt the need to share them.
Travels with a large dog!
First of all, I share our travels and adventures, in every country we visit together. I focus on dog-friendly travels: how you can have fun traveling with a dog, trying out dog-friendly restaurants and hotels, outdoor activities and ideas of days-out. Second, you'll find plenty of dog-related information and useful doggy tips. Third, I share what inspires me. Books, movies, people, quotations, ideas… Anything that opens my eyes and my mind to the world. Finally, you'll find a gallery with series of photos about travels, dogs, or art made by me or one of my professional photographer friends!
We want to prove that traveling with a dog is not mission impossible. It can be really fun and not super expensive if you use our tips. Some prefer to travel solo, some with a friend, some as a couple, some with their children, some with a bike, some with a van, and some others with no money… so why not with a dog? This is a new way of traveling!
Feel free to let us know what you like or not and what you'd like to see on the blog.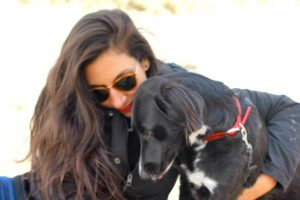 Photos & contents @ The Tropical Dog 2015-2017.