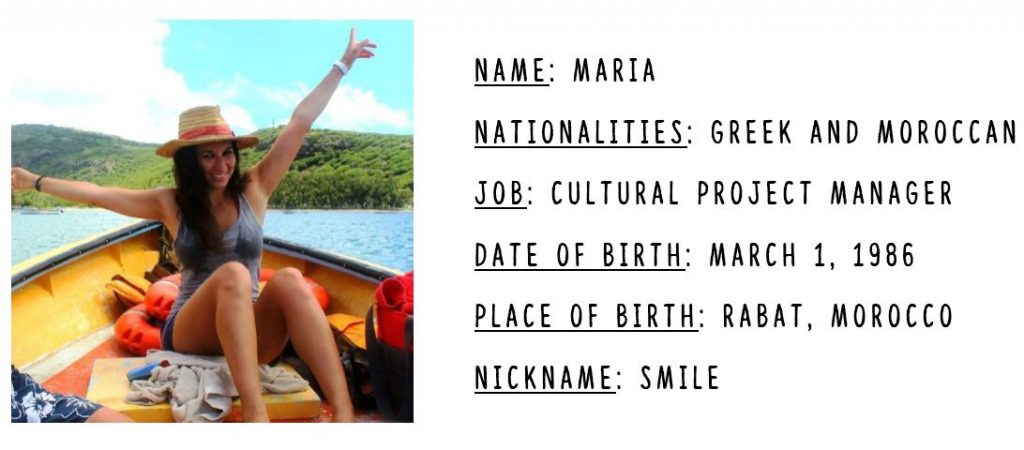 Hello!
I am a 30-year-old girl who loves travelling and who started to travel with a dog in 2014.
My mother is Greek, my father Moroccan, I grew up in Morocco, spent every summer of my life in Greece and moved to France to study at the age of 18.
In 2010, I made my first travel-dream come true by going to the USA on my own. During 5 months, I visited NYC, Washington DC, Philadephia, San Diego, Los Angeles, Hawaii and I studied English in San Francisco (I fell in love with this city). Finally, I came back to Bordeaux where I worked for a year and a half before the wanderlust got me again. So I sent job applications everywhere. As I had no answer, I decided to get a second Master's in Belgium. I had moved to Brussels a week before I got some unexpected news. I was offered a job in Rodrigues, a small tropical island near Mauritius, lost in the Indian ocean… Yeah, the dream job finally knocked on my door!
I worked as the Director of the local Alliance Francaise, which is an organization that promotes French language and culture almost everywhere in the world. I spent two exciting years over there and traveled quite often to Mauritius and La Reunion.
I returned to the Northern hemisphere in January 2015 with a Rodriguan dog in my luggage. This is where the idea of creating a blog came into my mind.
Languages spoken: French, English, Spanish, Greek, Arabic, Mauritian Creole
Studies: Bachelor's in Literature, Master's in Cultural engineering and project management
Hobbies: travelling, eating, sleeping, laughing… (basic things, but I am really passionate about each of them!)
Countries I've been to: Morocco, Greece, France, Spain, Italy, Portugal, Belgium, the UK, Norway, the USA (and Hawaii), Mauritius (and Rodrigues island), Reunion island (FR), Colombia, Panama, Peru, Bolivia and Chile.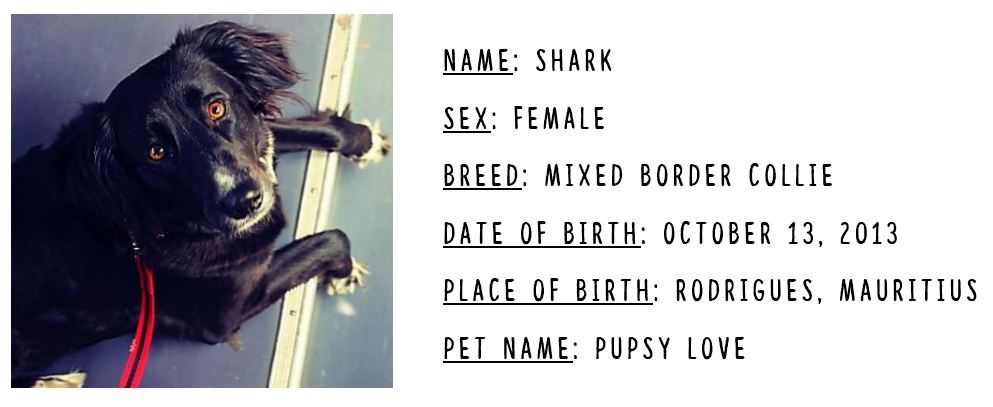 You must be wondering why I called her Shark. Well, it's not very girly. But since she was a puppy, she has been doing that strange thing when she plays. She shows her teeth and slams her jaws while moving towards the player, another dog or me. Like a real shark would do, right?
As to her pet name, it comes from a mix between "puppy" and yeah… "pussycat" (sometimes I see her as a cat… I know it's weird), and "love" because obviously that's what I feel for her.
Characteristic: she looks like a dog but deep inside she is a cat.
Hobbies: chasing any smaller animal, from flies to chicken; rolling around in the sand; jumping on her human friends trying to kiss them (really, she targets the mouth); sleeping with me on my bed (very bad habit) with her head on the pillow; tearing anything to little pieces just for fun. Definitely like a shark 🙂
Countries she has been to so far: Mauritius, Morocco, France, Greece, Colombia, Peru, Bolivia, Chile and the USA.
Learn more about OUR STORY & OUR PROJECT
Photos & contents @ The Tropical Dog 2015-2017.