You cannot go to Colombia without visiting a coffee farm! Colombian coffee is famous worldwide and Colombia is among the top 3 coffee producing countries on the planet with Brazil and Vietnam. As a coffee lover, I could not resist to learn more about my favorite hot drink. Thanks to Colombia4U, I found a dog-friendly coffee farm during my trip to Pereira and spent a couple of hours on a private tour in Don Manolo farm with Shark.

Don Manolo is a small coffee farm located just a few kilometers away from the city of Pereira. My private driver went to pick me up with Shark at our hostel at 8.30 am. After a 20-min drive, we arrived at the farm and were nicely welcomed by the owner himself. Don Manolo has two dogs in his property and he didn't hesitate to put them on leash so that Shark could explore the garden freely.
Then, a nice and friendly lady invited us to start the private tour. She first told us about the history of coffee production in Colombia. The country started to produce coffee for commercial purpose in 1835. In 1927, the Colombian Coffee Growers Federation was created to gather all the producers, organize the production and the exportation.
In 1959, the Colombian Coffee Growers Federation created Juan Valdez®, a fictional character who represents Colombian coffee growers and their traditions. Since then, Juan Valdez – accompanied by his mule Conchita – has stood as a proud symbol of Colombian coffee growers and their dedication to producing the world's finest coffee. In 2002, the Juan Valdez® icon was placed on all products bearing its name and on a number of coffee stores where you can enjoy an authentic Colombian coffee experience in 22 countries.
Now, do you know the difference between the two main species of coffee beans that exist in the world, coffee Arabica and coffee Robusta (also known as Canephora)? More than three-quarters of the beans that are sold in the world today are coffee Arabica. They are the highest quality beans and can only grow at high elevations like in the Colombian Andean mountains. They have half the amount of caffeine as Robusta and have more pleasing flavours and aromatic properties.
Truth is I had never imagined how hard and long it is to make coffee. Before the coffee bean is ground down and poured into our coffee cup it goes through a series of processes spanning over a period of months: harvesting, picking, sorting, processing, hulling, polishing, cleaning, sorting, grading, tasting and finally roasting!
Before the roasting step, the beans are referred to as Green beans and are ready for exporting. Colombia produces almost 900.000 tons of coffee beans each year. The roasting is normally done in the importing country because freshly roasted beans must reach the consumer as quickly as possible.  The process of roasting the coffee beans involves roasting them at 550 degrees Fahrenheit.  This is what produces the flavor and aroma of the coffee.  Once the beans are removed from the roaster they are immediately cooled with by air or water.

After the explanations and the guided tour through the plantations, it's time to taste some delicious freshly made local coffee in this oasis of calm and verdant surroundings. This may sound crazy, but it's actually hard to find good coffee in Colombia since the majority of the production is meant for exportation. So trust me when I say: I felt so happy and lucky to enjoy a couple of cups of coffee at Don Manolo's farm! Icing on the cake: the owner's wife offered me an exquisite ice-cream with a sweet coffee beans home-made toping 🙂 Couldn't help buy some jars of this original jelly and a bunch of coffee packs of course!

Tips to prepare the perfect cup of coffee:
Use tasteless and odorless water
The water should be hot but not boiling
Use clean filter and clean coffee-makers (clean them only with hot water, no dish soap)
Last but not least, use good fresh coffee (do not keep it in the fridge)
Expresso: 7 g of coffee for 30 ml of water
Filtered coffee: 7-10 g of coffee for 100 ml of water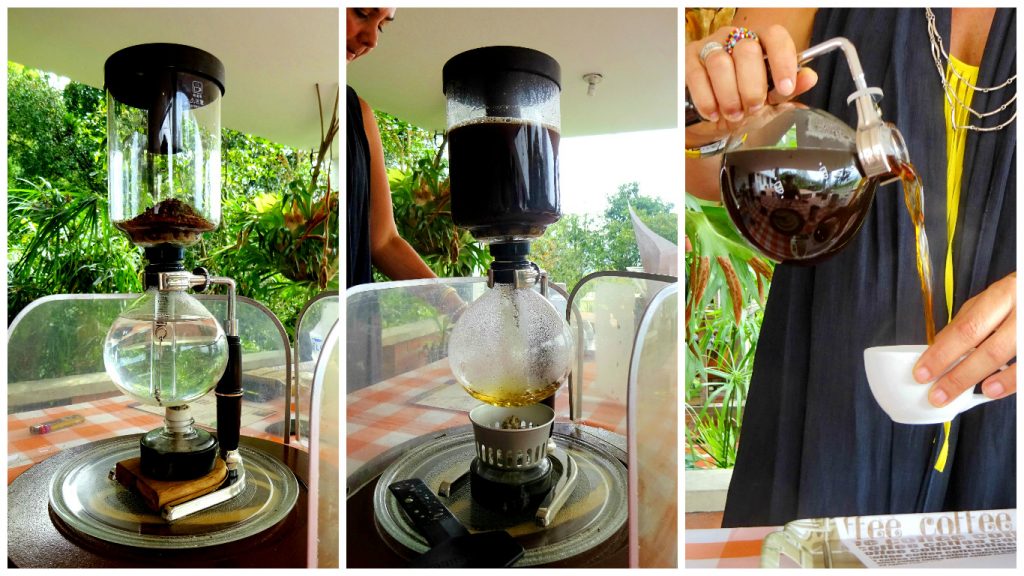 Book your Don Manolo coffee tour with Colombia4U
It includes:
Return transfer from hotels in the Coffee Triangle
Coffee Tour
Local guide in Spanish (optional: bilingual guide)
Monday to Sunday, departs at 9am. Duration: 4 hours approx.
Photos & contents @ The Tropical Dog 2015-2017.