Do you wonder if traveling with a dog in Peru is possible ? I am happy to share my experience 🙂
After a year in Colombia with my dog Shark, it is time for us to go back to Europe. We cannot leave South America without visiting a few countries, though. The first step of our Latin tour is Peru. Not only is this country famous for being home to Machu Picchu, one of the Seven Wonders of the World, but also for its delicious gastronomy and its fascinating history. Mid-December 2016. We fly from Bogota to Lima. Shark travels as always in the hold. There is so much to discover in this country but as we only have 10 days, we are going to explore the three must sees: the capital Lima, the imperial city of Cusco and the famous ruins of Machu Picchu.
LIMA WITH A DOG  
Lima is the third largest city in South America. It lies along the Pacific coast and therefore offers many beachfront areas to walk dogs. As we stay in a dog-friendly hostel beautifully-named The Flying Dog, we enjoy daily walks in the vibrant Miraflores district and the nearby Parque Kennedy which hosts the Virgen Milagrosa Church and the Municipal Palace. On an afternoon, we take a long stroll following the coastline to Barranco, a laid back district with many restaurants and cafés that welcome pets. The best spot to watch the sunset on the endless Pacific Ocean!
Our favorite dog friendly accomodation in Lima : Flying Dog Hostels
Dog friendly restaurants & cafés in Lima :
La Bodega Verde (Jr. Sucre 335 A, Barranco)
Las Vecinas (Jirón Domeyer 219 , Barranco)
BLU: il gelato del barrio (Jr. 28 de Julio 202, Barranco)
Homemade (Calle Revett 259, Miraflores)
Beso Frances (Parque Intihuatana Malecón de la Reserva, Miraflores)
La Casa de los Anticuchos (Enrique Palacios 1292, Miraflores)
BuenaVista Café (Malecón Cisneros, cuadra 15, Miraflores)
Street Burguer (Calle San Martin 459, Miraflores)
Sr. Saltado (Av. Diez Canseco 331, Miraflores)
Puku Puku (Pardo y Aliaga 695, San Isidro)
Armonica cafe (Av. La Mar 1167)
CUSCO WITH A DOG
A few days later, we fly to Cusco, the historical capital of the Incas empire. It is located in the Andes mountains around 11,200 feet above sea level. Luckily, neither Shark nor I get altitude sickness, so we go straight to Plaza de Armas, the fabulous colonial style main square, then climb to Plaza San Cristobal to admire the breathtaking view on the city. Shark plays with some street dogs on the way and looks clearly intrigued by the friendly lamas, walked by women in colorful traditional dresses.
Our favorite dog friendly accomodation in Cusco : Inkas Garden Apartment and Kokopelli Hostel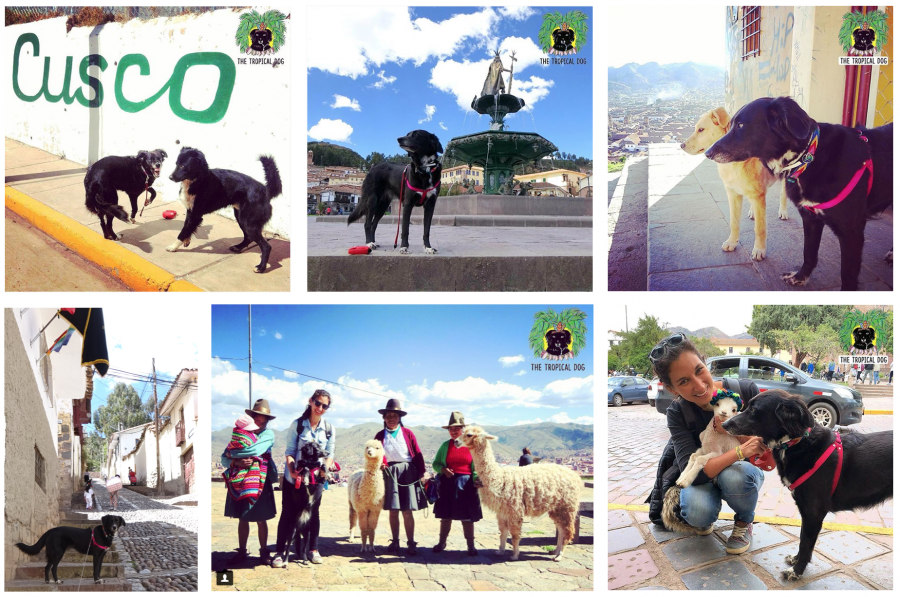 MACHU PICCHU WITH A DOG
On the next day, we leave for Machu Picchu. There are only two ways to get there. The fastest and more comfortable way is by train from Cusco but it is quite expensive for me. Plus, pets can only travel in the cargo wagon in their cage, not with passengers; although it seems negotiable for very small pets. So, I choose the more adventurous way to reach Peru's most visited site.
After a 6-hour ride through the Sacred Valley, the van arrives at the end of the road, literally. That place is called Hidroelectrica. It represents the starting point of the breathtaking hike through a tropical landscape to reach Aguas Calientes, the touristic village down the Machu Picchu mountain. It is impossible to get lost as the 2-hour flat path follows the train rails. We can even see a glimpse of the ruins on the top of the mountain from the path. The perfect opportunity to take some pictures with Shark as pets are strictly prohibited in the protected archeological site.
I have made arrangements with the hotel to let Shark in the room for a few hours while I visit the legendary Incas citadel. As much as I hate leaving my dog behind, I am deeply amazed by the holy beauty and the mysterious vibes of this unique sanctuary. As to Shark, she enjoys a nice walk when I get back to the hotel and a long hike on the next day to get back to Hidroelectrica.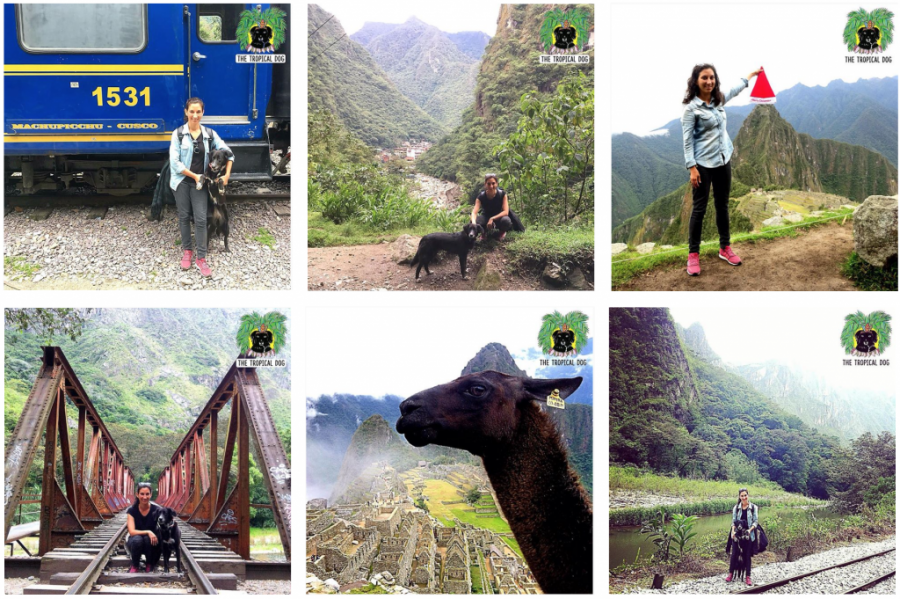 PET IMPORT REGULATIONS FOR PERU
To be admitted in Peru, dogs and cats must be accompanied by :
a vaccination certificate according to the pet's age
a veterinarian health certificate, specifying products used against parasites
an official health certificate for export of pets, issued by the official entity of country of origin.
One live animal as pet is allowed. Pets must be presented to the SENASA office (National Service of Agricultural Sanitation) upon arrival. A fee will be charged for the evaluation. In 2017, I paid $30. Warning: Pets arriving without proper documents will be quarantined or re-embarked to point of origin. Check out the IATA's website for updated information about pet import regulations for Peru.
Policies about traveling with a pet on the main South American airlines: AVIANCA and LATAM.
Read my post about "how to travel with a dog by air?"
THE VIDEO ABOUT MY JOURNEY IN PERU WITH MY DOG
Our journey in the Land of the Incas will remain among our most cherished memories. We are now heading by bus to Bolivia, another country we are thrilled to explore.  To be continued…
Ready to explore Peru wity your dog? Already been there? If you have a question, leave me a comment below.
Photos & contents @ The Tropical Dog 2015-2018. 
FOLLOW US ON