Wondering how to plan a road trip in Western Crete with a dog ? Well, I just came back from a 2-week vacation on the largest Greek island with my dog Shark, my best friend the blogger Camille in Bordeaux & her husband. I absolutely loved everything about Crete! The beauty of the landscape, the hospitality of the people, the delicious local products and the goats everywhere!
We arrived in Crete by air with the Greek company Aegean airlines, Camille and her husband from Bordeaux, Shark and I from Athens. During the first week, we explored the Western part of Crete, from Heraklion to Paleochora. In this post, I share with you my experience and all my tips. In my next post, I will write about my second week in Eastern Crete. Stay tuned! Ready for a road trip in Western Crete with a dog?
How to plan a road trip in Western Crete with a dog?
NO ROAD TRIP WITHOUT A GOOD CAR…
I LOVE road trips, so does Shark! After a road trip in Western France with my dog in 2017, I made this road trip in Crete in June 2018. As I travelled with my pregnant best friend, her husband, my dog and a lot of luggage, we needed a comfortable and spacious car to hit the road. For a year now I have been using the French travel price comparator liligo.fr, especially to find rentals car at the best rate online. Once again, I could rent a SUV according to our budget. Out of curiosity, I compared the price directly with many rental agencies, but it was unbeatable.  Ready for a road trip in Western Crete with a dog?
Crete is a very big island and there are a lot of mountain roads. Therefore, the distances on the map may seem short, but it takes more time. To give you an idea, there is the time it took us to ride from one place to another:
Heraklion – Charkia: 1h30
Charkia – Rethymno: 30 min
Rethymno – Argiroupoli: 30 min
Argiroupoli – Malaxa: 1h00
Malaxa – Chania: 25 min

Chania – Kissamos: 45 min
Kissamos – Balos beach: 30 min
Balos beach – Elafonissi: 1h20
Elafonissi – Paleochora: 1h10
Paleochora – Heraklion: 3h15
Map of our road trip 
DOG FRIENDLY ACCOMMODATION
To organize the accommodation part of this road trip in Western Crete with a dog, I looked for hotels, guest houses and apartments on Booking. It appears among my 6 useful websites to plan a trip with a dog. My top criteria were: 1/pets allowed for free (even large dogs like mine), 2/free WIFI, 3/ free parking.
The cheapest accommodation cost 40 euros (a basic room in Paleochora) and the most expensive 81 euros (a house in Malaxa). The prices are indicated for 3 people per night in June. There is an extra 50-cent tax per night for each accommodation in Crete. As we wanted to explore as much as we could, we did not spend more than a couple of nights at the same place.
HERAKLION: we booked 1 night at Traditional House Kronou, 4 kilometers away from the airport. This charming small house is located in a quiet area. 
CHARKIA: as we didn't want to stay in the city of Rethymno, we found the 160 m2 village house "Arkadi" in the village of Charkia, 30 minutes away in the mountains. The Makripodis family owns this immense and well-furnished house with a beautiful mountain view and we were the first to rent it! With no doubt the best price for value ever! The house offers everything you need, plus breakfast products and raki (the Cretan alcohol). Our hosts also gave us fresh eggs and homemade cookies to welcome us. We felt more than at home! We stayed 2 nights in this village but we promised the Makripodis couple and their daughter Anna than we will come back!
MALAXA : as I said before, we didn't want to stay in cities. That's how we found Malaxiana houses, another beautiful house in a small village to spend 1 night. The owner Dimitris has renovated his family houses with a lot of passion and an artistic touch. We loved the cosy decoration, the spacious terrace with mountain view and the swimming pool surrounded by trees.
KALIVIANI: we stayed 2 nights at the wonderful Balos Beach*** hotel & apartments, the closest accommodation to the famous Balos beach. This family-run hotel offers a lot of facilities in a peaceful location. We loved the rich breakfast buffet, the great swimming pool, the spacious and elegant rooms, the quiet beach in front of the hotel and the lovely staff. Pets are allowed everywhere except from the restaurant and the swimming pool area. I could easily walk my dog on the beach and in the street. This hotel is the best option to explore the Western coast of Crete (Balos beach, Falassarna beach, Elafonissi beach).
PALEOCHORA: we spent 1 night at Nicole Rooms. We booked a basic triple room. We appreciated the nice rooftop, the kindness of the host and the location close to the beach. It was easy to park in the street.
Note: the above links are affiliate links (except from Balos beach's link). In other words, if you book a hotel through one of these links, Booking gives me 25% of its commission. It has absolutely no impact on the price you pay, but I get to make some money. It represents around 3 euros for a 65-euro reservation. This way, you contribute to financing part of my trips with Shark. Thanks a lot to those who will do it!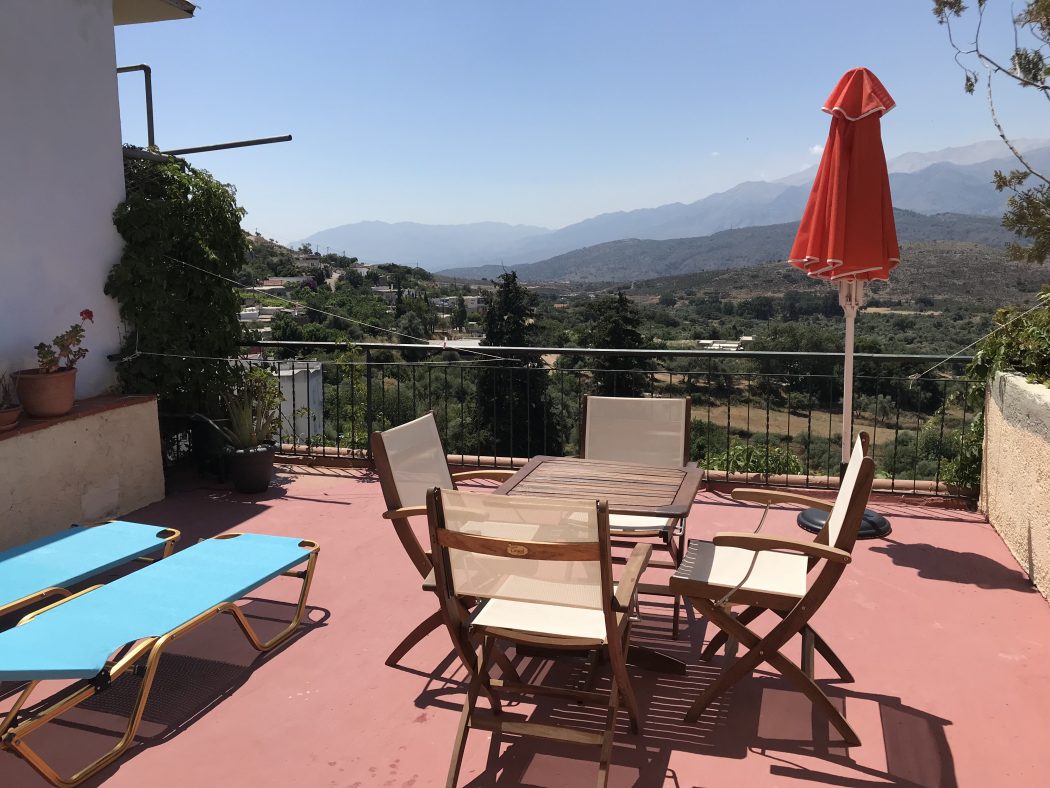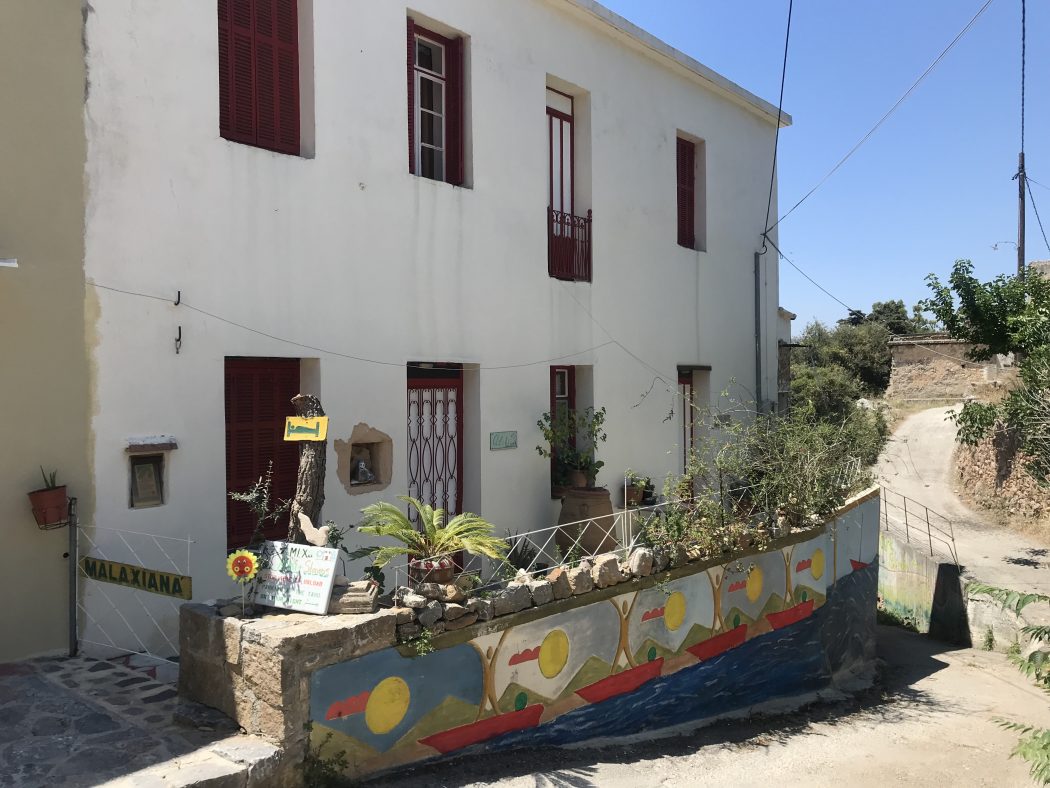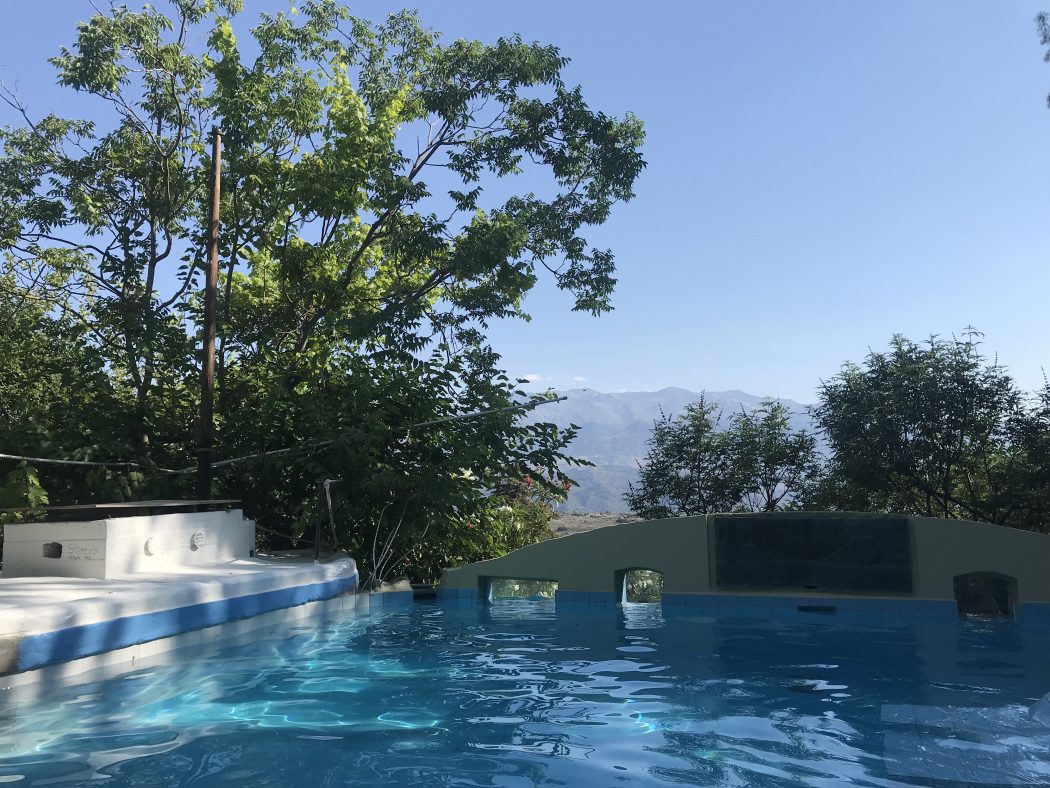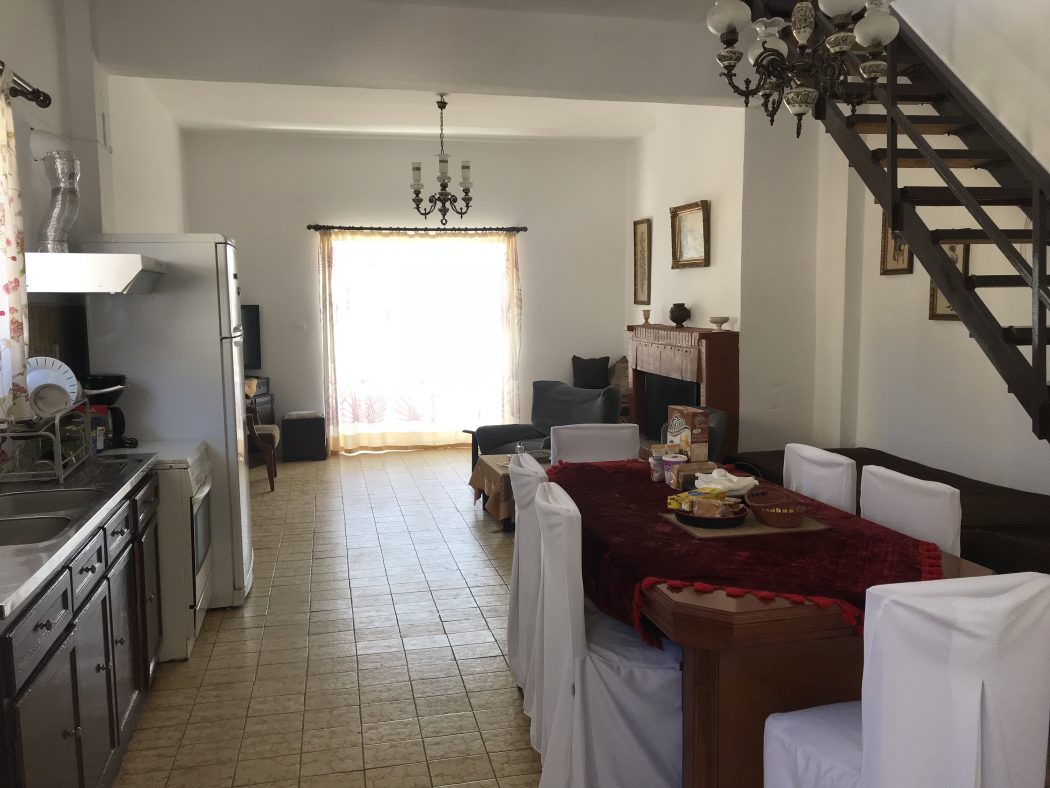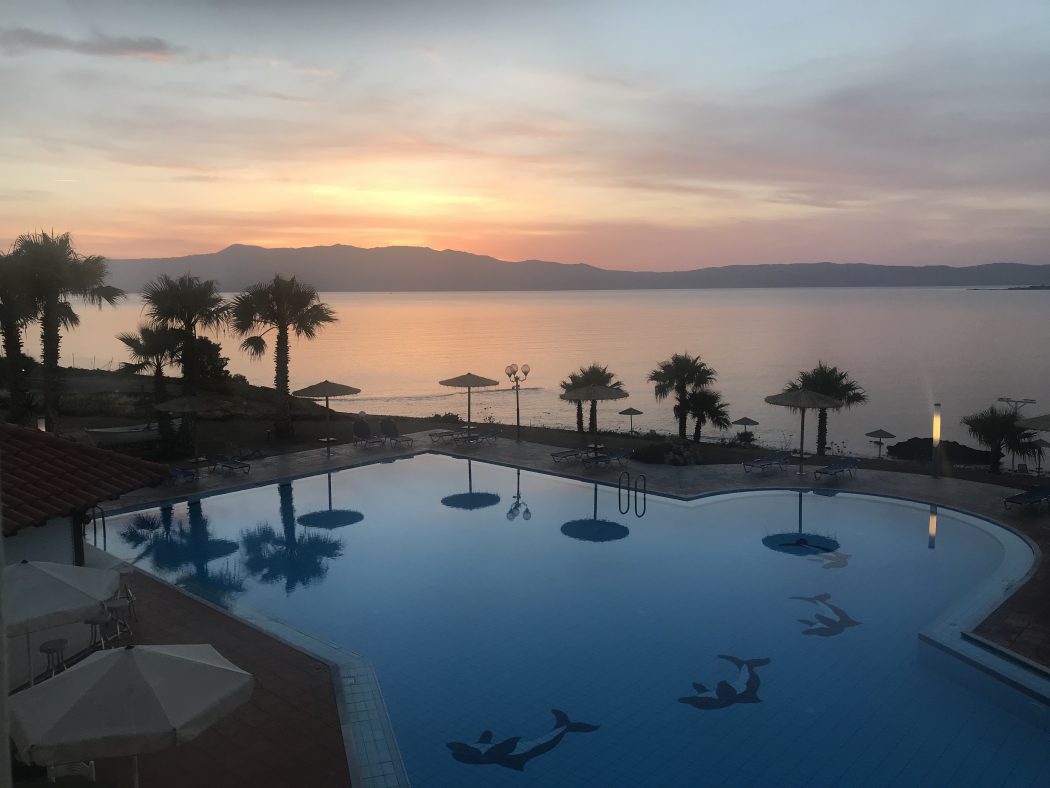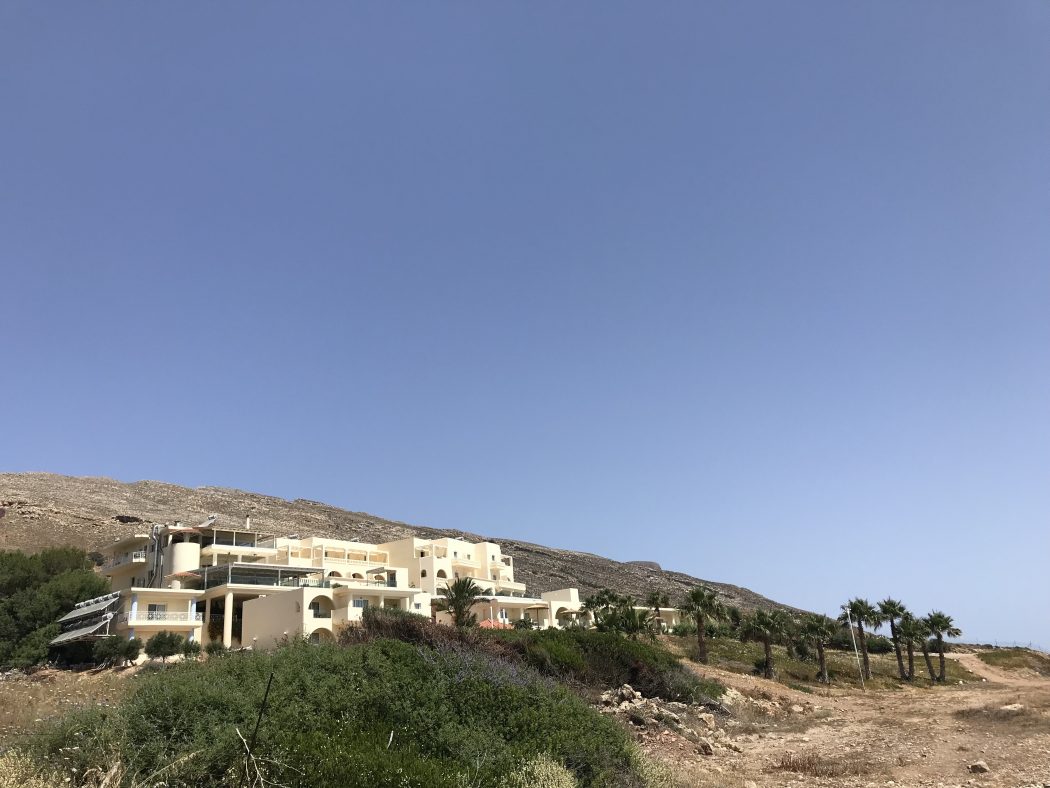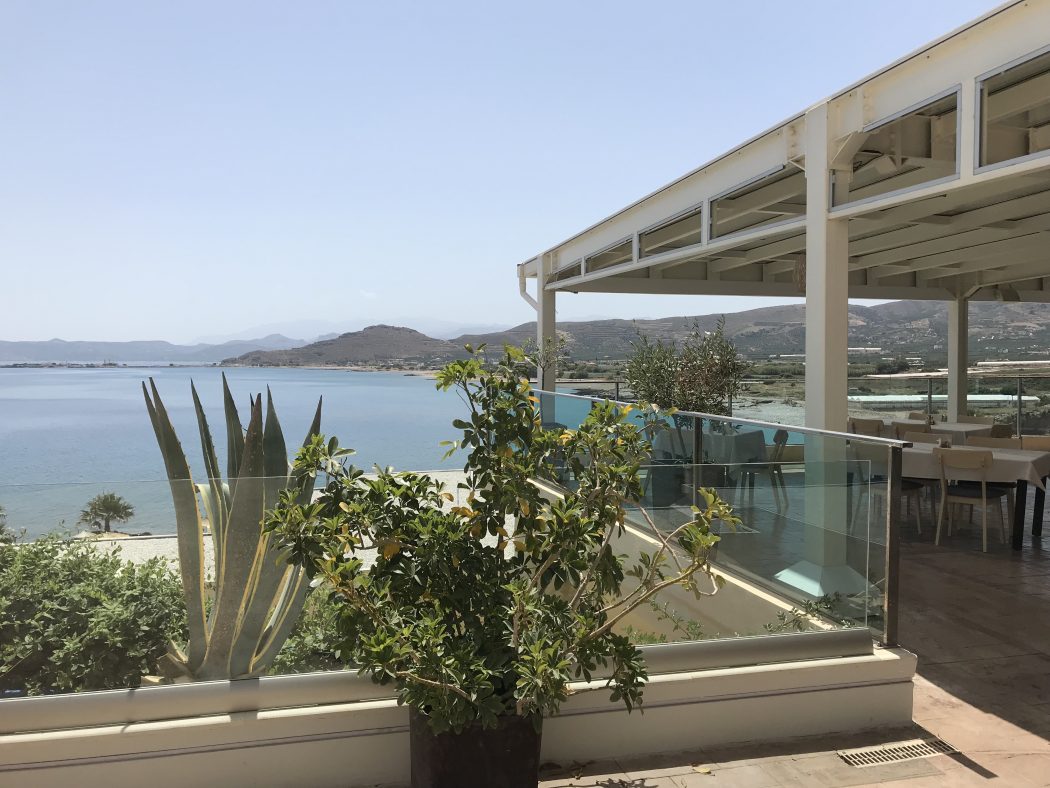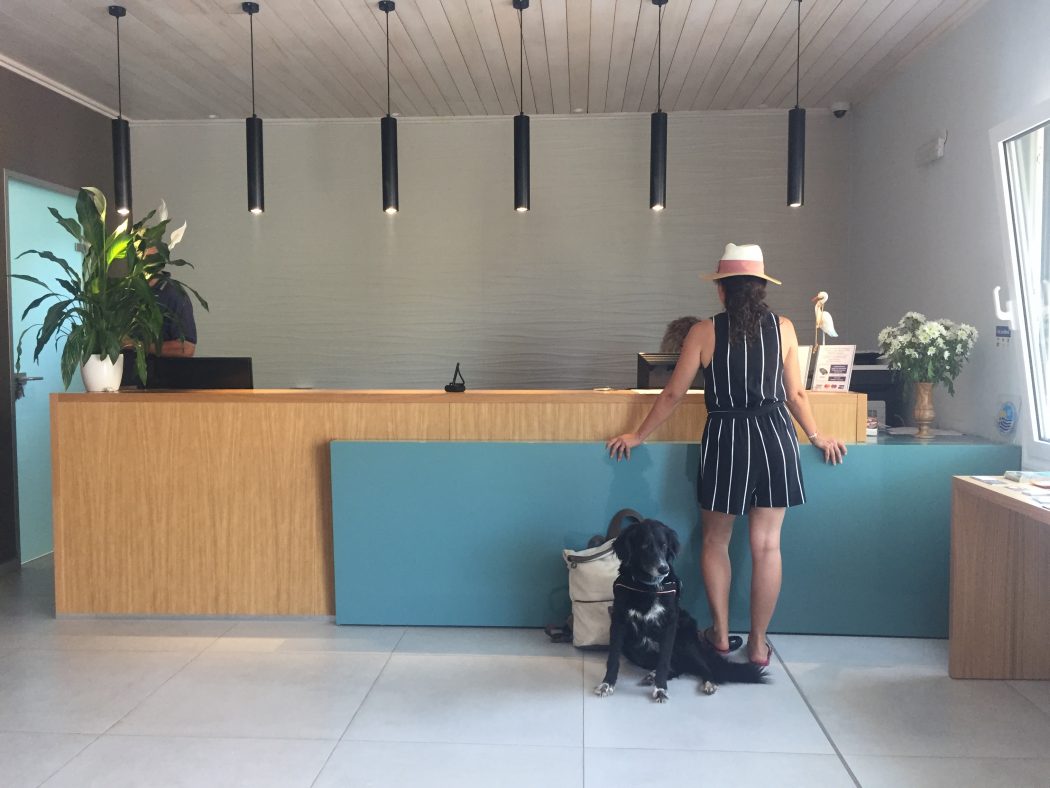 DOG FRIENDLY RESTAURANTS
In Greece, like in many other countries, pets are not allowed inside restaurants for sanitary reasons. That's not a problem though because nobody want to eat inside during a sunny day. Plus, Greek restaurants always offer a nice terrace. Dogs must be on leash and not disturb other customers.
Cretan food and diet are world-famous. We ate a lot during our trip as the portions are generous and the prices very cheap (around 10-12 euros per person for a complete meal). Dessert and raki are always offered. As food lovers, we chose carefully every place and were never disappointed. There goes our selection:
HERAKLION: we had breakfast at Kafeneion O Lakkos, a few meters from our accommodation. It's located on the adorable and shadowed place with beautiful wall paintings. They also serve food. The owners have a dog and a cat.
CHARKIA: The family who rent us their house in this village owns the Taverna tou politistikou kentrou Charkion, the only restaurant of the village. Giannis and his wife Aristea cook delicious homemade food in a warm atmosphere. We drunk a lot of raki there with the locals!
ARGIROUPOLI: There are a lot of touristy restaurants in this village famous for its small waterfalls. As we love good food and authentic atmosphere, we had lunch at  Taverna Archaia Lappa owned by a Cretan couple Dina and Petros. This place was recommended by the French travel guide "Le Routard". We fell in love with the outdoor decoration, the kindness of the staff and the exquisite specialties! Big crush!
CHANIA: We also had a cruch for To Stachi, a family-run restaurant that serves vegetarian and bio slow food. We tasted a variety of local and traditional dishes like Boureki and stuffed vine leaves stuffed with rice. Warm welcome and super tasty food! Later, we had an iced coffee at the Sailing Club Sea Lounge and Espresso Bar near the Maritim Museum. Perfect to enjoy the beautiful view on Chania's port!
KALIVIANI: We had dinner at Gramboussa Restaurant in this small village, 1 kilometer away from our hotel. Very good food, a lot of choice and lively atmosphere! There are cats and dogs around.
ELAFONISSI: On our way to Elafonissi, we stopped at the family-run adorable Sunset Taverna. We loved the homemade delicious food and the wonderful view on Chrisoskalitissis monastery.
PALEOCHORA: There is excellent veggie place called Third Eye restaurant, just in front of our accommodation. At the corner of the street, we had breakfast at Atoli Cafe. They have some tables on the beach.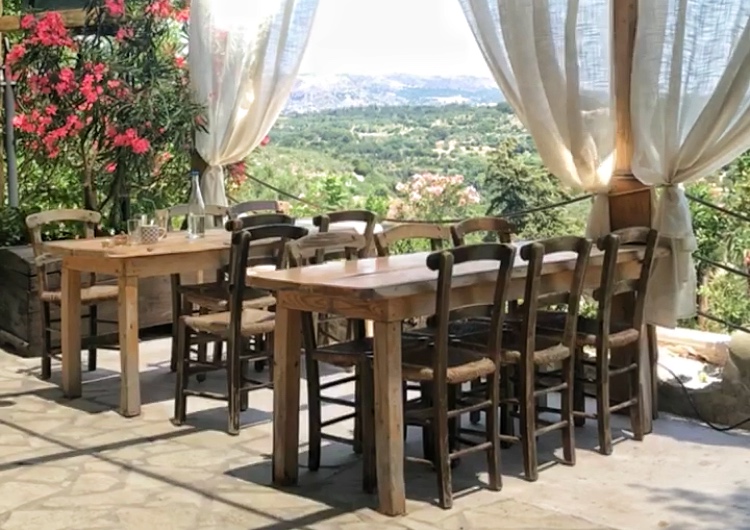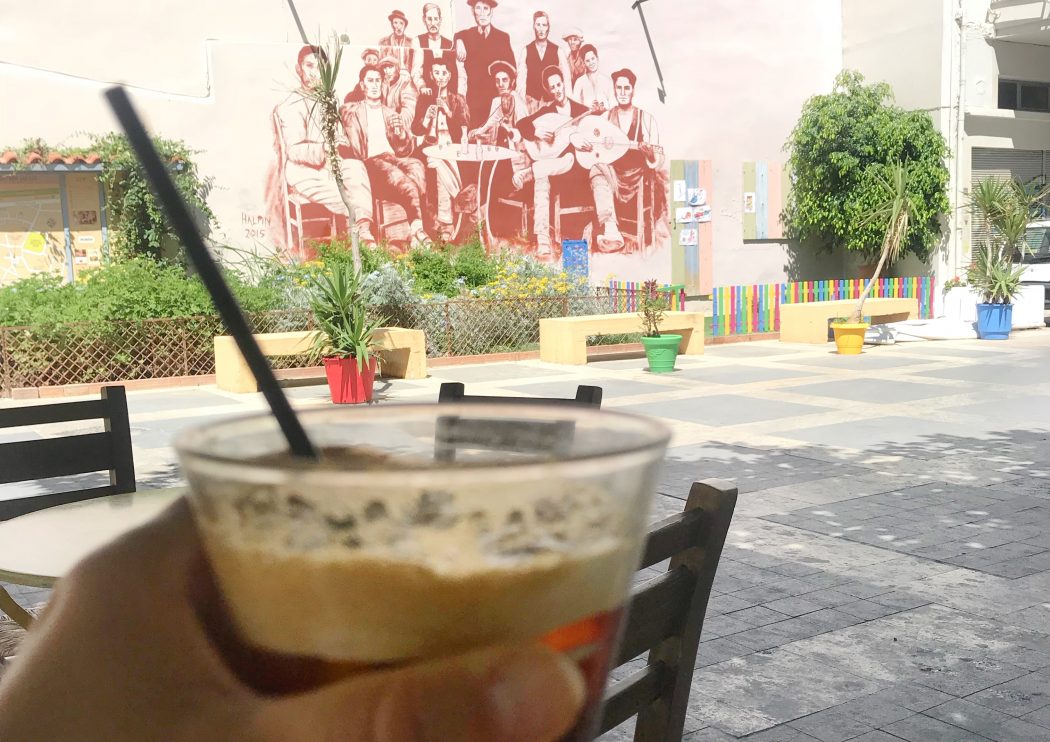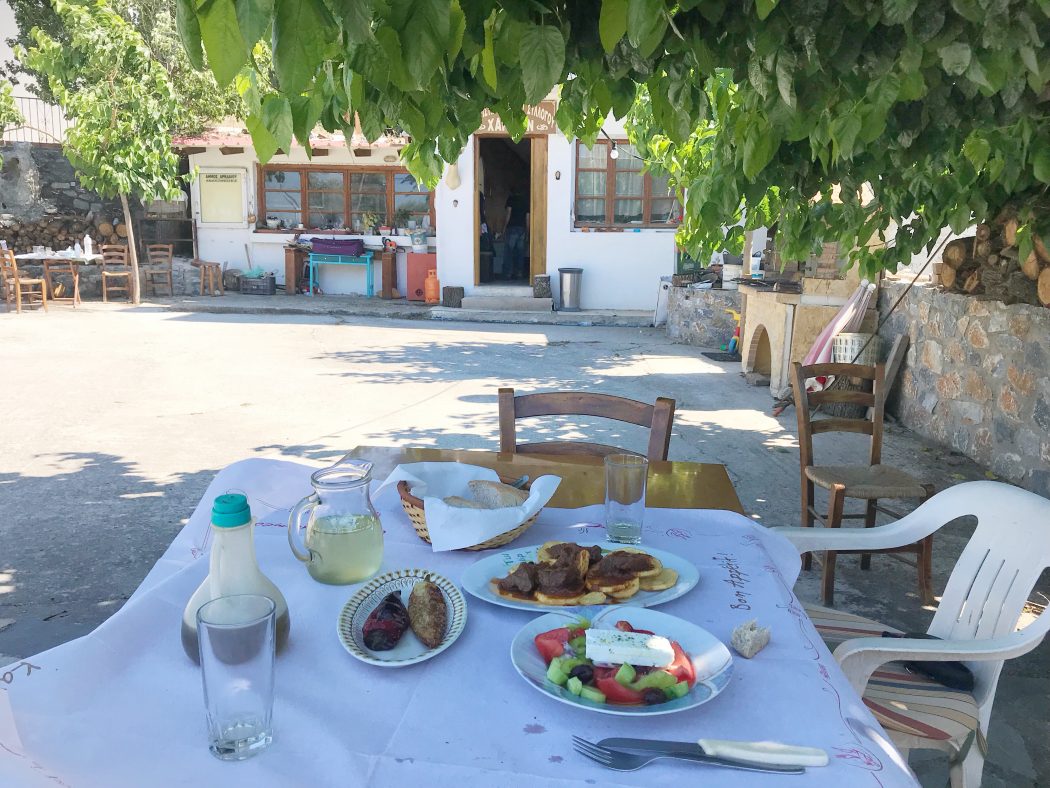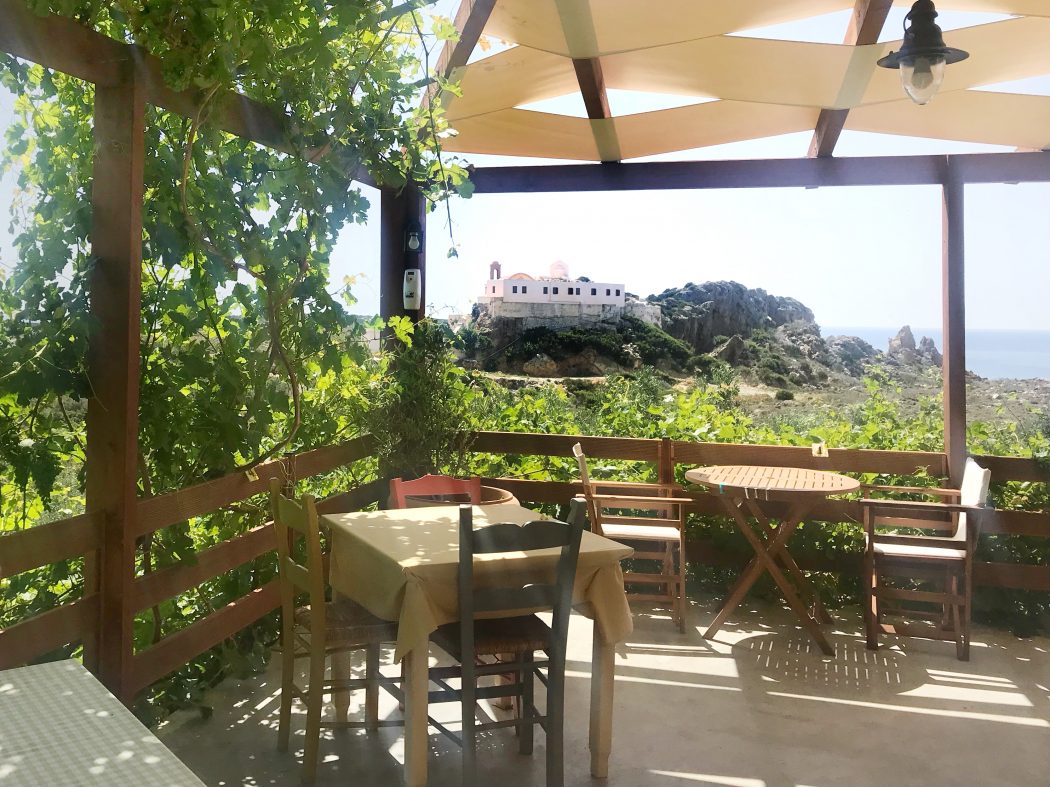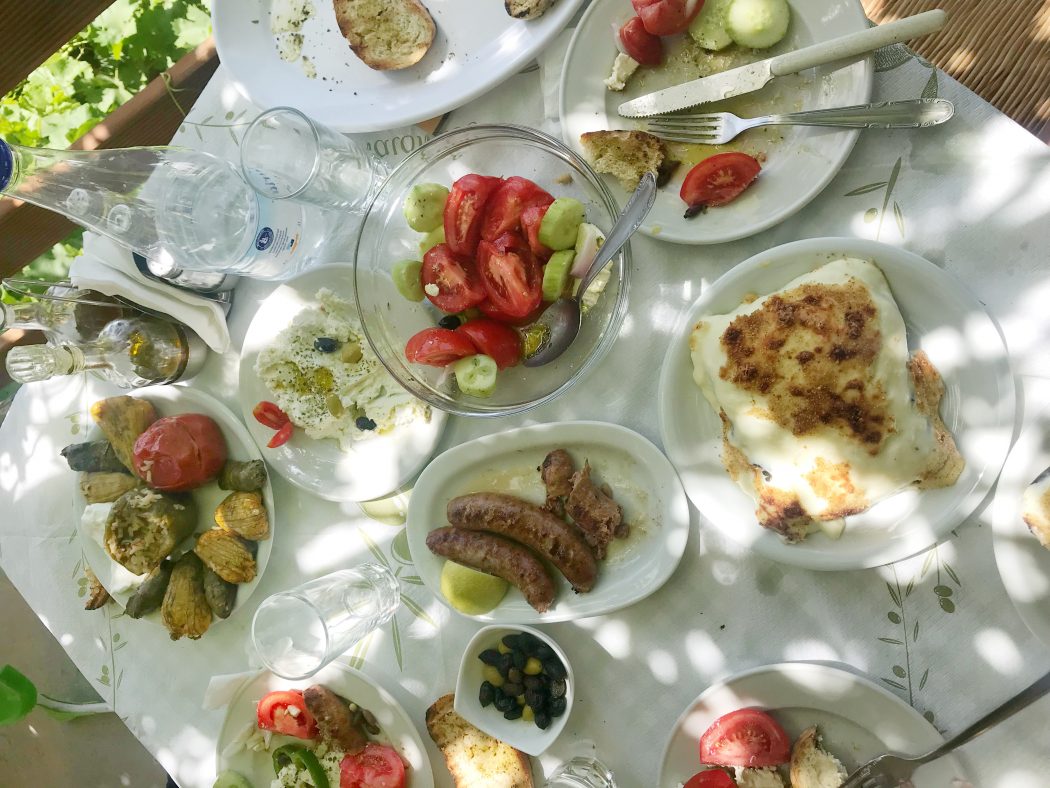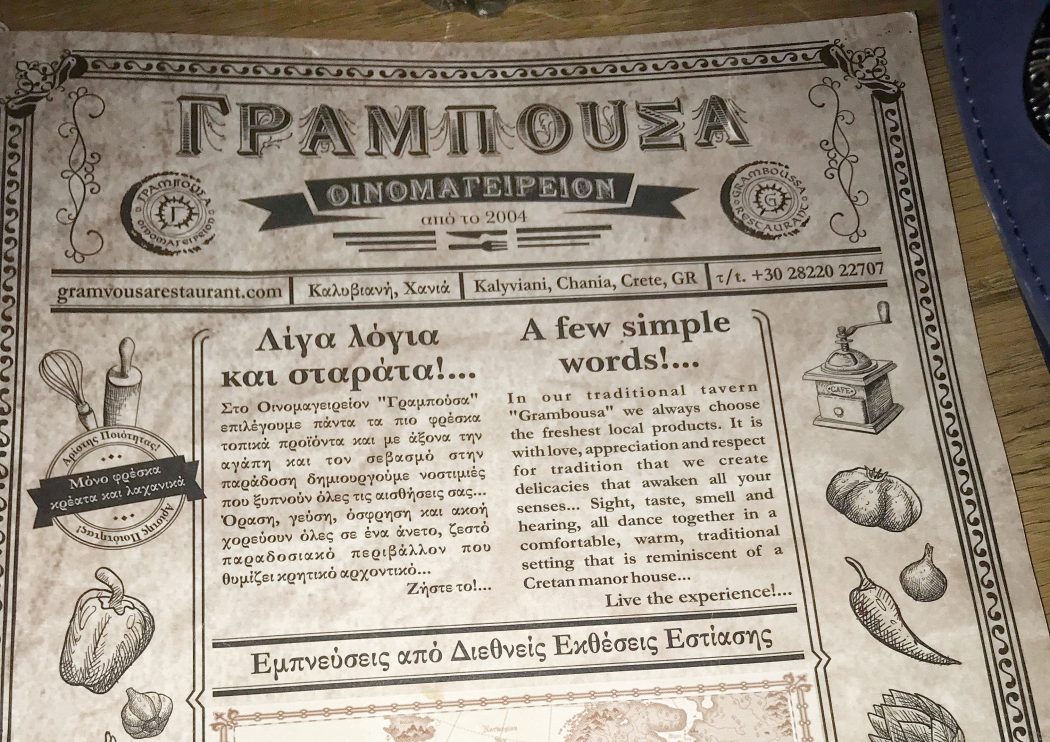 DOG FRIENDLY ACTIVITIES
There are plenty of activities to make during a road trip in Western Crete with a dog. I traveled over there in early June to avoid the high season and high temperatures (July and August). I would advise you to do the same.
FIRST STEP
Visit the Arkadi Monastery: located 23 km southeast of Rethymno, this gorgeous Renaissance building features Roman and baroque architecture. It was built in the 16th Century and played a major role in the Cretan resistance against the Ottomans. The Church is not allowed to dogs but you can walk in the courtyard of the Monastery with your dog.
Hike in Charkia: this peaceful village is surrounded by mountains. I explored the surroundings with my dog Shark, following different paths. One is starting down Saint Anna church and passes by an old outdoor washing place. There is also a wonderful spot to watch the sunset. We climbed the stairs from the main road to Agios Nikolaos church, close to the local taverna. The view from above there is incredible.
Discover Rethymno by night: the beachfront is quite touristy yet beautiful. We walked by night to enjoy the nice atmosphere.
Discover the village of Argiroupoli: located 24 km Southwest of Rethymno, this village is famous for its small waterfalls. The alleys of the village are very charming and offer beautiful mountain views.
Explore Chania: people say Chania is the most beautiful city of Crete and I totally agree! The old colorful buildings around the port are gorgeous. To get a better view of the seafront, we walked on the long pier that leads to the lighthouse. The weather was hot but it was worth it!
SECOND STEP
Go on an adventure to Balos beach: this beach and the road that leads to it are among the most breathtaking sceneries I have ever seen! It is accessible either by boat from Kissamos (organized daytrip to Gramvoussa island and Balos beach), either through an 8-km dirt track starting in front of Balos Beach*** Hotel & apartments. It takes around 30 minutes, if you don't stop every 5 minutes to take pictures like I did. I had a Jeep so the road wasn't so hard, but I saw a lot of small cars and even scooters on my way. There is a parking lot and a shop with drinks and sandwiches when you arrive. The beach is overcrowded in Summer and many touristy boats arrive from Kissamos in the morning. So I choose to go there at 7 pm when everybody is leaving. I was told Balos beach is a wonderful spot to watch the sunset and they were so right! It was MAGICAL! On my way back, I stopped at the adorable Agia Irini church (look at the cover picture of this post). Tip: there are dozens of goats along the road. If you have a hunting dog like Shark who gets wild whenever she sees one of them, close the windows are bring a strong leash and harness.
Enjoy the beach at Falassarna: this sandy beach is very famous in Greece for its amazing blue waters. It can get windy but we were lucky when we went over there. The main beach called Pachia Ammos is large but crowded. We chose to walk away and parked our car in front of the Hotel Petalida, in the North. We found a small beach, put our parasols and enjoyed the sea by ourselves.
THIRD STEP
Make a stop at Agios Theodoros chapel: there are two roads to go to Elafonissi. You should absolutely take the gorgeous Western road that offers lots of breathtaking viewpoints from the mountains and then along the coast. Around 4 kilometers before arriving at Chrysoskalitissa Monastery (see below), we saw a small white chapel next to the road. It was so picturesque and typical of Greece that we stopped to enjoy this peaceful place. A few meters away, we discovered by chance a magnificent cove with turquoise waters. We swam for an hour totally alone. One of my best memories in Crete! And that's exactly why I LOVE ROAD TRIPS… I have the freedom to stop whenever I see something beautiful and find treasures like this that the crowds don't know about.
Chrysoskalitissa Monastery: this religious place was also a fortress. Dogs are not allowed inside the building, but we enjoyed the view from outside. There is also a shadowed parking lot when you can walk your dog. 
Enjoy the lagoon beach of Elafonissi: just another famous lagoon beach of Crete! It's overcrowded of course, but people are lazy so they just stay on the main beach. We walkded a little bit and found a peaceful spot. 
Note: last but not least, read my doggy travel tips for a safe summer in Greece to learn the rights and duties of dog owners in Greece and Crete, especially on the beach. There are also health tips to protect your dog and plan your road trip in Western Crete with a dog safely.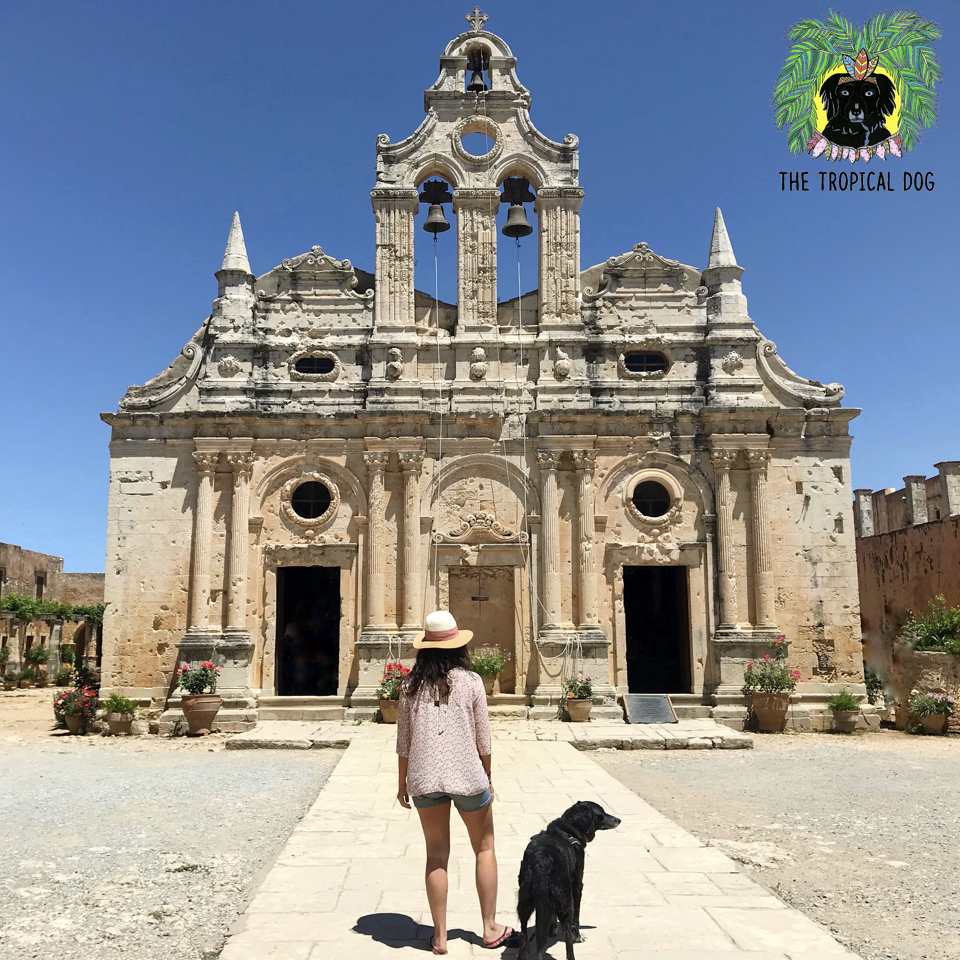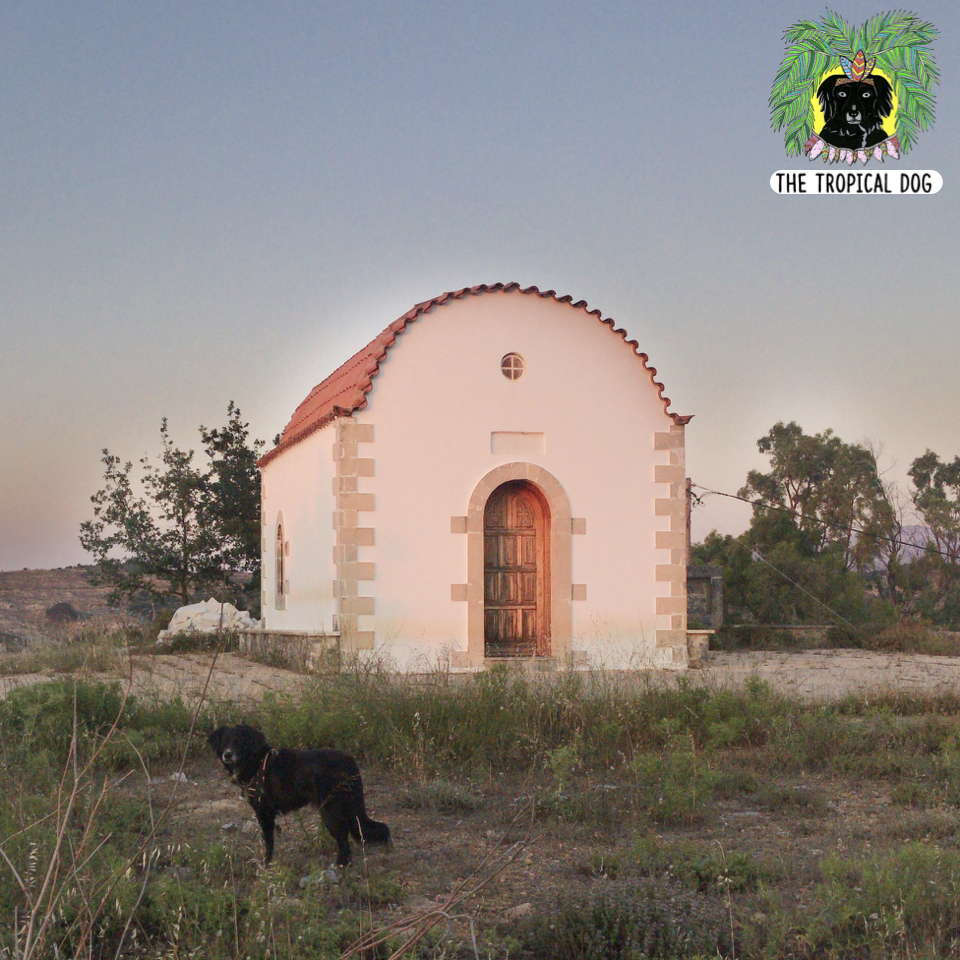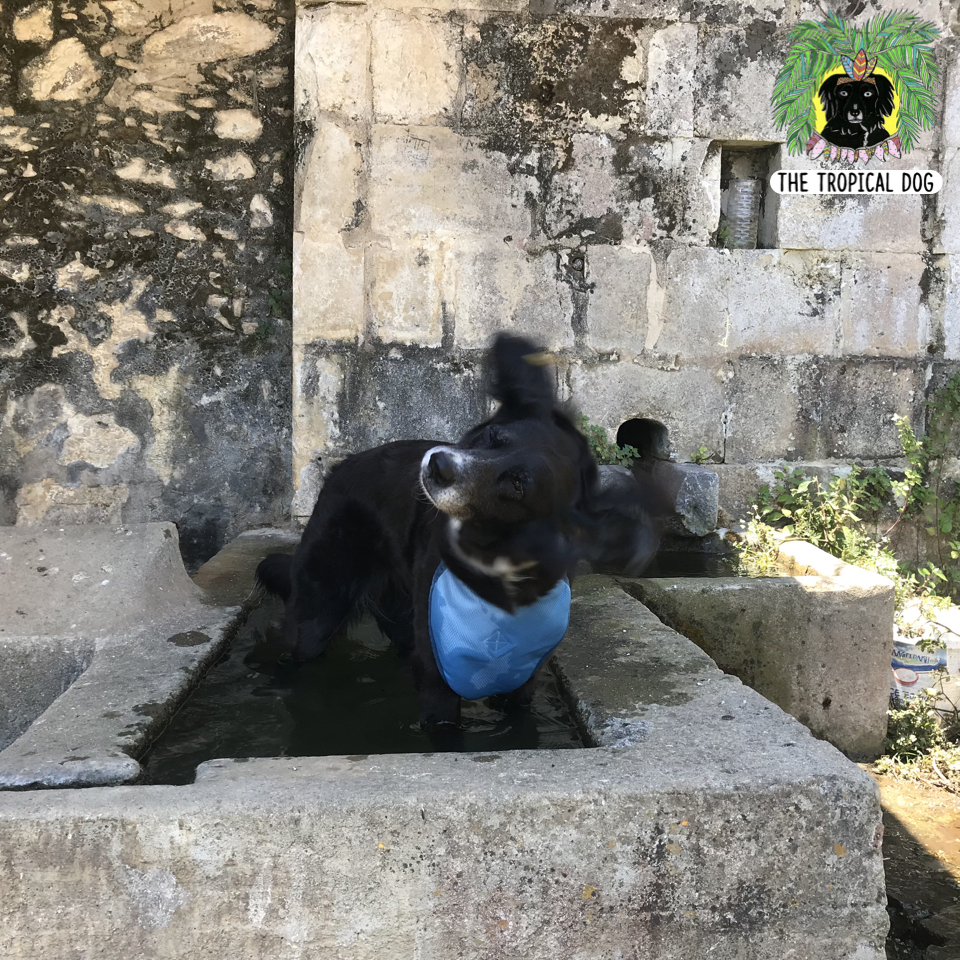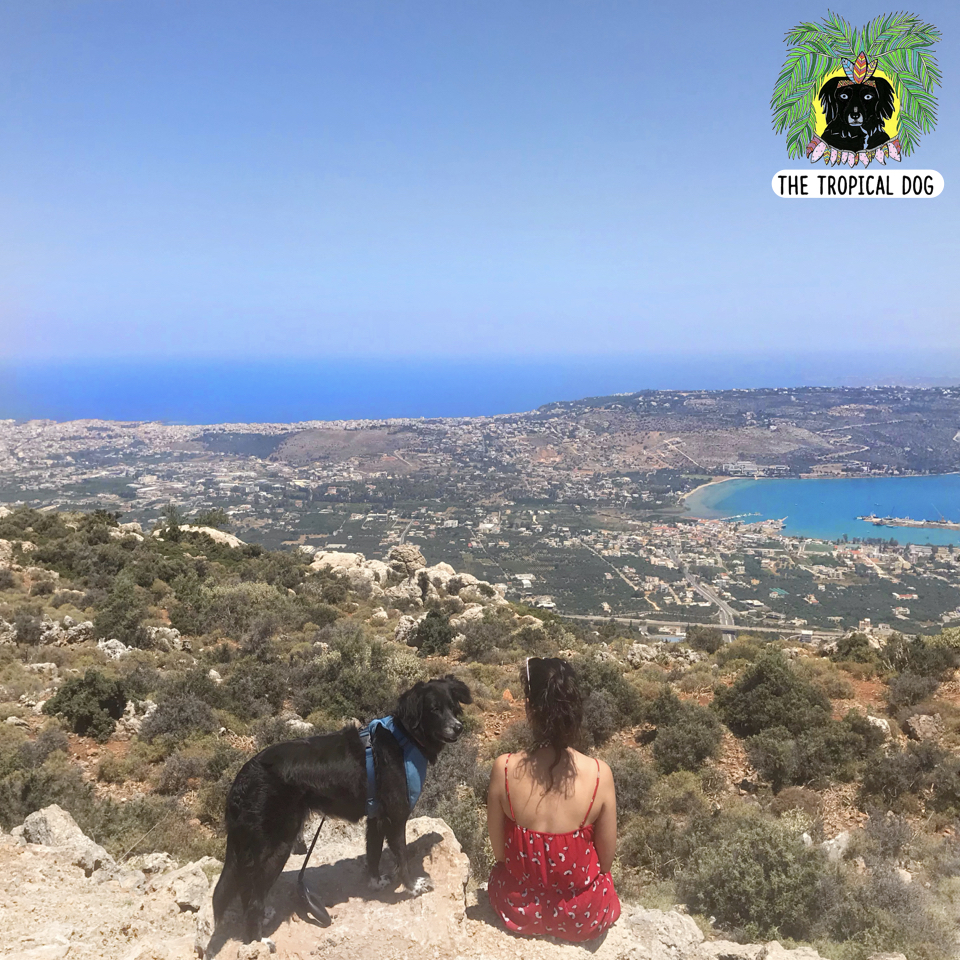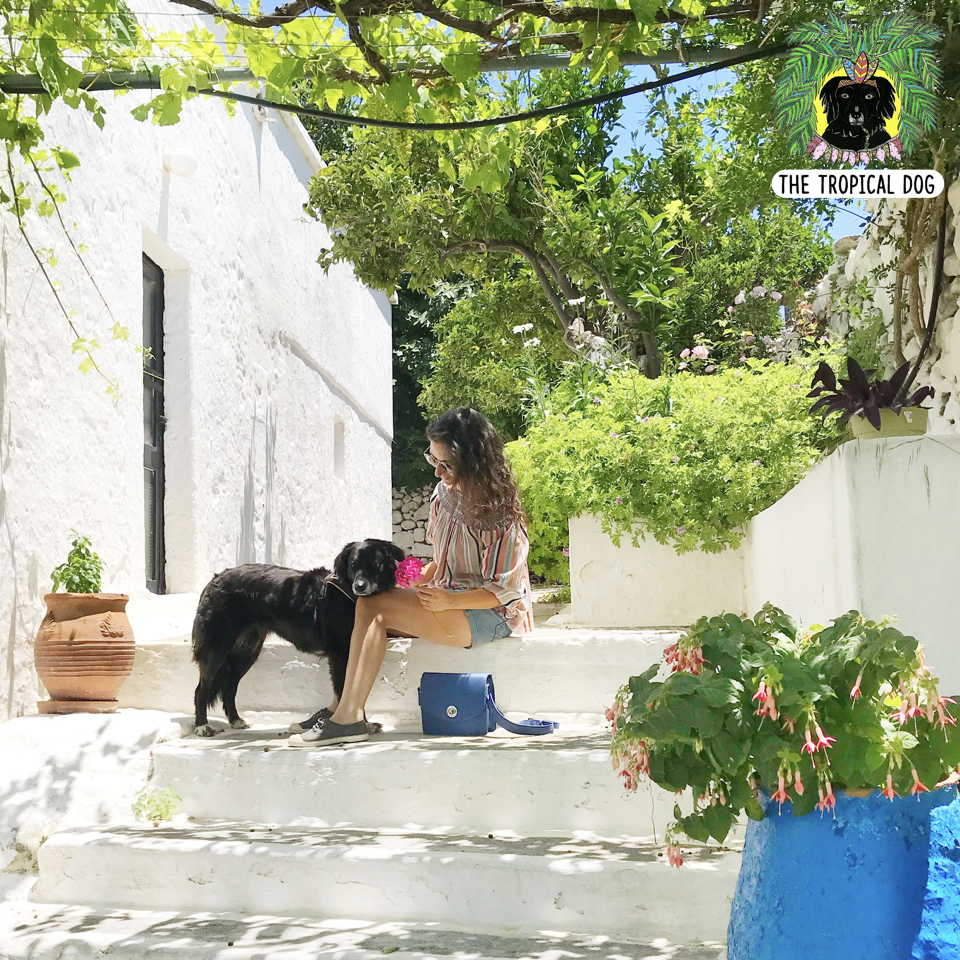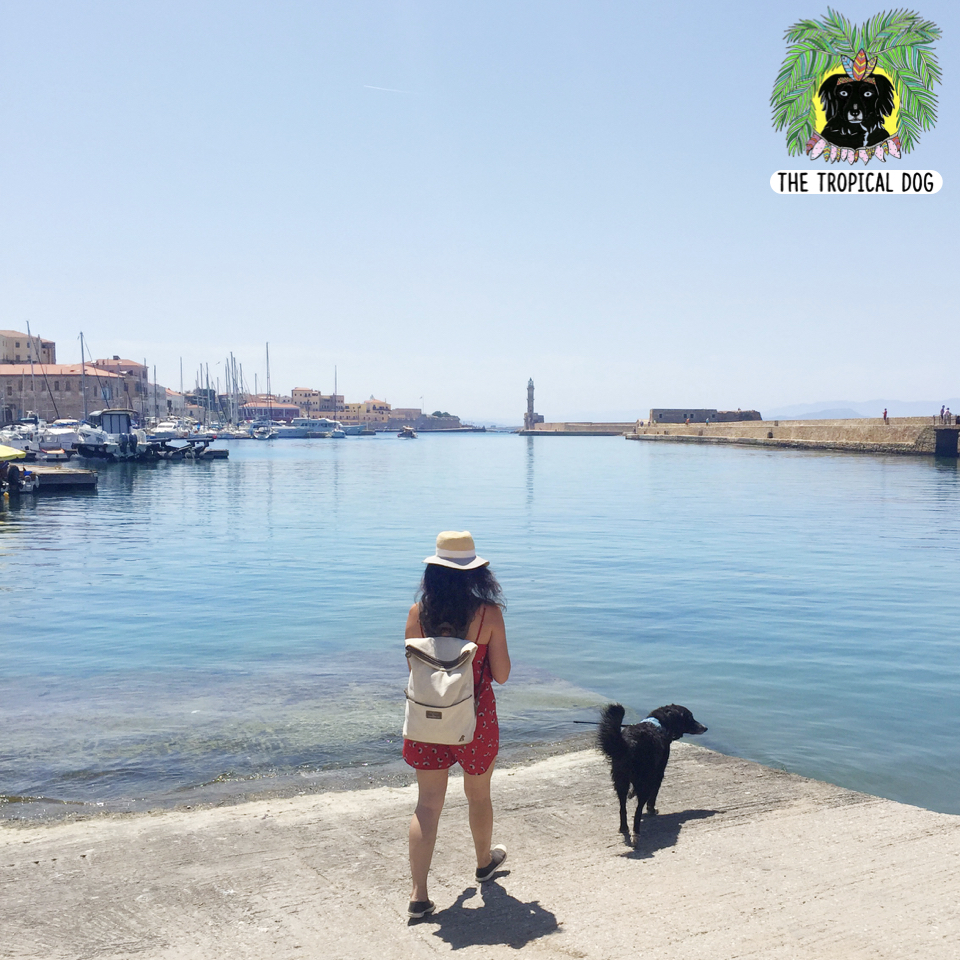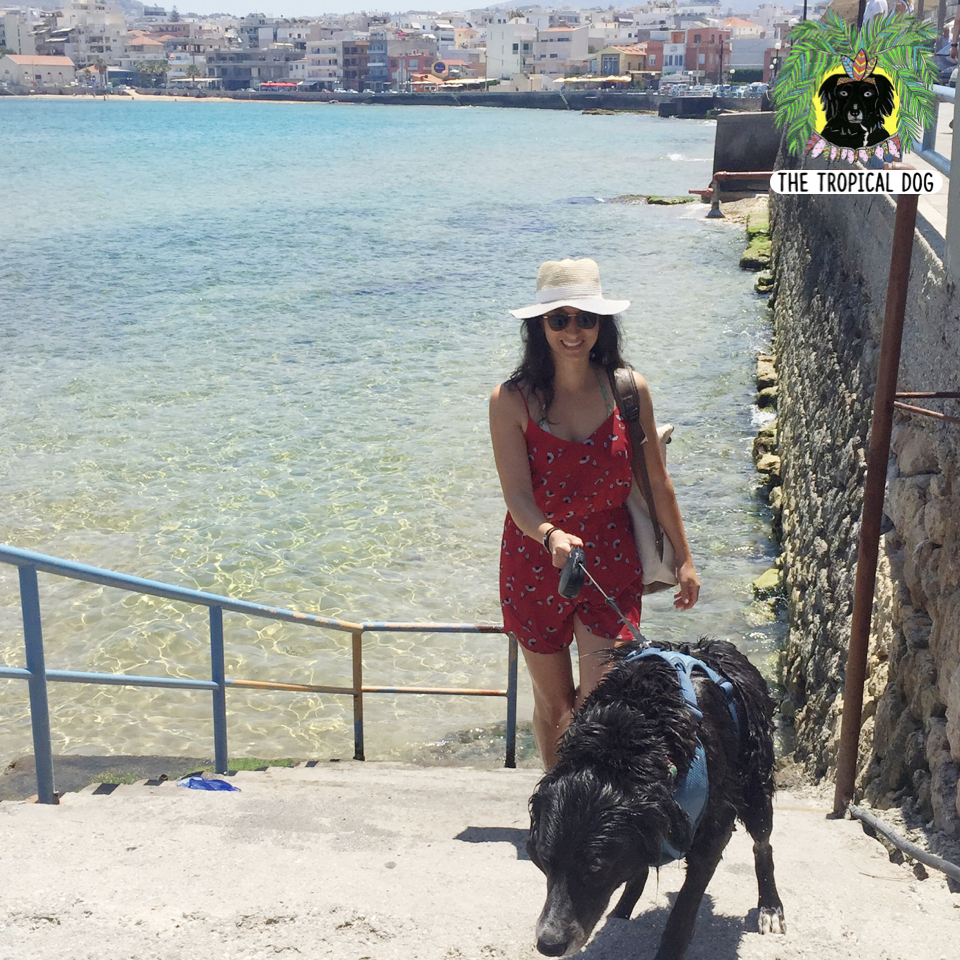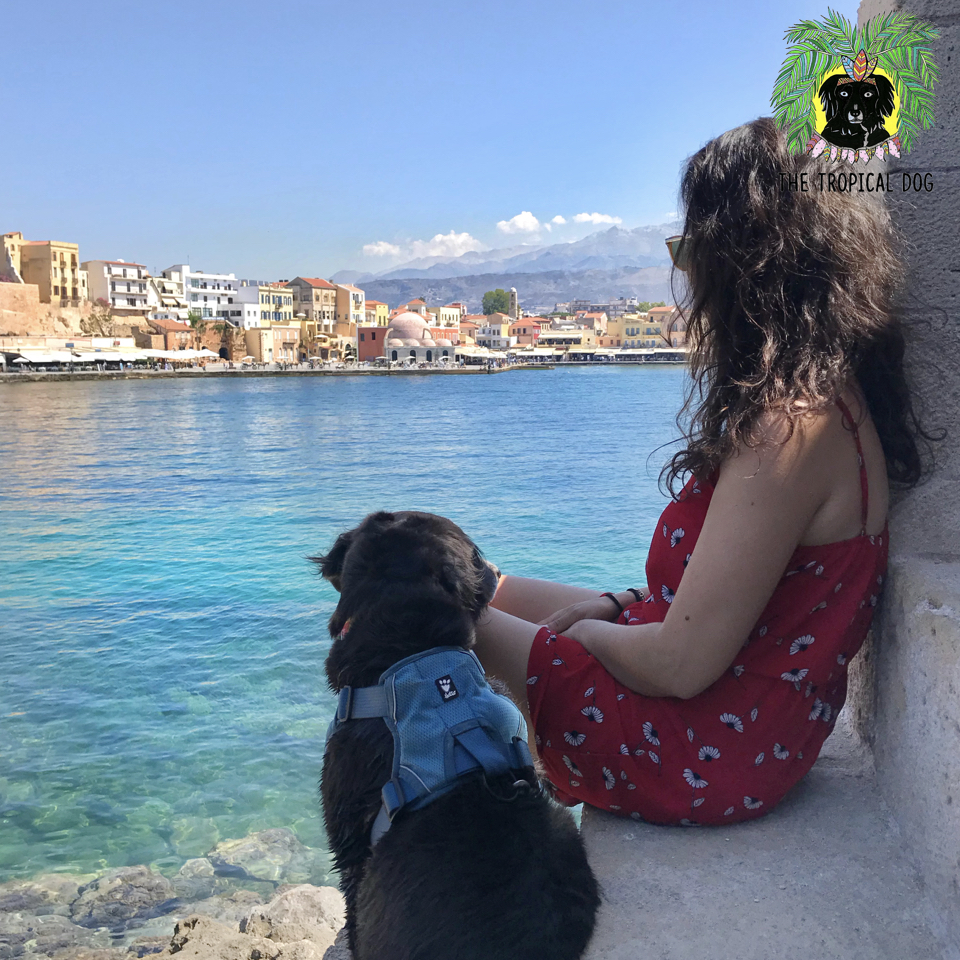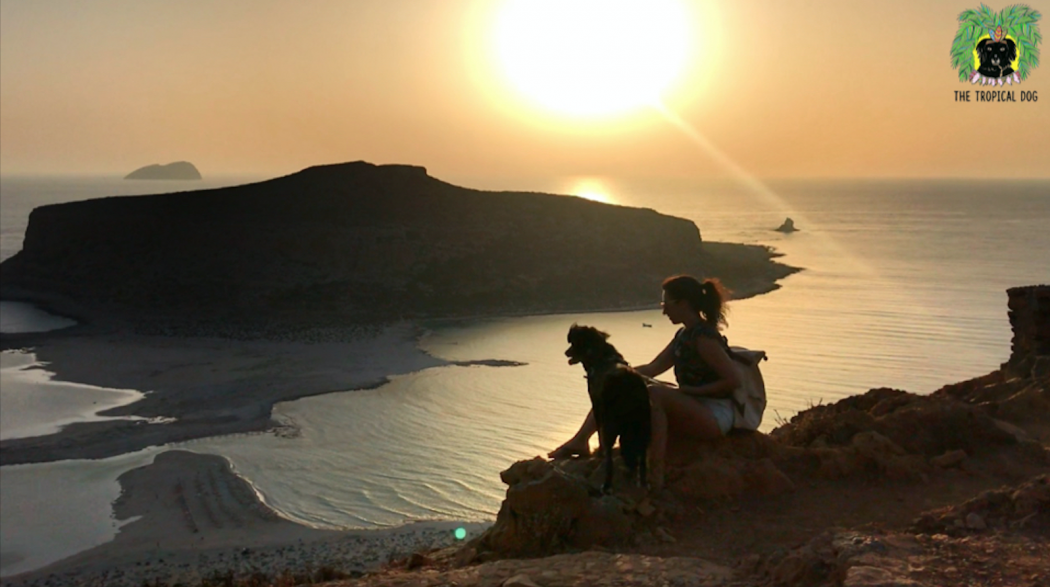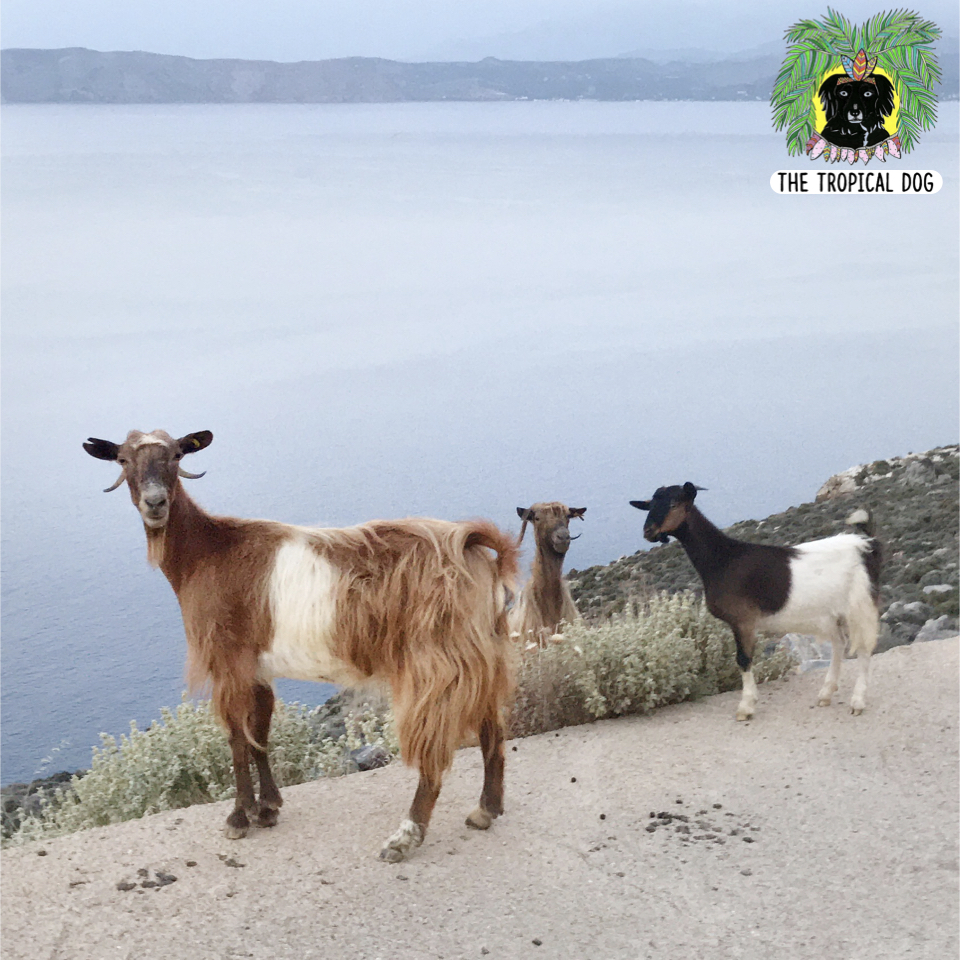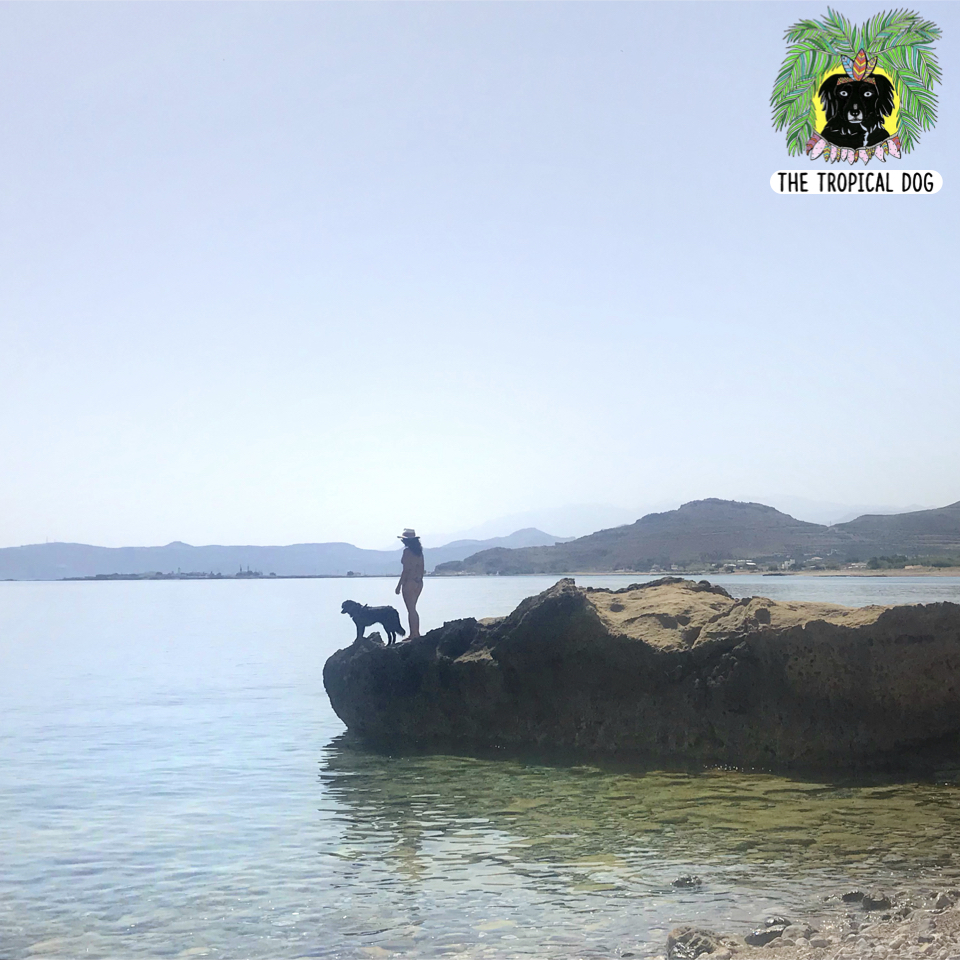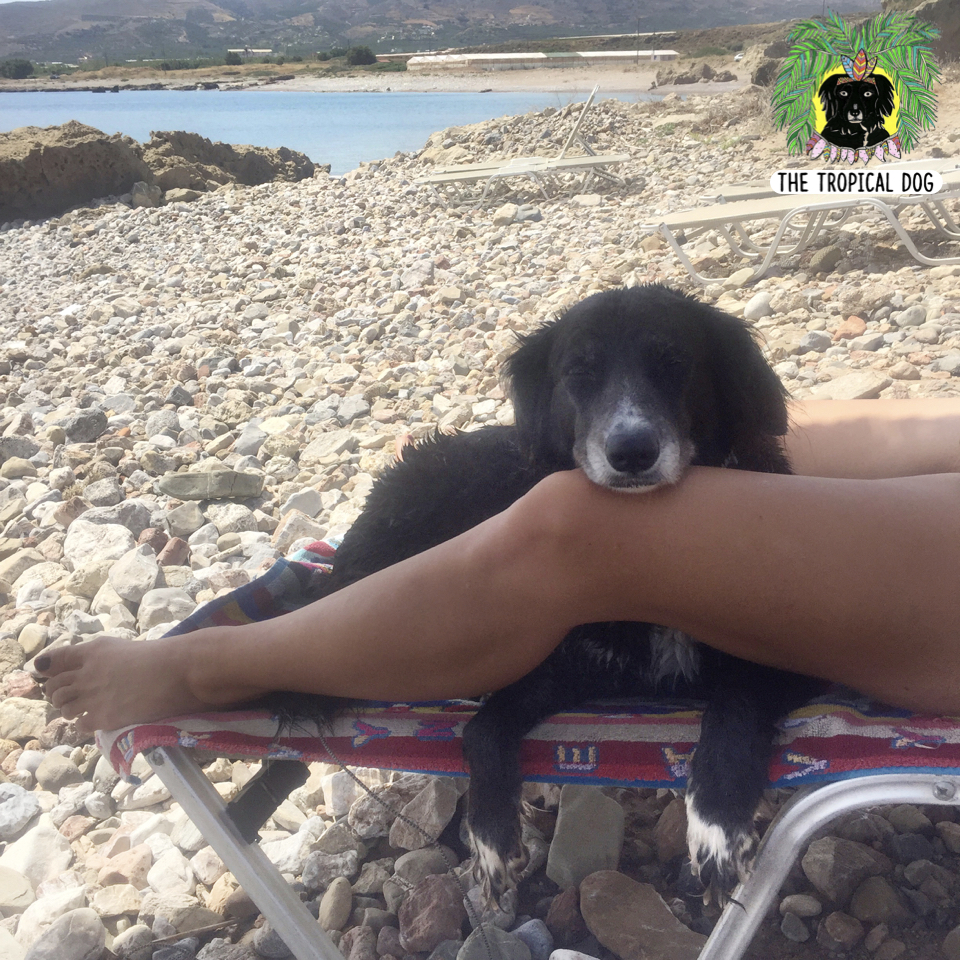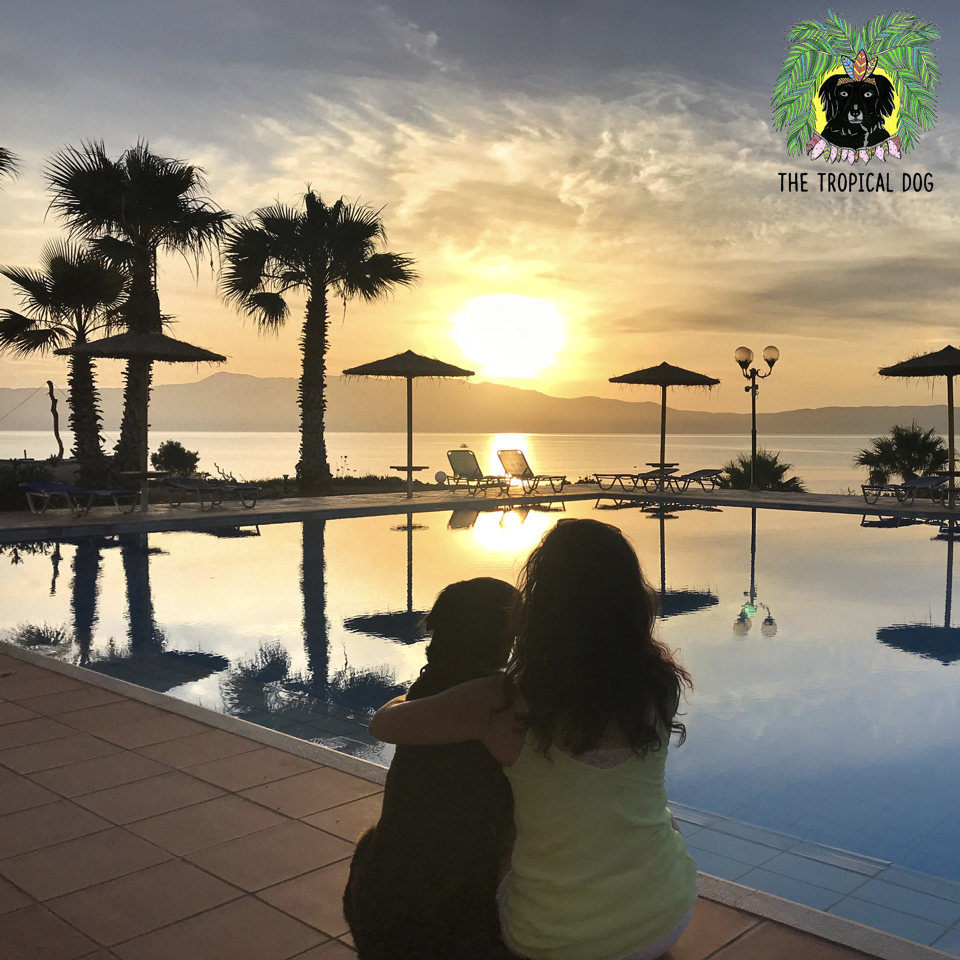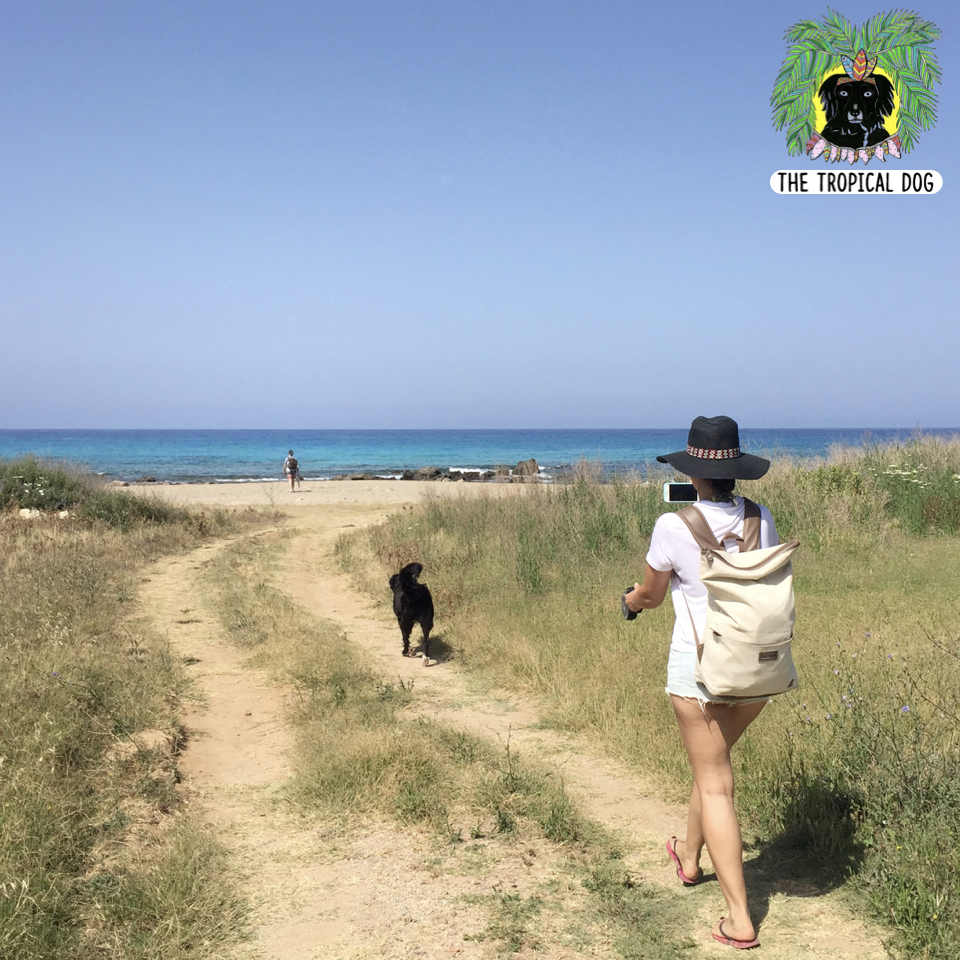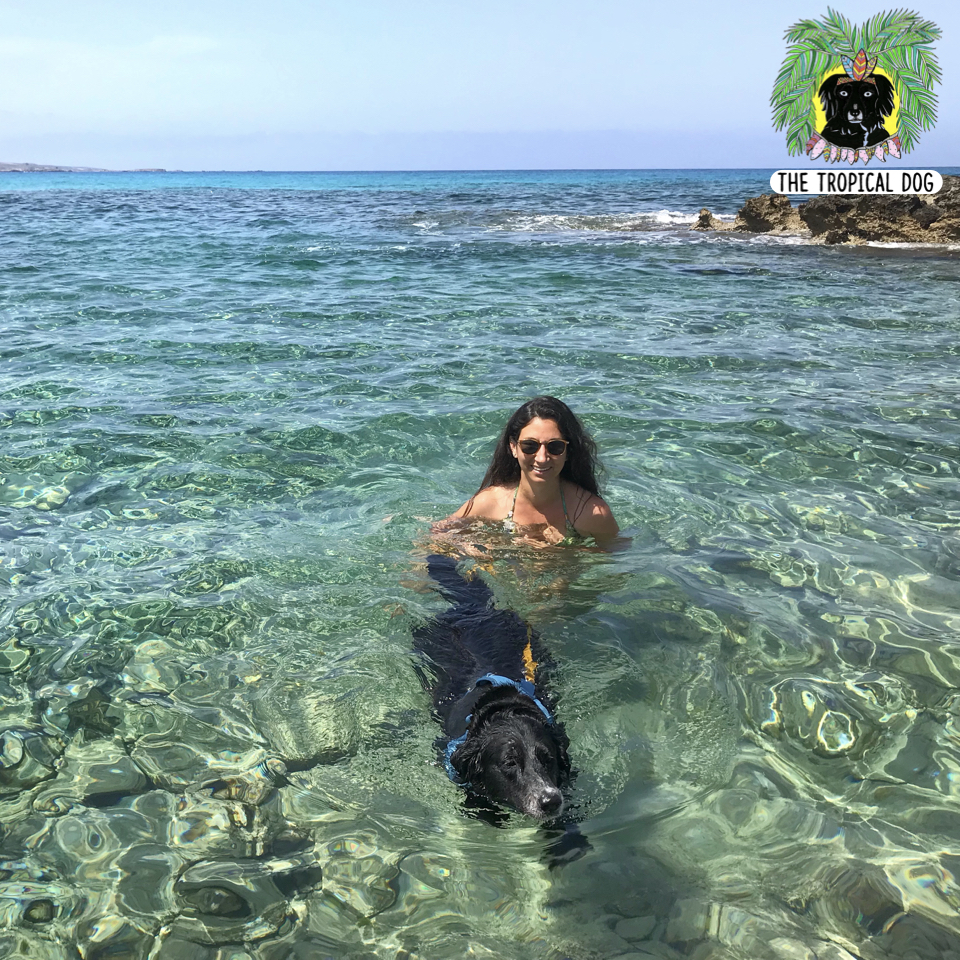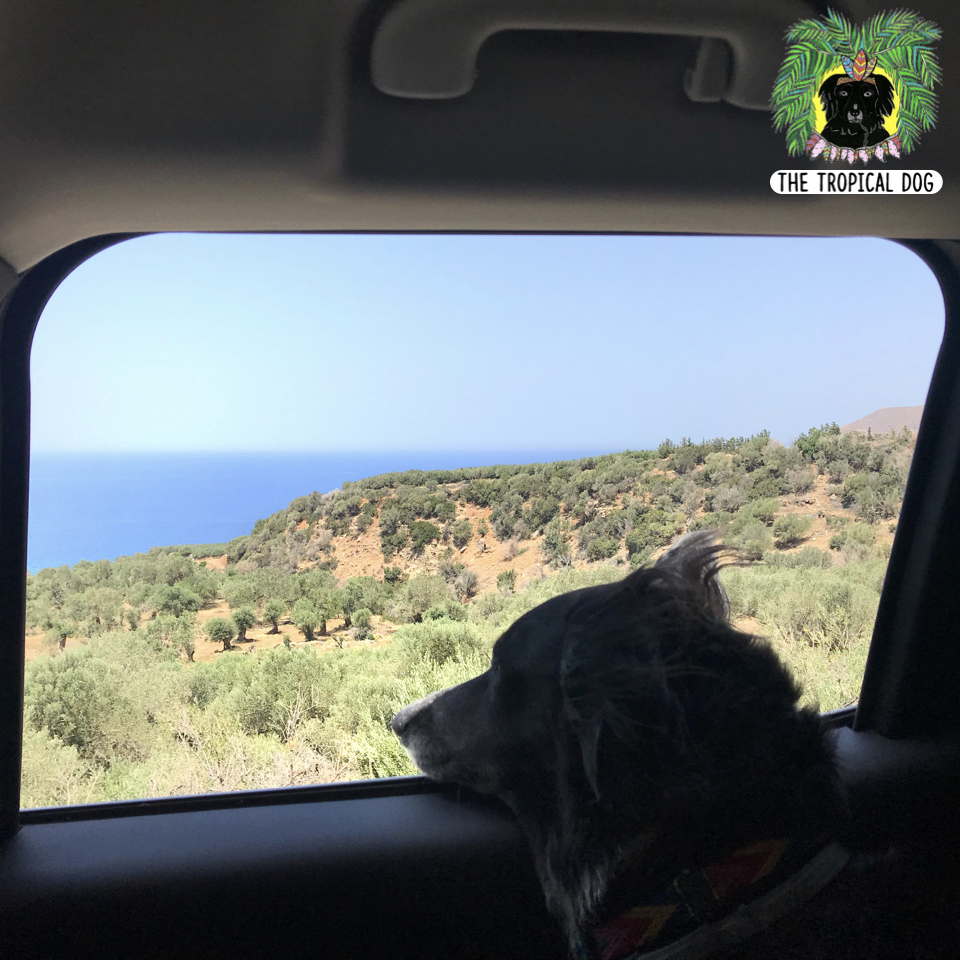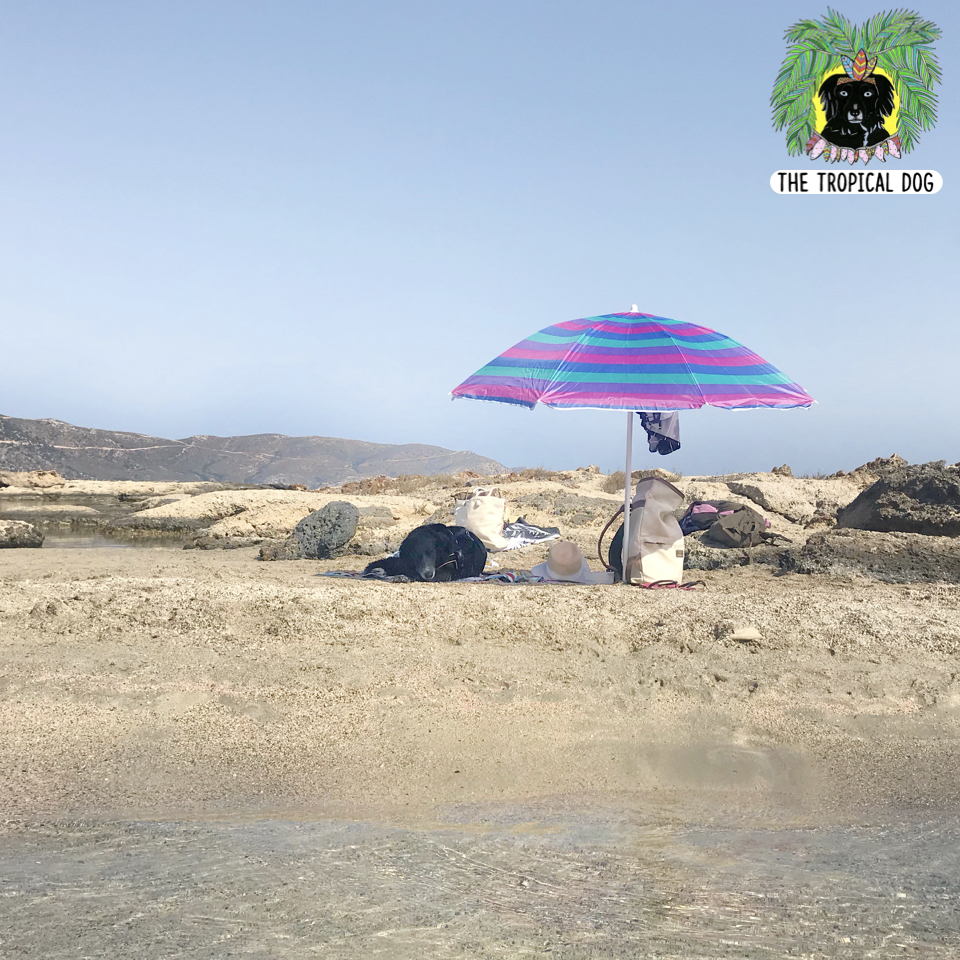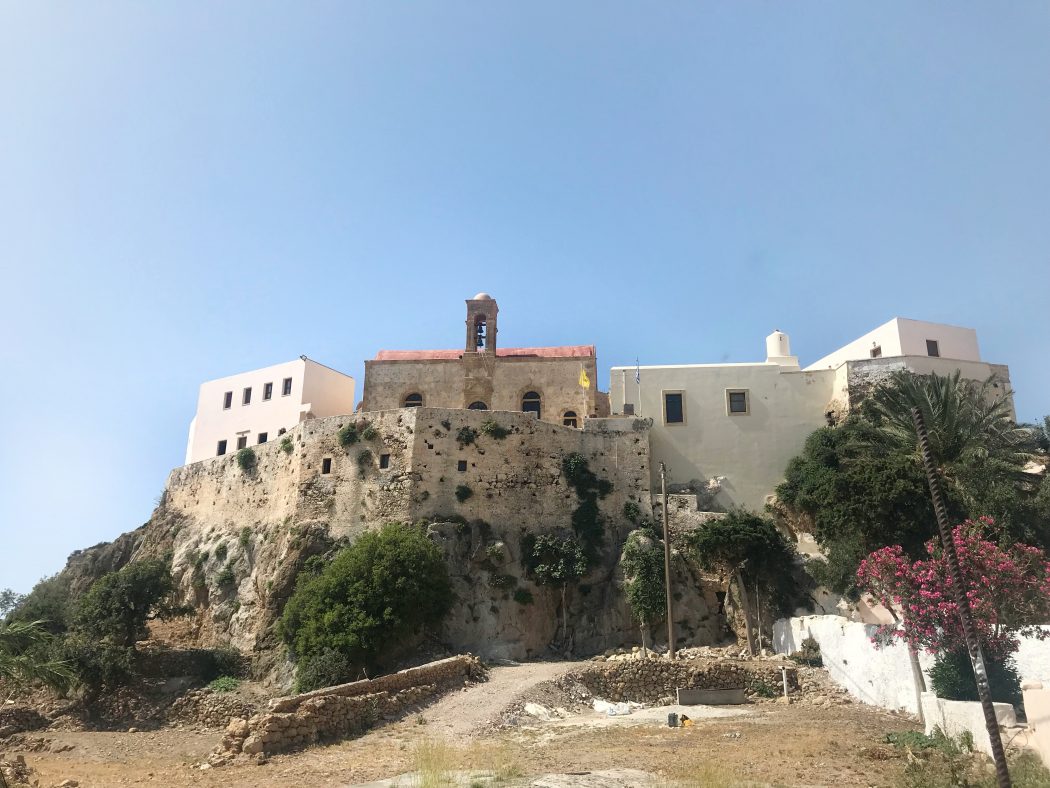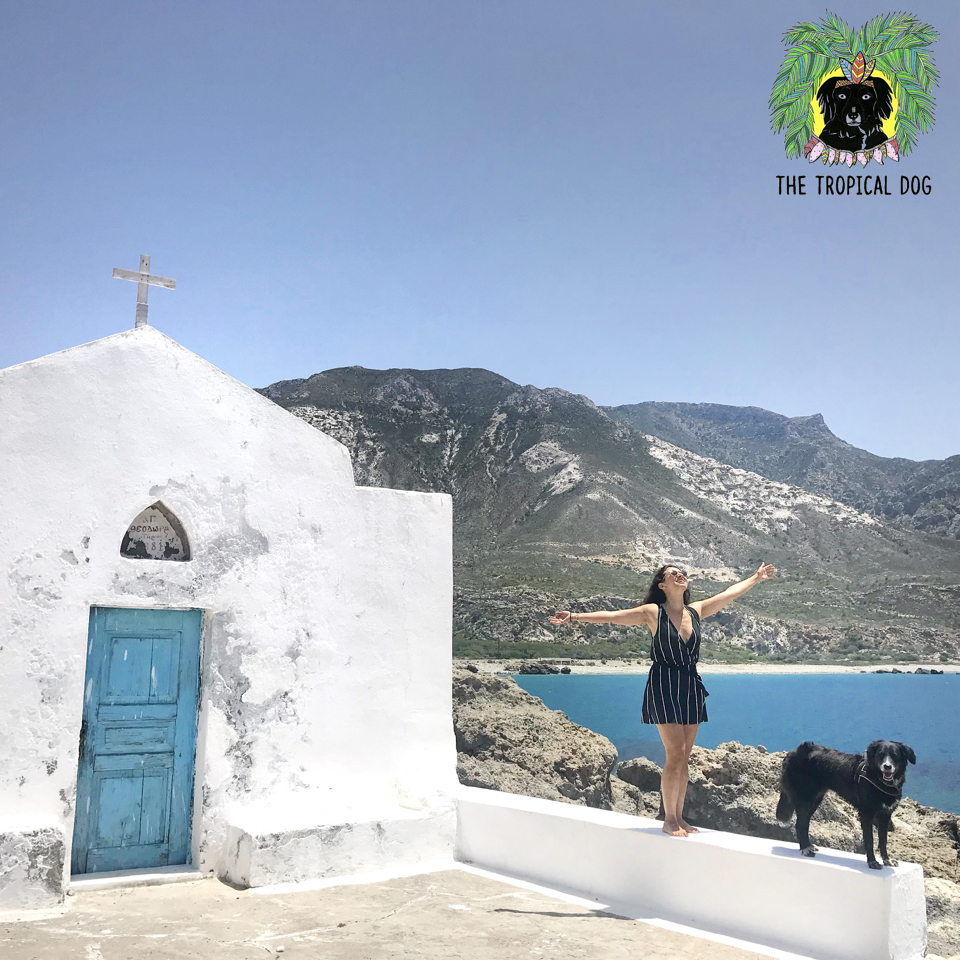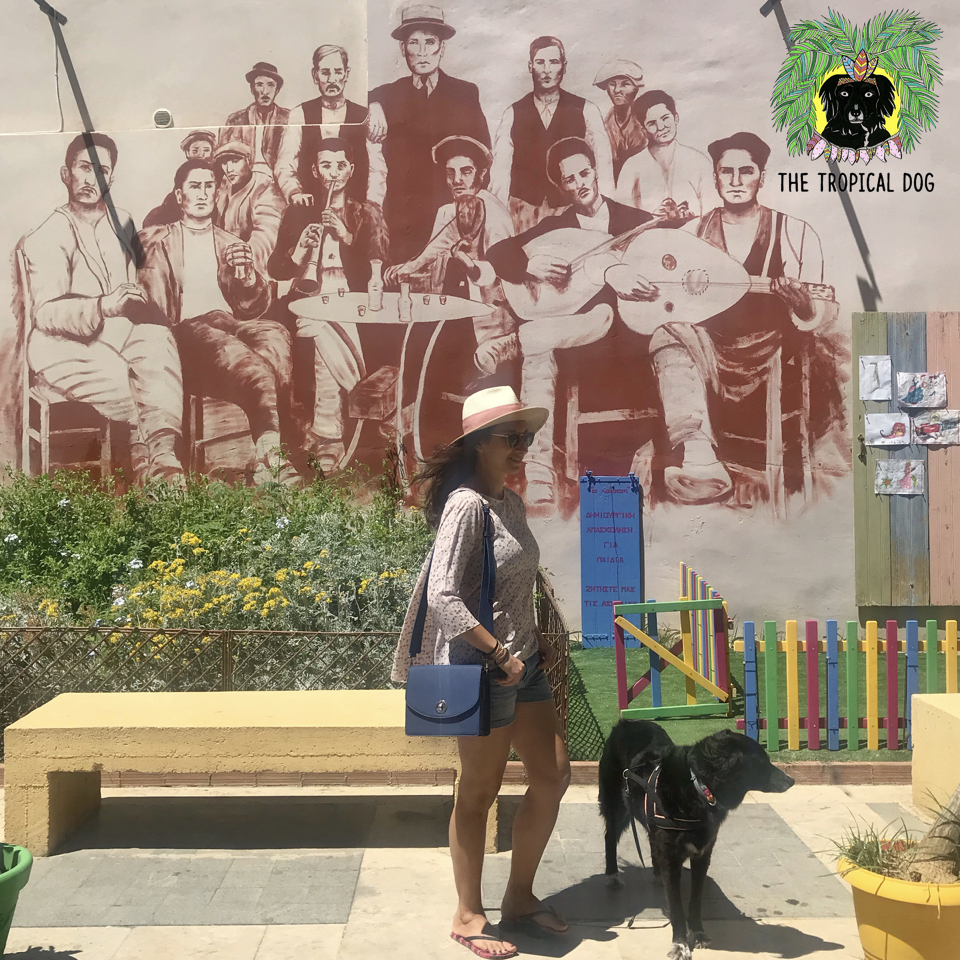 "So, ready to plan your road trip in Western Crete with a dog?"
Stay tuned for my next post about my "Road trip in Eastern Crete with a dog"…
If you have any question, leave me a comment below. 
FOLLOW US ON          
Photos & contents @ The Tropical Dog 2015-2018