Do you wonder if traveling with a dog in Colombia is possible ? I am happy to share my experience 🙂 
2016 brought me a new job opportunity in a country I would have never imagined visiting, Colombia. People have heard so many negative information about this country that it is difficult to associate it with other words than cocaine, drug cartels, violence and guerilla. However, things have been changing in a very good way these last years and the country has begun a peace process. Colombia is even becoming a touristic destination attracting more foreigners every year. Quite rightly, the once country of Pablo Escobar and the Farc offers a countless number of treasures so far away from the clichés. In fact, everything in Colombia is about diversity: ethnic, linguistic, cultural, musical, ecological and geographic. Bordered by the Caribbean Sea North and the Pacific Ocean West, the country also encompass part of the Andes Mountains and the Amazonian rainforest.
LIVING IN CARTAGENA DE INDIAS WITH A DOG
We had the chance to spend a whole year in this incredibly charming country, exploring as much as we could during my free time. I was working in Cartagena de Indias, a city full of history located on the Caribbean coast. My dog Shark and I would walk every morning on the beach, chasing pelicans and swimming in the tropical waters to fight against heat and humidity. Then, we would go to work in the historic center surrounded by ancient walls that used to protect the city from pirates. The old town is like a fairytale: alleys of colorful colonial houses, flowers on the balconies, shadowed squares and Palenqueras, traditional ladies in colorful dresses selling fresh fruit salads in every corner.
It feels good to live in Cartagena de Indias with a dog. All parks and beaches allow dogs on leash and there are plenty of outdoor cafés and restaurants where you can seat with your companion. As Colombian people are open and joyful, it is easy to meet other Fido parents while walking your dog, especially in Parque Apolo at sunset. I also took public taxis and urban buses many times with Shark. Some drivers would not even stop, but others would simply ask me if she bites then welcome us in. On Sundays, we would usually go on a day trip to one of the tiny islands close to the city. From the touristic port, the agency Ocean & Land tours accepts dogs on board. However, my favorite spot to relax would be Punta Arena beach, located on Isla Tierra Bomba, just 10 minutes by boat from the district of Bocagrande. There is the dog-friendly Beach Hostel and its Bomba Beach Bar: white sand, turquoise water, hammocks, cool music, seafood and an outstanding view on Cartagena on the horizon.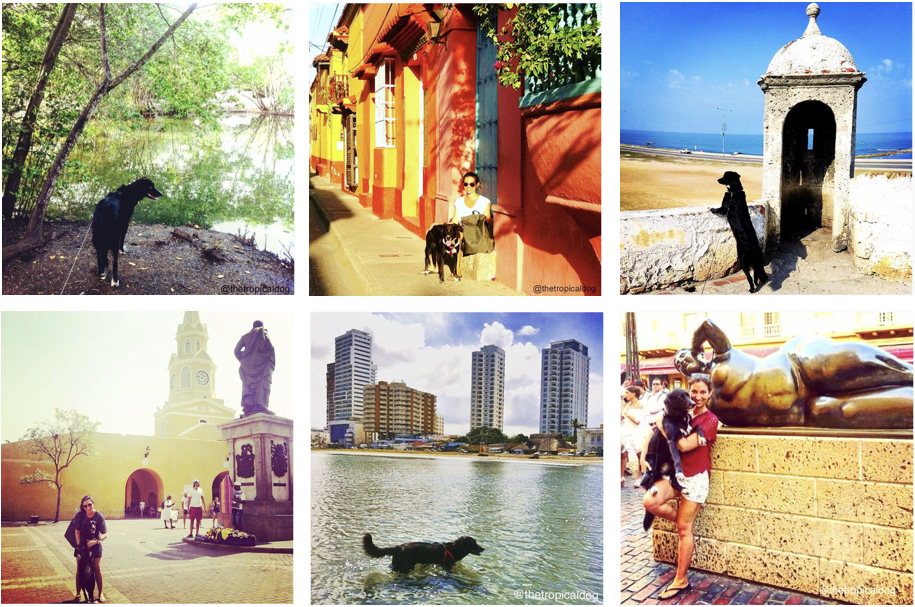 TRAVELING WITH A DOG IN COLOMBIA
It was also easy to explore Colombia with my dog. To fly to Bogota and Medellin, we tried the two main airlines in the country, Avianca and Latam. Both of them allow pets in the cabin and in the hold, depending on their weight. From Medellin to Pereira, we took a large bus of the company Flota Occidental which allows pets in a suitable hold and provides containers for free.
As to the short-distance travels, we often used small local buses with no hold. As there is no clear regulation concerning pet transportation in that case, it really depends on the good will of each driver. My strategy was always the same: I arrived at the bus terminal an hour before the departure without booking, looked for the driver, started the negotiation with a big smile, explained that my dog is super clean and quiet, and ended up proposing to pay for her seat. It was very cheap anyway and it always worked. No doubt, the fact that I am fluent in Spanish helped a lot, but what I really learned from travelling with my dog in Colombia is that perseverance always pays. I am now ready for the next challenge: travel through South America with my dog.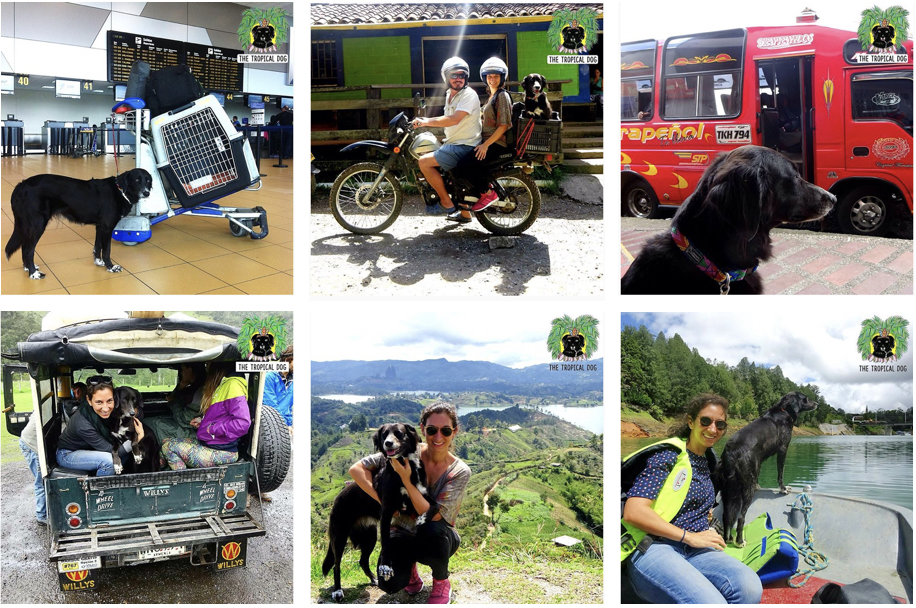 PRACTICAL ISSUES
DOG FRIENDLY ACCOMMODATION IN COLOMBIA
Accommodation that welcomes dogs (even large ones) for free in Colombia, tested and approved by The Tropical Dog 🙂


[Once on Booking, activate the filter "pets allowed" in the "Facility" section on the left]
THE VIDEO ABOUT MY JOURNEY IN COLOMBIA WITH MY DOG
Ready to explore Colombia wity your dog? Already been there? If you have a question, leave me a comment below.
Photos & contents @ The Tropical Dog 2015-2018. 
FOLLOW US ON