Since I moved to Cartagena 7 months ago, I have been looking for a beautiful beach close to the city. Well, I live in front of the beach and Cartagena is surrounded by beaches but the truth is none of them meets my high standards: clean white sand, clean blue waters, not overcrowded spot and dog-friendly place 🙂 Yes I am very demanding!
Anybody who knows Cartagena will tell you that the most beautiful beaches are on the archipelago of Rosario and the peninsula of Baru, with its famous Playa Blanca. This is true. You can read this post about our trip to Isla Grande (Rosario) with Shark. The only problem with these beaches is that they are at least 1 hour away by boat or by bus. I had almost lost faith when my friend Ruben from Juan Ballena agency told me about Punta Arena beach!
This beach is located on Isla Tierra Bomba, just 10 minutes away from the district of Castillo Grande. It sounded like a dream to me! But when my friend Ruben invited me to take the trip with him on a Sunday, I realized that my dream finally came true!
Even if the sky was not blue on that day, the place looked fabulous! White sand, blue waters, not overcrowded and… hammocks!!! We are welcomed by the nice staff of The Bomba Beach Club, owned by The Beach Hostel, the best spot in Punta Arena. The place is really awesome: hammocks, tanning chairs, hanging beds, outdoor bar, good food, good music… What else do I need to be happy? Oh, The Bomba Beach Club  is dog-friendly! So your pet is welcome on the boat and on the beach with absolutely no charge.
The Bomba Beach Club is a bar and a restaurant. They offer a great choice of cocktails, fresh fruit juices, seafood and typical Colombian food. You can read the menu on their Facebook page. The atmosphere is very laid-back and the music playlist is just perfect for a relaxing day at the beach. If you are lucky enough, you will  also enjoy live music in the afternoon. I had the chance to listen to 2 Argentinian folks, a singer and a guitar player, who shared covers of famous songs in Spanish and English.
Do you want more? Well, the landscape is fantastic! From Punta Arena beach, you can enjoy Cartagena's beautiful skyline. The buildings are located in the districts of Bocagrande and Castillo Grande. On the right, you can see the hill called Pie de la Popa, the most elevated point of Cartagena. Looking at the city from Punta Arena made me realize how good it feels to be out of its bustle for a day 🙂
I took this beach day trip to Punta Arena with Juan Ballena agency. They organise everything for you and the price includes:
Transportation by boat (round trip) from Castillo Grande

  Private white sand beach 50 meters wide and 20 meters wide

  Bathing and swimming within protected buoys to prevent boat access by sea

  Hammocks, day beds, shaded areas for sun protection

  Indoor hall – Bathroom – shower access and Pool

  Lunch (traditional fried fish dish or chicken, coconut rice, salad, and fried plantains)
Visit their website for more information and to book the trip online!
DOGGY TIPS: bring at least 1L of water for your dog. Give him to drink very often and let him swim free in the sea!
I thank Juan Ballena agency for inviting me to take this tour with my dog, and Ruben Sanchez who took the pictures of Shark and me! 🙂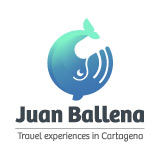 More about Juan Ballena agency:
Discover Cartagena and the region with the online agency Juan Ballena. They  focus on showing you the local and authentic side of Cartagena, giving you a full picture of its culture and lifestyle throughout their professional travel experiences. Tours in Spanish, English and Portuguese. Some of them are dog-friendly! Book tours and activities online! Website – Facebook – Instagram
Photos & contents @ The Tropical Dog 2015-2017.