To celebrate the 6-month birthday of the blog, we launched a new series called "Dog lady" in the Inspiration section. A Dog Lady is a young woman who, like me and maybe like you, has an extraordinary story with her dog. We met in real life or on social media. Their stories moved me, that's why I would like to share them with you.

The second Dog Lady that I want you to meet through 10 questions is Elise, a teacher-to-be. She contacted me on Facebook because she has been reading my blog for a while and we talked a lot about our common passion: traveling with our dog. See, I'm not the only one to travel with my dog to the other side of the world 🙂 Here is their story…
1- Elise is…
A 27-year-old French girl who is currently preparing a Master's degree in Teaching in the city of Cayenne in Guyane. I want to teach in the heart of Amazonia to the different Amerindian tribes (Tekos, Wayanas, Kali'nas…). After graduating in France, I worked some years as a waitress, baker and activity leader. Then I went on a road trip through Europe during a year and a half in a truck of the 1970'! I've been bitten by the travel bug ever since!
2- Chuck is…
Chuck (Norris) is a Caucase shepherd. I met him when he was still a baby in Czech Republic. Now he is almost 2 and is not done growing yet! He is from a Russian race used for the attack and protection of gulags. His parents weight 90 kilos for a meter in the withers! His father is the champion of attack in Europe (a weird discipline). But he is actually just a big teddy bear with a golden heart.

3- How did you meet Chuck?
I always had dogs, large dogs like Beauceron and I was terribly missing dogs' daily company! During our trip through Europe, we met a HUGE dog. It was love at first sight and I felt that my family had to grow. A local friend introduced us to an dog breeding but I had always said that I would adopt a rescue and mixed dog. It was too late though: I had had a crush on Chuck. It was a family breeding and true passionate people with whom I am always in touch, so I felt reassured. It was nothing like dog breeding in caves. That's how Chuck entered in our lives!
4- Did your family and friends understand your choice?
A lot of people around me didn't understand my choice: "traveling and a dog? It's not compatible!" The fact is that when I got back to France after this trip, I had taken a big decision: move out to South America, in Guyana… with Chuck! Today, I prove to many people that it's possible to reconcile traveling, having a professional project and moving out without abandoning my dog in a refuge, on the road or in the middle of a forest. Today, Chuck represents a big support in hard times and a true complice in daily good times. He is way more efficient that a shrink!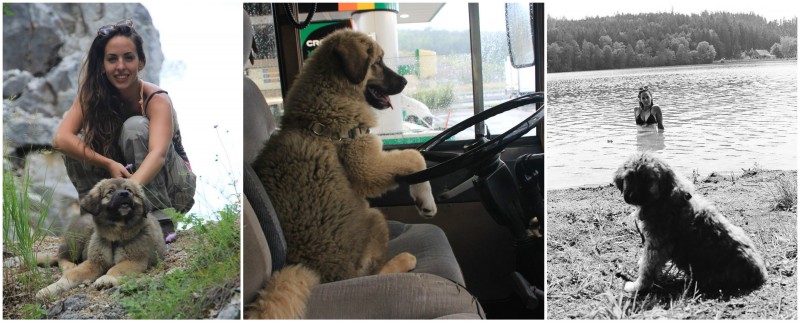 5- How do you organize your travels with Chuck?
Even if Chuck has been in a dozen countries, he has still not been out of European Union [NDLR: Guyana is a French department so even though it's located in South America, it is considered as part of the European Union]. So that was easier to travel with him. I just needed his passport with the vaccines up-to-date and a health certificate. But to cross other international borders, it is necessary to present a the results of a blood test neutralizing rabies virus. Without that document, you will be blocked and they can even euthanize your dog. Some countries require quarantine. It used to be for 40 days but now it's mostly 7 days of observation. Plus, I advise you to look for information about the local dog illnesses in the country that you visit. As for the plane, be careful, don't give sedatives to your dog. The altitude lowers the blood pressure and if you add sedatives to that effect, it can provoke death.
6- What advice could you give to people who hesitate to travel with their dog?
They should know that many hotels accept dogs at no extra charge. Plus, dogs are able to travel in aircraft and other transportation even if they are not used to it and it is much cheaper than we imagine (€ 10 for a flight Paris–Marseille and € 70 for a Paris-Cayenne). Finally, you don't need so many documents and no visa for your dog. It's pretty easy! In fact, you no longer have excuses for leaving your dog at home during your vacation!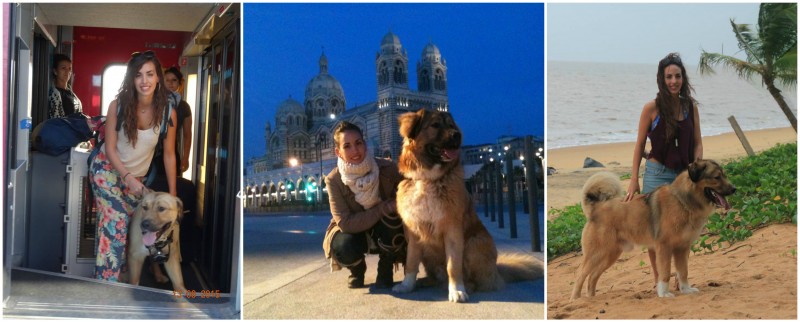 7- What is the best moment you shared with Chuck?
I have a whole list! Kayaking in Croatia with his cap between his ears, sleeping in a hut among the people of Hmong, taking the train and vomiting on the carpet, opening the parade of Miss Guyana, getting applauded and getting on TV, watching Ariane 5's launch on the beach while cuddling him…
8- What place do you want to explore with Chuck?
South America, then the USA and Oceania! A beautiful program for the next years!

9- Where do you currently live?
Today we live in South America, in Guyana. We have been there for 6 months with Chuck to finish my studies in Teaching.
10- What are your projects?
Next year, I'm going to teach in the heart of Amazonia, to the Wayanas people. You get to that village after 5 days of dugout canoe. Can you imagine, Chuck on a dugout canoe? In 3 years, I aim to take a break to visit South America, before moving out to New Caledonia. But that's in many years!
Learn more about Elise and Chuck on their Facebook page and their Instagram account.
Thanks to Elise for answering our questions and allowing us to publish her pictures!