To celebrate the 6-month birthday of the blog, we launch a new series called "Dog lady" in the Inspiration section. A Dog Lady is a young woman who, like me and maybe like you, has an extraordinary story with her dog. We met in real life or on social media. Their stories moved me, that's why I would like to share them with you.

The first Dog Lady that I want you to meet through 10 questions is Lucile, a canine educator. She contacted me on Facebook, then we organized 2 walks in Bordeaux, France with our dogs who are both tropical since they come from the Indian ocean. See, I'm not the only one to have adopted my dog on the other side of the world 🙂 There is their story…
1- LUCILE IS…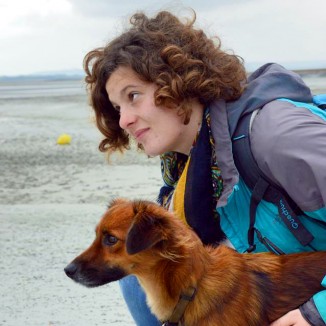 A 23 year-old woman who loves animals. She was raised in the countryside of Bordeaux, France, surrounded by dogs, cats, rabbits and other species. She studied  environment and started to work in a laboratory, but in 2014, she chose to change carreers and work in a field that she is passionate about: canine education.
.
2- SPEEDOU IS…
A 2 year-old Royal Bourbon (not to say small mixed dog from the streets). He is a bright, active and athletic dog who can be very cuddly and quiet indoors. His specialty: clowning! Speedou is a real circus dog while being a true citizen dog.
.
3- HOW DID YOU MEET SPEEDOU?
Speedou came into my life when I was changing carreers. I registered for a training in canine education so it was obvious that I needed a dog to put in practice what I would learn. Plus, I had finished mourning my first dog and was looking for a new companion. I fell under the spell of Speedou through a picture found on the Facebook page of an association. It was a no-brainer: I wanted this puppy who was living more than 10.000 km far away. I contacted the association but I needed to wait for someone traveling from La Reunion island to Paris or Bordeaux who would accept to bring Speedou with him.
4- DID YOUR FAMILY AND FRIENDS UNDERSTAND YOUR CHOICE?
At first, not at all! They repeated "There are plenty of shelters here… Why do you want to adopt a dog who lives 10.000 km away? How would you get him?" I couldn't make them understand that I only had that dog in mind, no one else. Now they are all mad about my Speedou!
5- TELL US MORE ABOUT THE ORGANIZATION THAT HELPED YOU ADOPT SPEEDOU…
Speedou was taken in by an association called ASSEZ (Allon Siouplé Sauver Ensemble les Zanimaux meaning "please let's save the animals together" in Creole) located on La Reunion island. At first, he was living in a host family while doing his medical tests and waiting for someone to bring him in France. ASSEZ is a small association that tries to save animals on the island with its few resources. They have plenty of pets to adopt and are often looking for voluntary travelers to bring the animals in France. They are also looking for host families in France and La Reunion.
6- WHAT ACTIVITY HAVE YOU CREATED?
I followed a training to get a Professional Certification as a canine educator and behaviourist, which is the only training officially recognized by the state. I graduated in June 2015 and created my small company in July 2015, called "L'Entre 2 pattes" (between 2 paws). I offer canine education and behaviour lessons, pet sitting, walks, in public parks or at home. I really want to help people to better understand their dogs so that they can have a better relationship. I certainly not regret my change of carreers! Of course I still don't make a living out of it but I love my job so much!

7- WHAT IS THE BEST MOMENT YOU SHARED WITH SPEEDOU?
Every single day with Speedou is an adventure! But the most unforgettable moment was the first time we met in real… It was so moving! Now he follows me everywhere, walks, hikes and comes with me on vacation. He is also a perfect citizen dog. In fact, we have only been living together for a year and a half and it has been a bless. Speedou is a smiling dog who brings joy wherever he goes.
8- WHAT PLACE WOULD YOU LIKE TO EXPLORE WITH SPEEDOU?
I'd like to drive around France with Speedou but for now we enjoy our walks and our hikes. We only travel through France during my vacation. We like to take our time.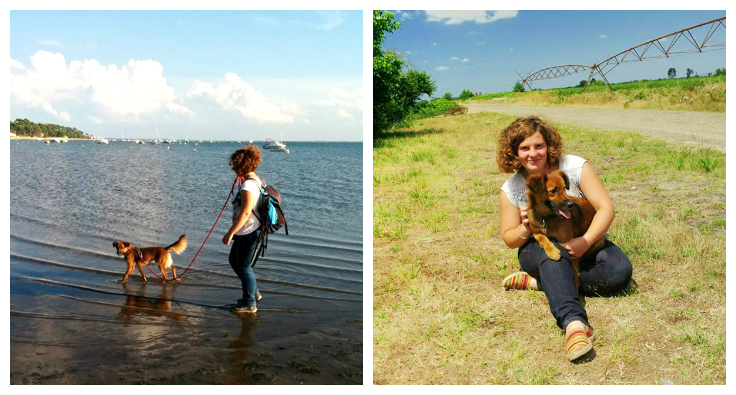 9- WHERE DO YOU CURRENTLY LIVE ?
We live in Gradignan, near Bordeaux, France. I guess we will stay here because I love this region! There are vineyards, forests, hills, rivers and the weather is nice.
10- WHAT ARE YOUR PROJECTS?
To go on doing what we love, teach Speedou some new stuff, and as for me try to make a living out of my activity. Maybe I could buy a field in a few years to host animals. It's a big project but I believe in it. Meanwhile, we will continue to help people with their pets.
*
MORE INFORMATION:
Website of "L'Entre 2 pattes" : www.lentre2pattes.fr – Facebook page
To learn more about the organization from La Reunion, visit their Facebook page
Thanks to Lucile for answering our questions and allowing us to publish her pictures!