Have you ever heard of Isabelle Eberhardt? Well, she is quite a fascinating woman!
She was born in Switzerland in 1877 into a family of Russian origin. Her passion for the Orient appeared very soon and she started to learn Arabic. In 1897, the 20 year-old girl moved out to French-colonized Algeria with her mother who died a few months later. In the meantime, Isabelle had converted to Islam. This mystical adventurer, who lived as a nomad in North Africa, was frequently disguised as a man and introduced herself as Mahmoud Saadi. In 1901, she married an Algerian soldier but she died 3 years later, at the age of 27, in a flash flood in the Algerian desert. A short yet intense life!
This enigmatic travel writer never stopped writing about the desert that she deeply loved, about her way of life that was totally against the tide, about vagrancy. She published a few articles and novels as a journalist in her life, though the major part of her work (more than 2,000 pages) has been published posthumously.
Among her most famous quotations is this one : "Now more than ever do I realize that I will never be content with a sedentary life, that I will always be haunted by thoughts of a sun-drenched elsewhere." (in The Nomad: The Diaries of Isabelle Eberhardt).
I discovered her writings by chance on the internet and felt so close to her way of thinking. Seldom have I read such an ode to loneliness, such a powerful invitation to travel, such a beautiful praise of vagrancy! I'd like to share this excerpt with you.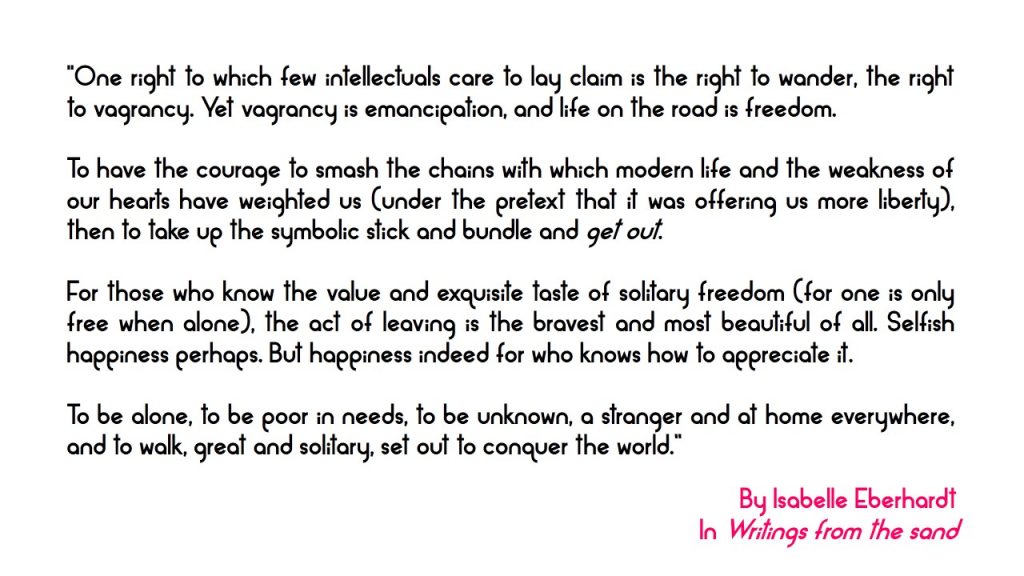 Does this text awaken your wanderlust?
Wanna learn more about Isabelle Eberhardt? Read her biography here.