My dog Shark is 5 years old. I have been travelling a lot with her and took many road trips. We explored Western France, Crete and more recently the Peloponnese in Greece. Obviously, I care deeply about my dog's safety, and I thought she was safe in the back seat of the car with a seat belt fixed to a regular dog harness. Well, I was wrong.
A few months ago, I read the story of Maggie which impulsed the foundation of the Center for Pet Safety, a non-profit research and consumer advocacy organization. On their website I came across a list of crash-test-certified products. I watched the videos and then realized that my dog was not safe at all in my car.
As my dog is large, I cannot put her in a crate or a carrier, so I need a safety harness. My preference goes to the Clickit Terrain Dog Harness by Sleepypod, one of the products crash tested and approved by the Center for Pet Safety. I contacted the brand, and they offered to send me one for free. Thanks Sleepypod for the opportunity to test it on my dog Shark and present it to you guys on my blog!
This post is sponsored by Sleepypod. I received a free Clickit Terrain Dog Safety Harness to write a fair and honest review. 

WHAT IS THE CLICKIT TERRAIN DOG SAFETY HARNESS BY SLEEPYPOD?
This product is a safety device designed to secure a pet in a vehicle and restrict harmful movement resulting from a sudden vehicle stop or frontal collision. It passed the 30mph PPRS safety standards (Pet Passenger Restraint System). Clickit Terrain is light and easy to use without sacrificing safety. New shock absorbing webbing sleeves work with a broad padded vest and unique infinity loop design for more safety in the car. It is the world's safest dog travel harness, designed in California by Sleepypod, a brand of safe pet travel experts.
Features
Strength tested for use as a walking harness
Crash tested for use as a car seat belt
Energy absorbing vest
Reflective for night use
Shock absorbing sleeves
Available in 4 sizes (small, medium, large, extra large)
Available in 4 colors (jet black, orange, strawberry red, robin egg blue)
Optional accessories
Terrain Saddlebag Pack: dog backpack
S clip: seatbelt locking clip
Buckle shield: seatbelt buckle protector
🔶 Discover all the Sleepypod products for pet safety on the USA site, the Canada site (shipping from Ontario) or the Europe site (shipping from Ireland). You can also find information on their Facebook page and Instagram account. 
MY REVIEW ABOUT THE CLICKIT TERRAIN SAFETY DOG HARNESS
As recommended by Sleepypod, I took the time to get my dog acclimated to the harness. Obviously, in the beginning, Shark felt uncomfortable wearing this new item, but day after day she adopted it. I walked her quite a few times, then I took her on a ride. When we went on a road trip in mainland Greece in mid-July 2019, Shark was totally used to it.
What I really love about this product is its double use as a walking harness and a car seat belt. Plus, it is easy and quick to put the seat belt through the harness. I also appreciate the document with clear instuctions sent with the product. Shark can lie down on the rear seat and be comfortable during our trips. Now, I feel serene when I take a ride with my dog. I totally recommend the Clickit Terrain harness by Sleepypod for safer dog travel.🚙🐶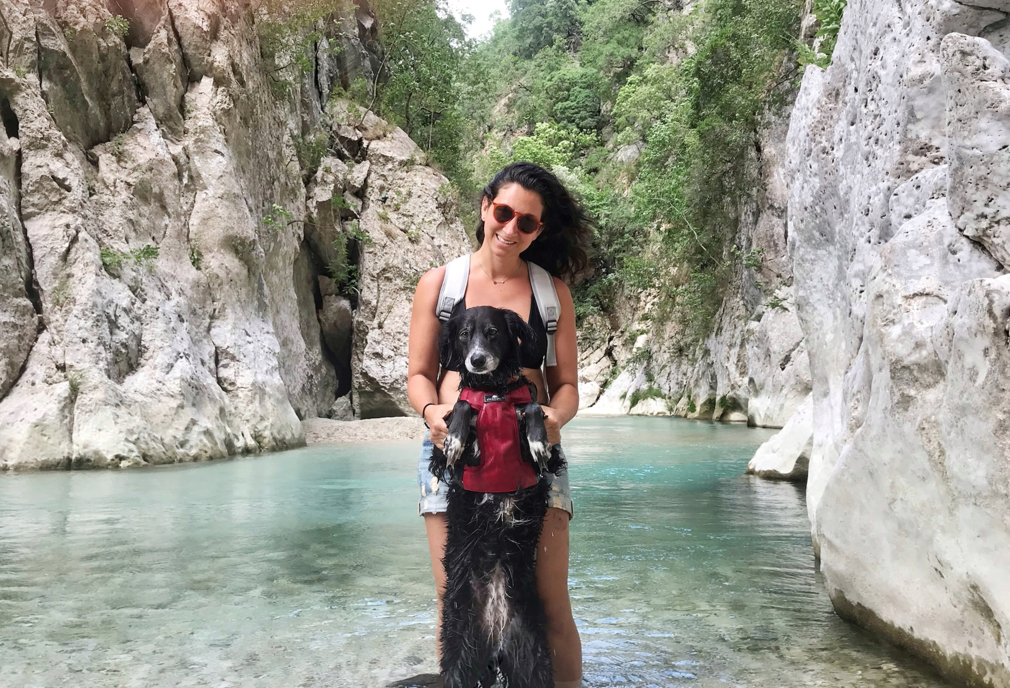 USEFUL VIDEOS ABOUT PET SAFETY  
FOLLOW US @thetropicaldog on