I have been traveling with Shark for more than a year now: from the Indian ocean to North Africa, then Europe and finally South America. During this year, my dog and I traveled together on 9 flights: 3 national flights (1-2 hours each), 4 international flights (3-4 hours each) and 2 intercontinental flights (12 hours each). So yes, I have some experience in traveling with a dog by air 🙂 Many of you asked me for tips and some may consider taking their dog along on their next vacation. So finally here it is! All you need to know before traveling with your dog by air.
PART 2: THE TRAVEL
1- VISIT YOUR VET
You need to visit your vet within 8 or 10 days before the travel (depending on each airline's requirement) to get a health certificate for your dog. This document is mandatory to travel with your dog by air. It basically certifies that your animal is in good health and able to travel. Make sure the document is written in the language of the country or at least in English. There is an international model of health certificate that I advise you to use. You can buy it here.
2- THE DAY BEFORE
The day before the travel,make sure that you have all the documents of your dog in your bag. Personally, I always scan these documents and send to my email in case I loose them. I also keep copies in my luggage. Always double check the container before leaving home to make sure nothing is missing (fixed water bowl, zip ties to strengthen the door, favorite toy, blanket, sticker with your information).
3- AT THE AIRPORT
Make sure to arrive at the airport well in advance. Airlines generally ask passengers traveling with a pet to check-in 3 hours before an international flight and 2 hours before a national flight. Some airports have special counters for people traveling with a pet, others don't. Anyway, just ask at the check-in counter of your flight for the procedure and you will get all the information.
By experience, I can tell you that you may have to go to 3 different counters: the first to check-in your dog and yourself, the second to pay the transport fee for your dog, the third to board your dog. So now, to save some time, I always go to the airline's agency before the travel to pay the transport fee for my dog. You can also pay through the call center of the airline. They will ask you for the weight of the dog and the container.
Like everybody, I used to think that pets were drugged when traveling on hold. Well that is a legend. Shark never took anything before a flight on the advice of my vet but also because most airlines refuse to board an unconscious or sleepy pet. Always ask your vet for advice, especially if your dog is nervous.
Last but not least, make sure you have enough time to walk your dog a last time before bringing him to the boarding gate. Don't forget to put water in the bowl of the container. And of course a last hug and some nice words to reassure him 🙂

4- ON BOARD

As soon as I am on board, I ALWAYS ask the crew to check if my dog was boarded and I wait for the confirmation. Then I ask if the pilot is informed that a pet is traveling in the hold. I may sound like a control freak but can you imagine what would happen to your pet if they don't board it on the same flight? Waiting for hours or days in an airport where probably nobody would take care of him. That's why I take no risk.
5- ARRIVAL
Once you land at your destination, the container will generally arrive on the oversized luggage conveyer belt. Get your dog's documentation ready for the control. In some countries, they check the documents quickly and let you go; in others you need to go to a special office for inspection; finally some countries have quarantine rules. Be sure to meet the requirements of the country you are visiting to avoid issues at arrival.
Once you are outside the airport, take a moment to walk your dog and give him water. He can be a dehydrated especially after a long flight. Don't worry if he doesn't make his necessities right away. Some hugs and nice words to reassure him, then tou're both ready to enjoy your vacation!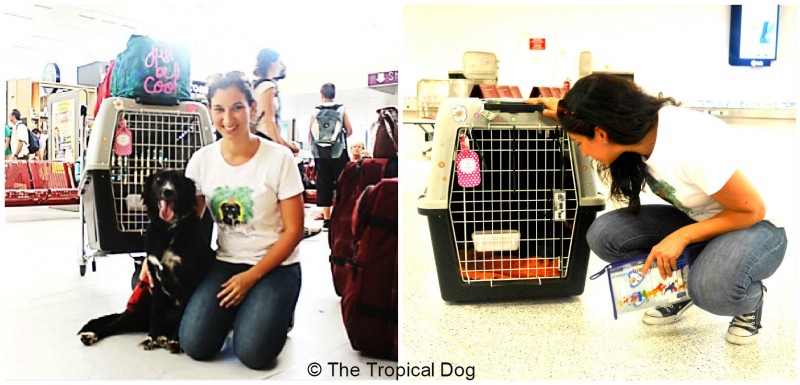 Photos & contents @ The Tropical Dog 2015-2017.