Summer is here! Like humans, pets need some products and accessories for this season. Some are necessary for the well-being of our dogs, others are practical while a few are only for fun. There go my 10 Summer essentials for dogs, the ones that Shark can't live without in summertime.
***
My favorite backpack (see the picture above) : the Essential Backpack by Miomojo. This Italian brand creates vegan, cruelty-free and eco-friendly products. 10% of every purchase go directly to helping animals. That's my favorite bag brand since 2015! Discover all the designs on the Miomojo e-shop.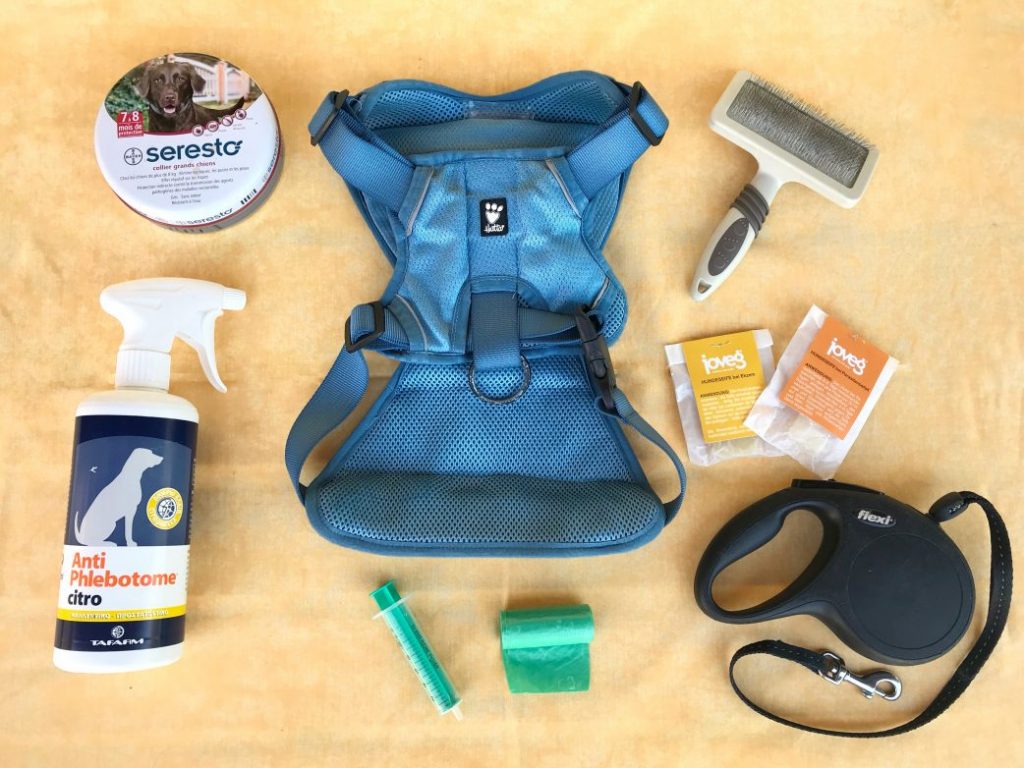 1 – A protection against parasites
With hot temperatures come ticks, mosquitoes and other bad parasites. Therefore, it's very important to protect your animal from insects that can transmit serious diseases. Shark wears the large dog collar by Seresto from April to October. It protects from ticks and fleas during 7 to 8 months. It's water-resistant so it's ideal to spend your vacation at the sea with your dog! I also use an anti-sand flies spray with citronella on a daily basis. I vaporize Shark at sunset because sand flies get active during Summer nights. These insects are vectors of a fatal disease called leishmaniasis canina in Mediterranean countries. 
2- A brush for dogs
In Summer, dogs loose a lot of hair. If your dog has long hair like Shark, you may be collecting lots of bristle tufts at home. The use of a special brush saves me a lot of vacuuming  time.
3 – A cooling harness  
Hurtta is a Finnish brand of outdoor products for dogs. I had a crush for the HURTTA COOLING HARNESS that helps your dog keep cool in hot temperatures. I used it for the first time during my road trip in Western Crete to protect Shark from the heat. Water evaporating from the wet harness and the detachable water pocket ensure a fast cooling effect. The waterproof pocket, to be filled with cold water, is located in the chest area of the harness for a powerful cooling effect. You can easily hang your leash to the O-ring at the back of the harness. It's very useful to walk your dog in summertime. This product is available in 3 sizes and 2 colors (blue and purple) on croq.fr, a French website that sells pet products. Get a 10% discount on your first order using the code FIRST (valid until 01/01/19). 

4 – Soap for dogs
In Summer, I swim with Shark almost everyday. Therefore, I need to wash her regularly with an appropriate product. I use dog soaps made by the German brand Joveg. They are natural, vegan and handmade. My favorite is the DEFENSE soap by Joveg because it's made with thyme to repel insects. There are also soaps for dogs with sensitive skin. Their small size is perfect for those who travel with their pet like me. Plus, the package is eco-friendly.
5 – Leashes
Like many of you, I have lots of leashes. In Summer, I love the flashy ones (pink and yellow). The 5-meter Flexi leash is also one of my essentials because it allows my dog to explore a wider perimeter when I walk her. It's not very convenient for urban strolls, but it's ideal to walk in parks, on the beach and less crowded places, while keeping your dog under control. Choose the leash according to your dog's weight.
6 – A needle-free syringe
I always have one in Shark's bag in case she suffers from a digestive trouble during our vacation. The needle-free syringe makes it easier to give a medicine (liquid or powder) to a pet. You can buy it in every drugstore.
7 – Poo bag rolls
For obvious reasons… I always have a roll in  my purse and another in the car. They are very practical!
8 – A security belt for dogs 
Shark loves car rides. So I bought a security belt for dogs and fix it to her harness (never to the collar). Plus, it's adjustable and prevents your dog from moving inside the car or jump from the window.
9 – Colored collars
I love the contrast of colored collars on Shark's black coat. Multicolor and Summer patterns are my favorite. I find them in pet shops but also in women accessories shops. In fact, I often use headbands and scarves as dog collars. I also had a crush for the Green Blazer collar by Geopetric. This American brand creates vegan and eco-friendly accessories for pets and their humans. It's possible to personalize them by engraving your pet's name. Plus, with ever purchase, you contribute to financing an animal rescue & adoption program.
10 – A shark fin for dogs 
This is clearly just for fun! As my dog's name is Shark, I couldn't resist to this shark fin for dogs created by the Californian brand Labrashark. It's available in 3 sizes and various colors. Shark always makes a hit on the beach!

« What are your Summer essentials for dogs? Any product to recommend?"
If you have any question, leave me a comment below. 
FOLLOW US ON          
Photos & contents @ The Tropical Dog 2015-2018