Do you wonder how to organize a road trip around the Peloponnese with a dog? I spent one week on this wonderful Greek peninsula with my dog Shark and my two best friends, the French blogger Camille in Bordeaux and Fanny. They both arrived by air in Athens. Camille from Bordeaux in France and Fanny from Casablanca in Morocco. There go some useful information. Let's go!
How to organize a road trip around the Peloponnese with a dog?
THE ITINERARY OF OUR ROAD TRIP
The Peloponnese is the largest peninsula in Greece. Its connected to the mainland by the famous Corinth canal. This region is filled with beaches, historical sites, vibrant cities, picturesque villages, mountains and olive tree fields. Greece is not only about islands. This mediterranean country hides a lot of treasures in the Peloponnese.
Athens – Ziria : 2 h
Ziria – Olympia : 1 h 50
Olympia – Pylos : 1 h 45
Pylos – Stoupa beach : 1 h 55
Stoupa beach – Monemvasia : 2 h 20
Monemvasia – Sparte : 1 h 20
Sparte – Nauplio : 1 h 40
Nauplio – Athens: 1 h 50
WHAT TO VISIT IN THE  PELOPONNESE?
There are lots of things to do during a road trip around the Peloponnese with a dog. I travelled over there in the end of June to avoid high season (July & August) and heat.
List of places to discover on the road:
Voidokilia beach: it is a gorgeous sand beach in an arch shape. One of the most beautiful beaches of the Peloponnese! 
The city of Pylos: lovely stroll through the charming alleys and the traditional port. 
Methoni castle: we had a real crush for these medieval ruins by the sea! Dogs are allowed on leash and for free. 
The village and the castle of Koroni: a peaceful village and ruins of a Venitian castle overlooking the sea. Free access and dogs allowed.
Kardamyli 
Gythio 
Monemvasia 
The city of Nauplio : Greeks consider it as one of the most romantic cities in the country.
The seaside resort of Tolo 
Note about the archeological sites in Greece
In Greece (as in the majority of countries), pets are not allowed in archeological sites. The Peloponnese hosts many of them, especially the village of Olympia, Epidauros theatre and the Byzantine city of Mystras. While my friends visited these places, I walked my dog in the beautiful surroundings.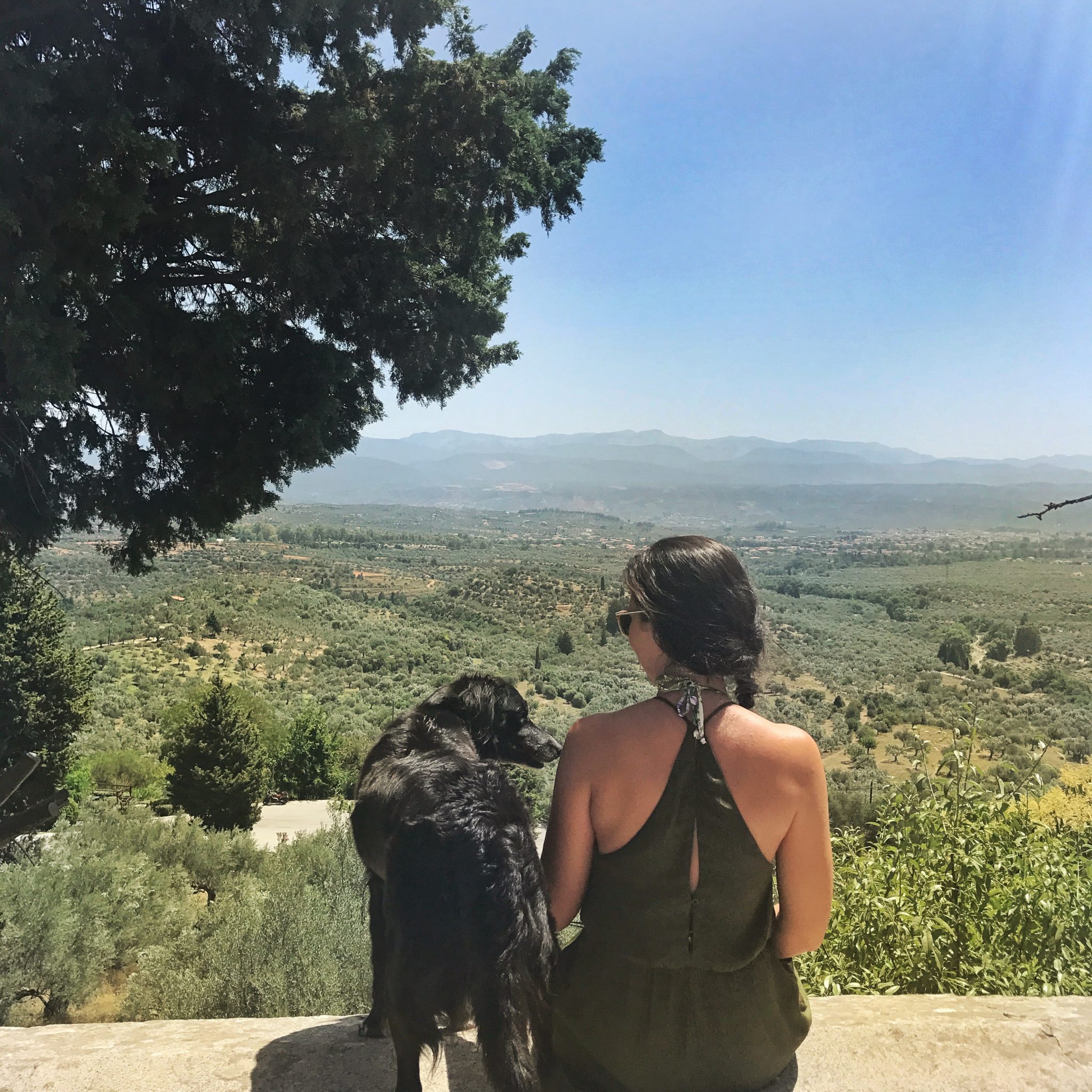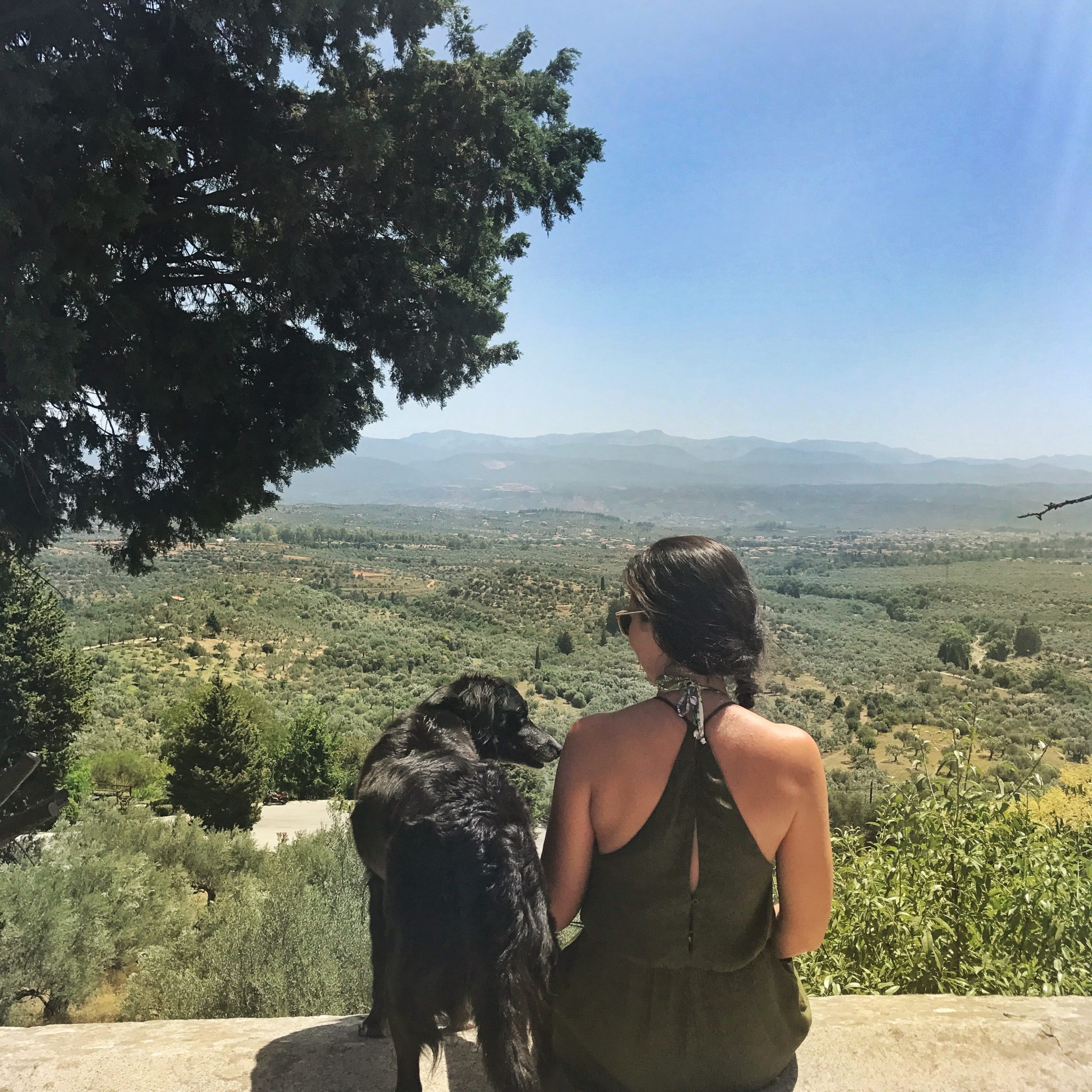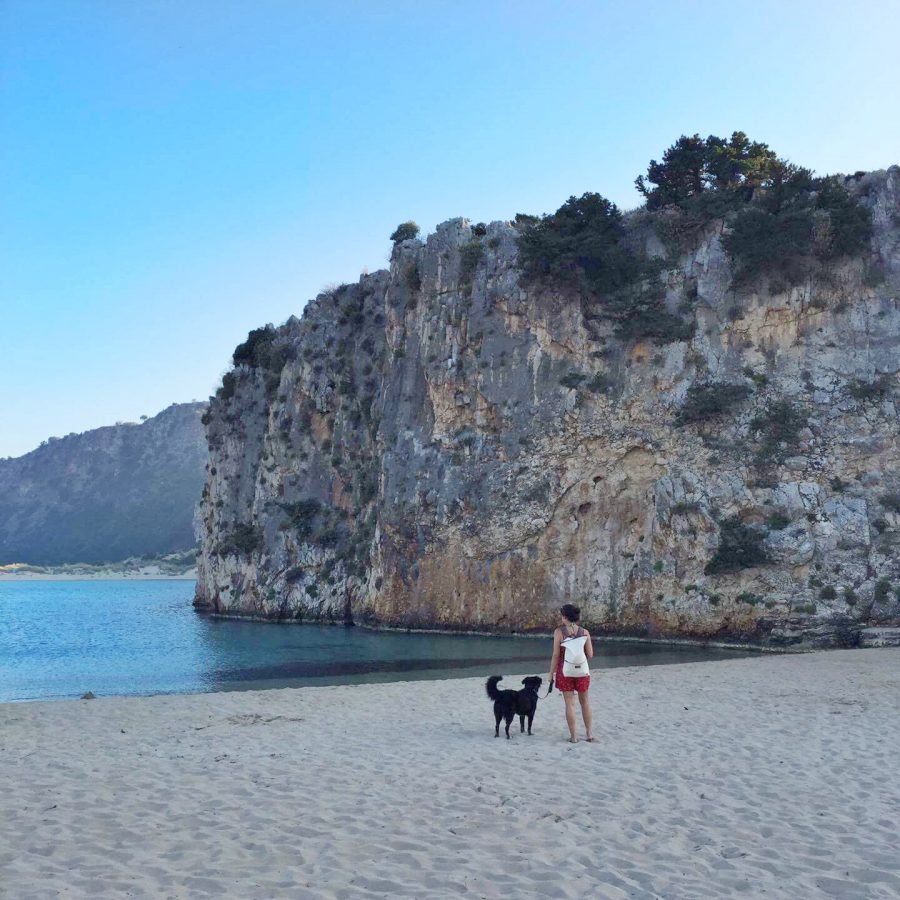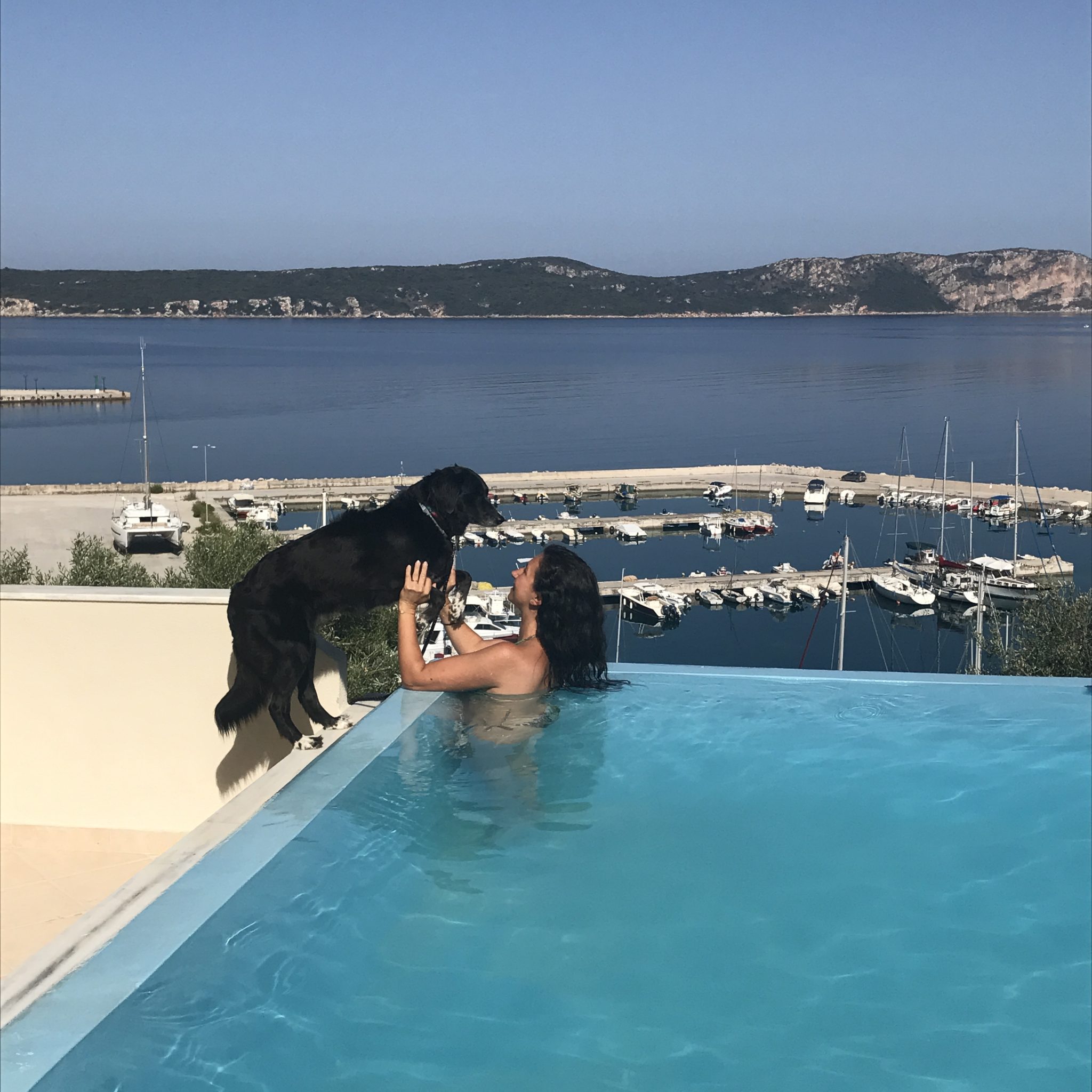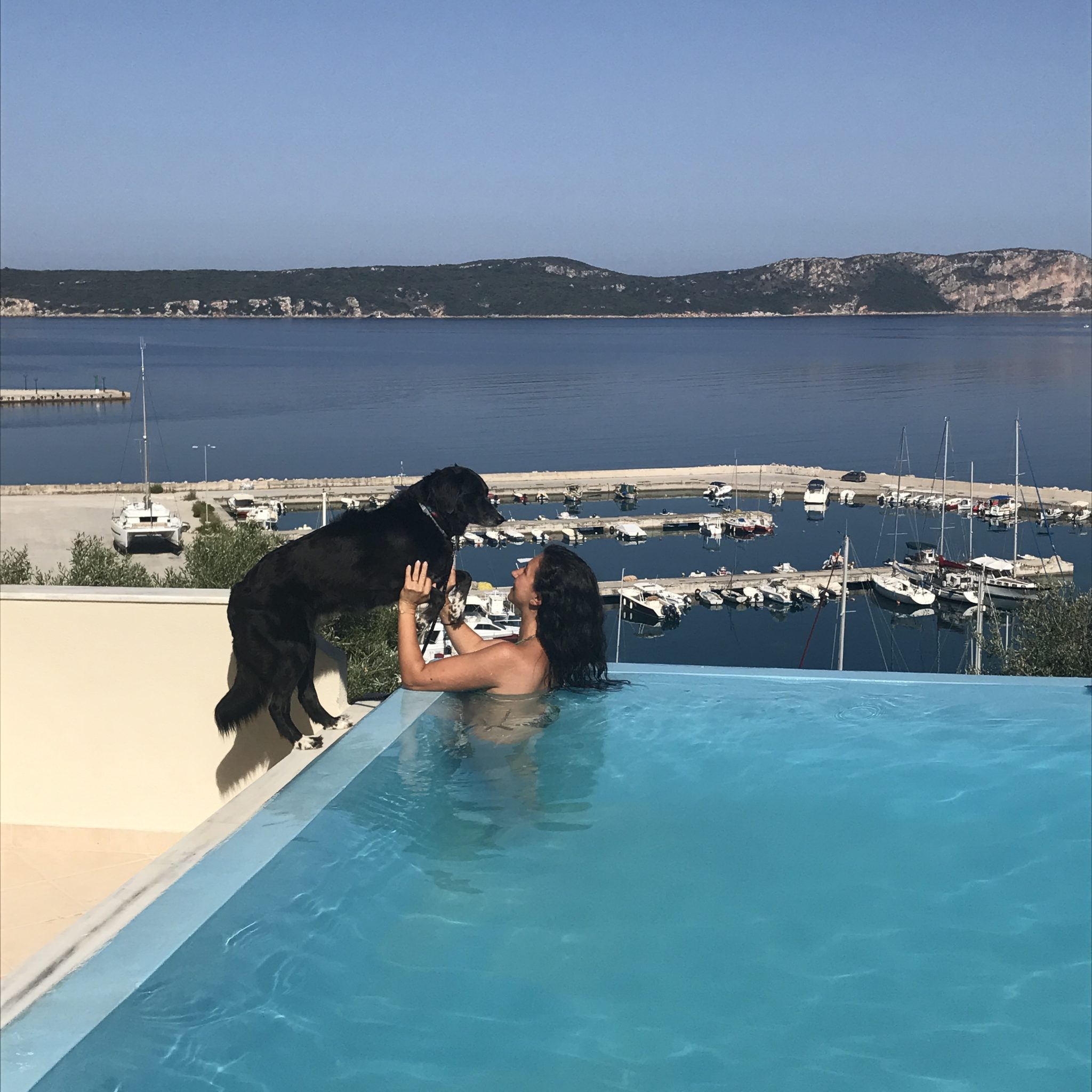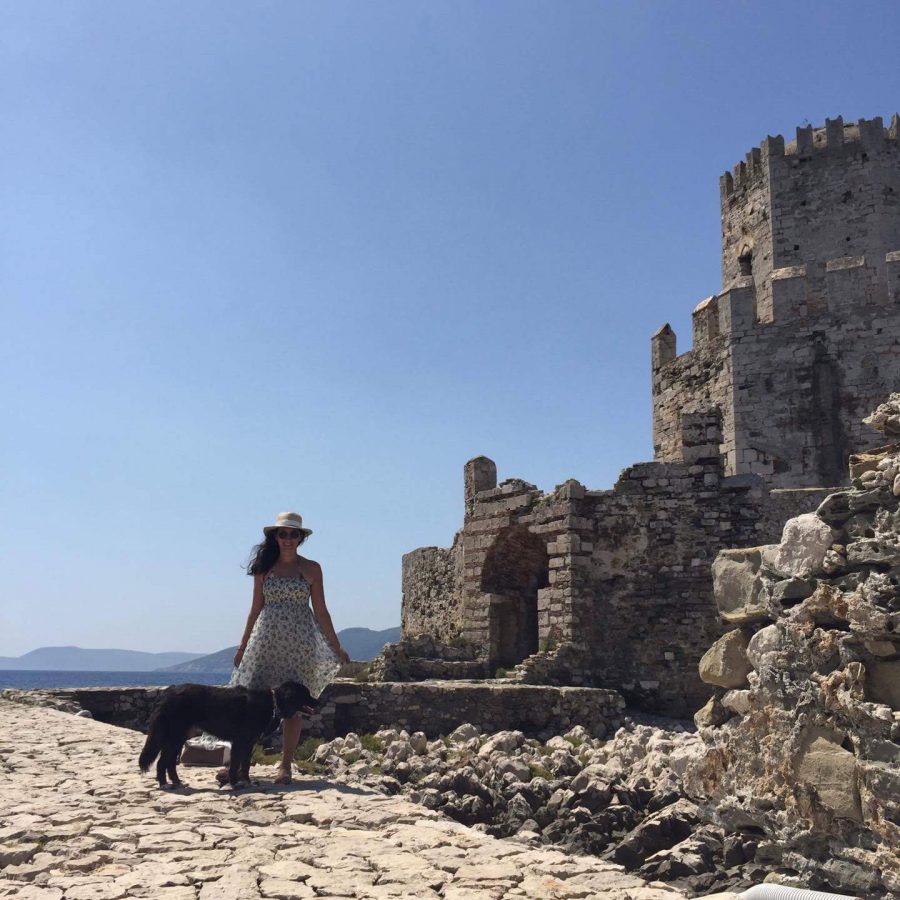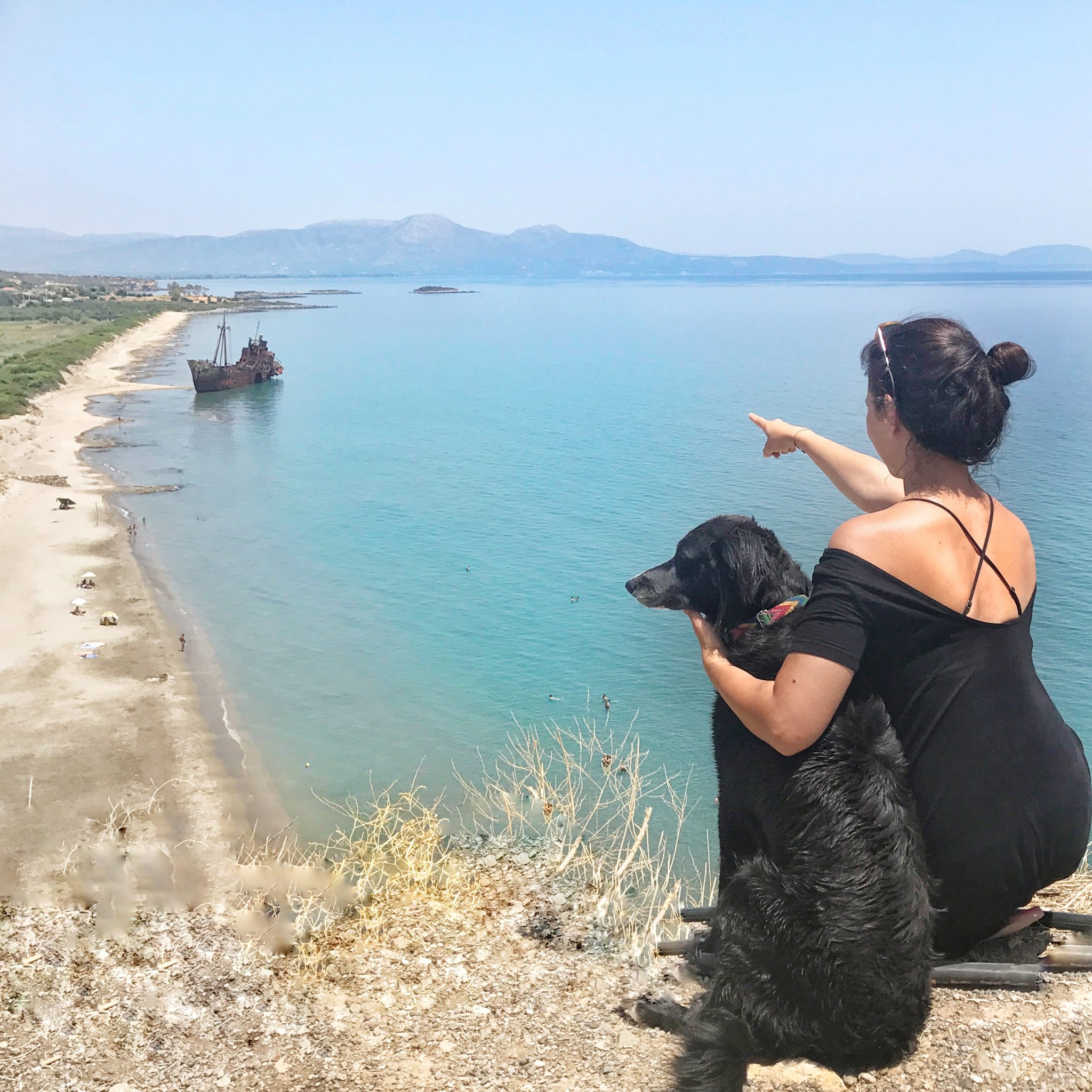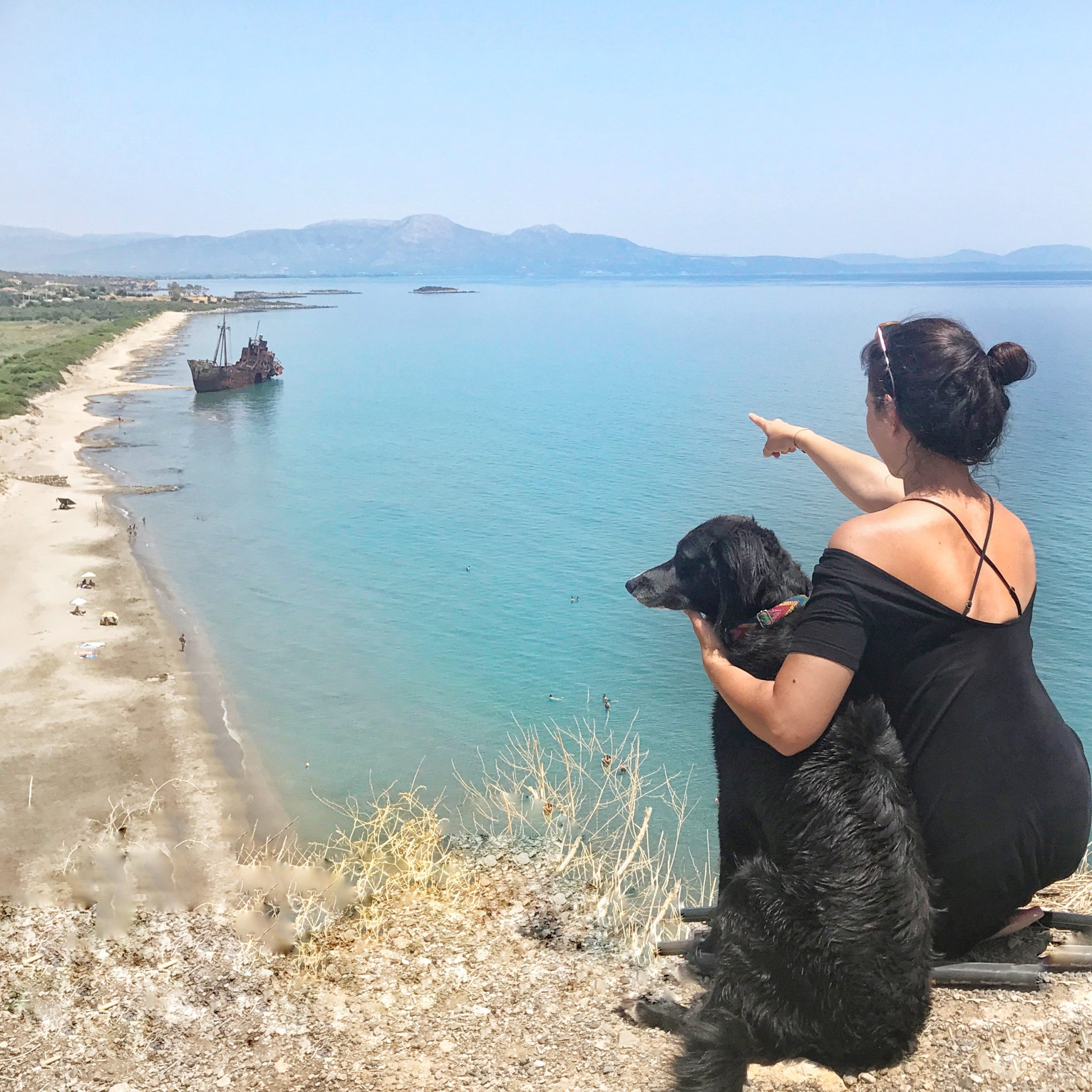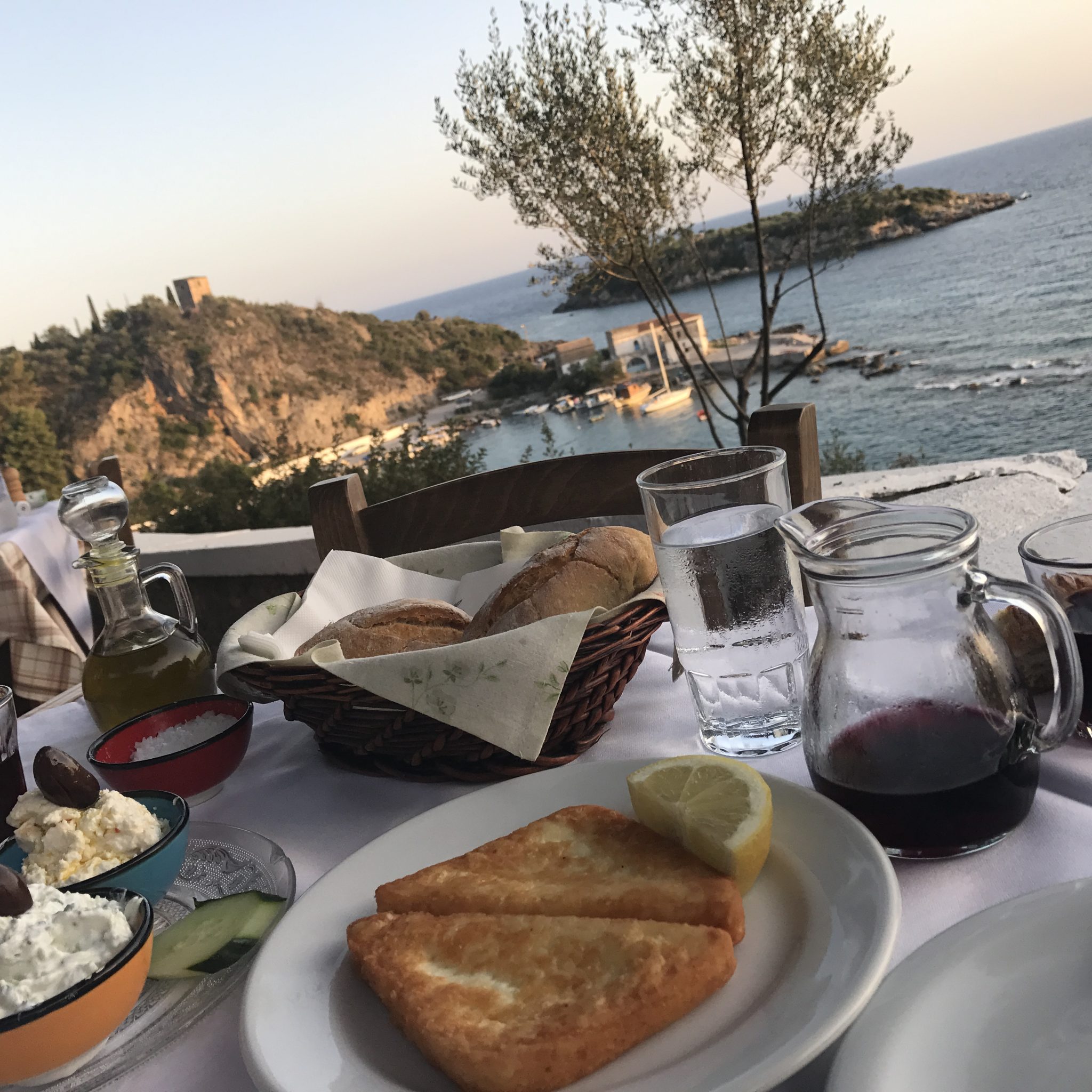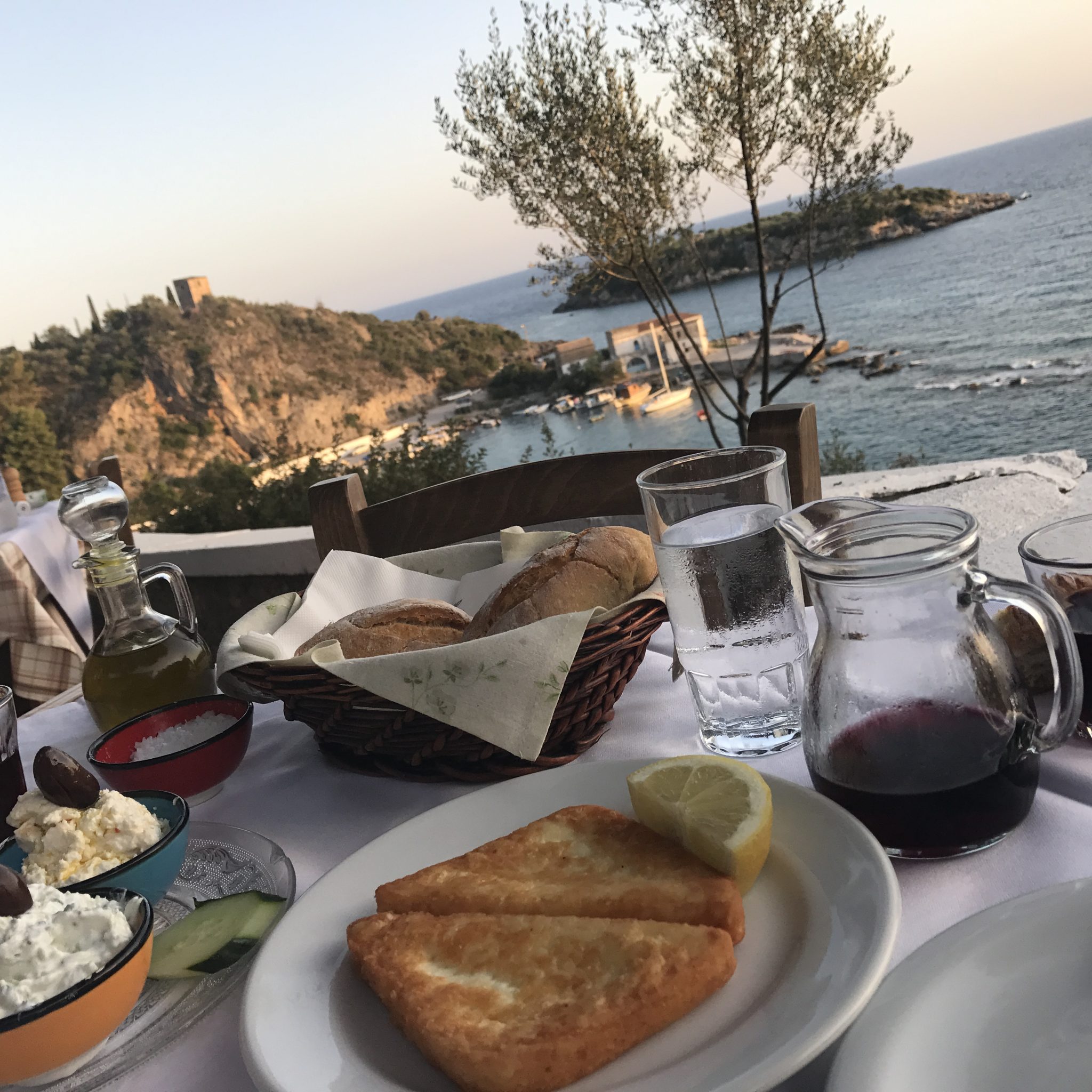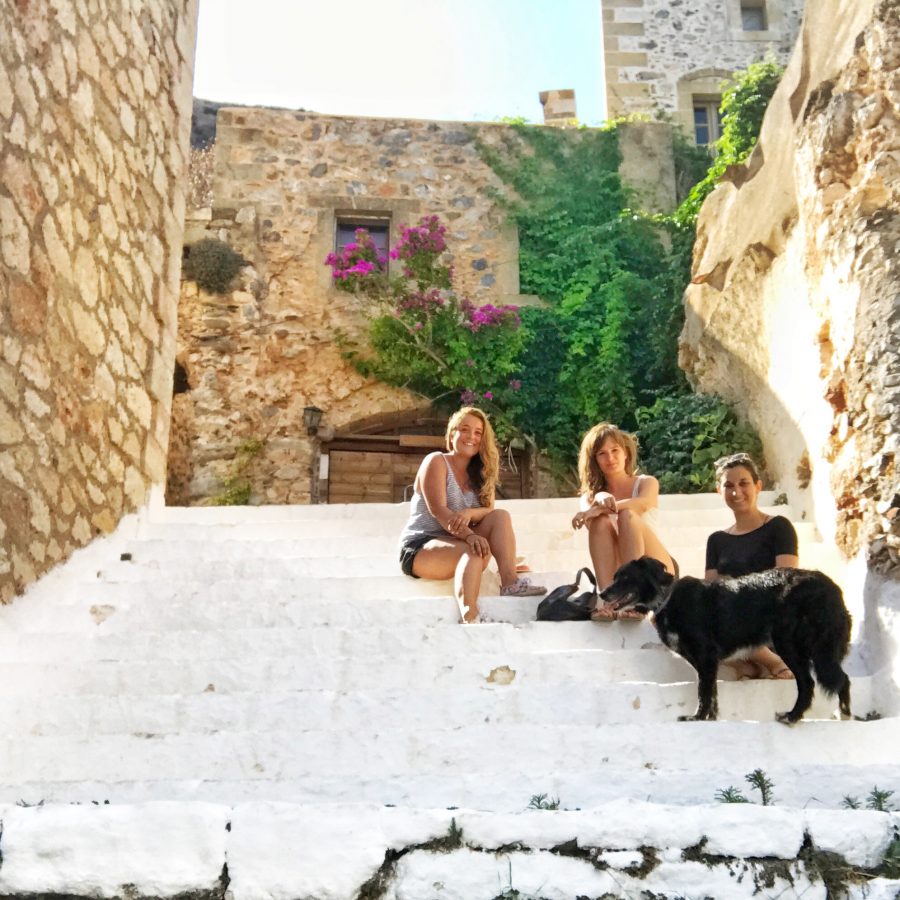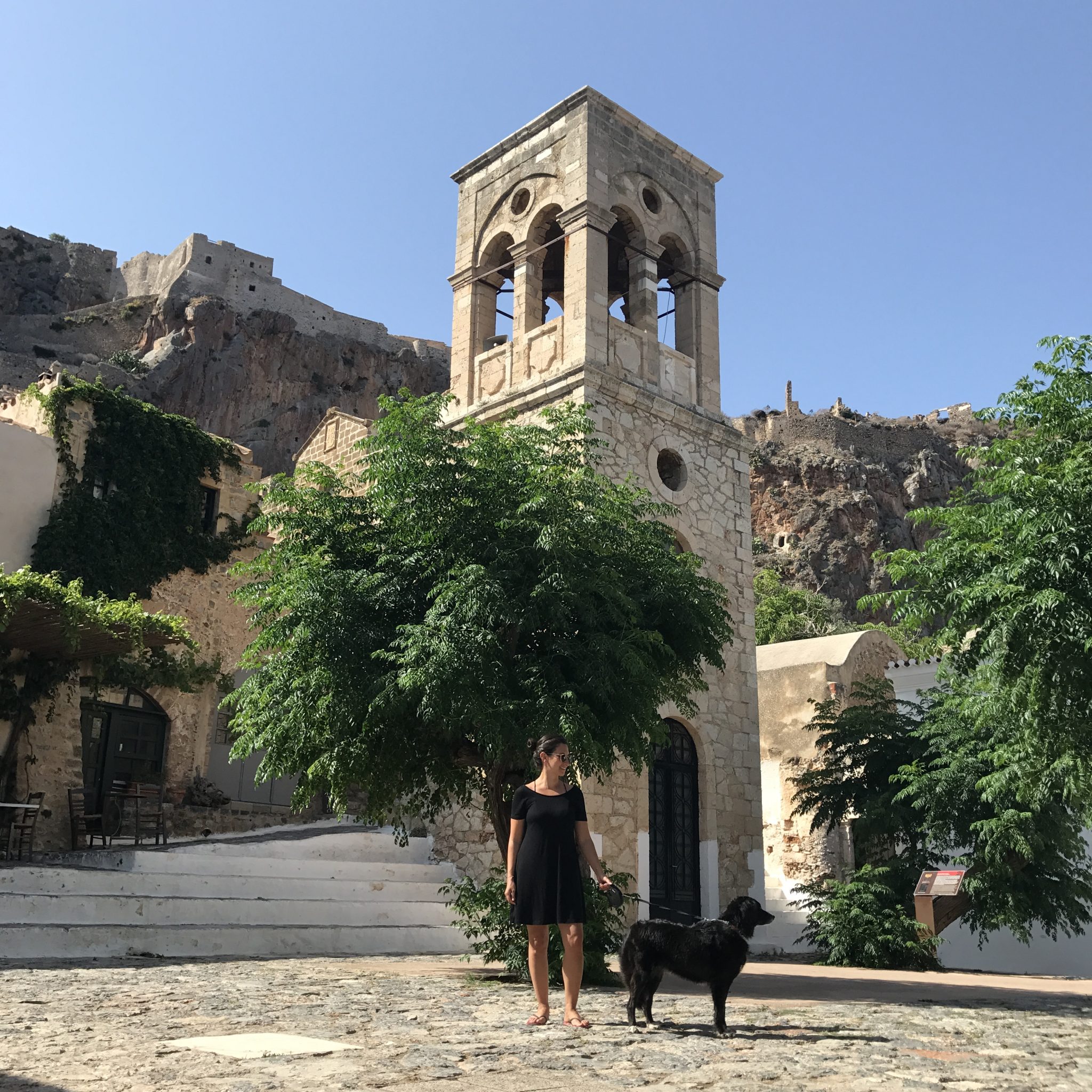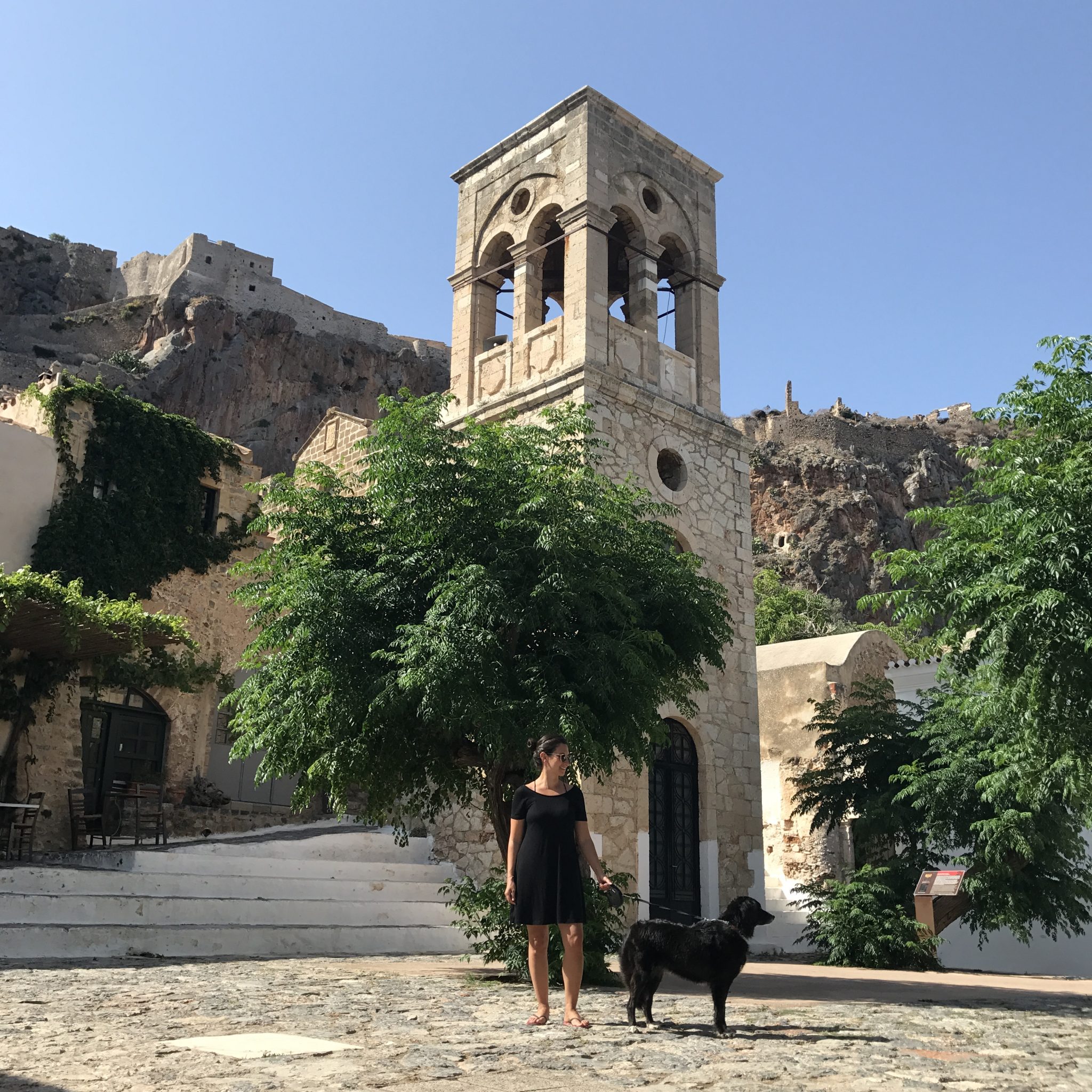 FIND ACCOMMODATION IN GREECE WITH A DOG
As usual, I looked for dog friendly hotels, guesthouses and appartments on Booking. By the way, it appears among my 6 helpful websites to plan a trip with a dog. My main criteria were the following:
pets allowed for free (even large ones like Shark)
free WI-FI
free parking
TIP: first time on Booking ? Use my referral link to win 15 euros (I win 15 euros too) 😉
DOG FRIENDLY ACCOMMODATION IN THE PELOPONNESE
There go the accommodation where we stayed with my friends and my dog in the Peloponnese:
🔶The below links are sponsored. This means that if you make a booking through one of them, Booking gives me 25% of its commission. This has absolutelu no impact on the price you pay. You just contribute to maintain this blog active. For example, if you make a 65-euro booking, I get around 3 euros. Thanks to all of you who will do it!
GO TO THE RESTAURANT WITH A DOG IN GREECE
In Greece, like in many countries, pets are not allowed inside restaurants. It is the law but it is not a real problem. Indeed, most of Greek restaurants has a beautiful outdoor space. I recommand you to always ask the waiter if you can sit with your pet. Dogs must be on leash and not bother other clients.
There goes a list of restaurants where we enjoyed a delicious meal in the outdoors with Shark:
Mythos Restaurant in Olympia (small family-run restaurant away from touristic shops)
Dioskouri Café in Kardamyli (traditional restaurant with a great shadowed terrasse overlooking the sea)
Maria's Kafenes in Stoupa (excellent place for a tasty breakfast and warm welcome)
Taverna Matoula in Monemvasia (romantic atmosphere and typical Greek dishes)
🔶Read my travel tips for a Summer stay in Greece with your dog.
Ready to organize your road trip around the Peloponnese with your dog? 
If you have any question, leace me a comment below. 
FOLLOW US ON        
Photos & contents @ The Tropical Dog 2019