A few weeks ago, I spent 5 days in Lefkada, a beautiful greek island, and I was very pleased to notice that many tourists had brought their dog along, and not only small ones. As I am myself discovering the joys (a lot) and pains (a little) of traveling with a large dog, I would like to share with you some doggy travel tips about Greece: the rights and duties of dog owners in Greece when it comes to vacation on the beach, but also health tips to keep your companion safe in summertime.

WHERE CAN I GO WITH MY DOG?
The Greek law states clearly that dogs are allowed in every outdoor public space as long as they are on a leash, upon the owner's control and with their health book (or passport) available. Personally, out of politeness I always ask if pets are accepted both in outdoor and indoor cafes and restaurants. Practically, in outdoor places, there is no problem. But your dog won't be accepted in most indoor restaurants for sanitary reasons.
CAN I TAKE MY DOG TO THE BEACH?
Yes, the law allows dog owners to take their pet to any beach in Greece as long as you respect the rules above (leash, control, health book). With hot temperatures around the country, it is important to keep our dogs in mind when it comes to keeping cool. Don't forget to bring a bottle of fresh water, keep them hydrated and always find a spot in the shade for them. Dogs, like humans, can suffer from dehydration and sunstroke.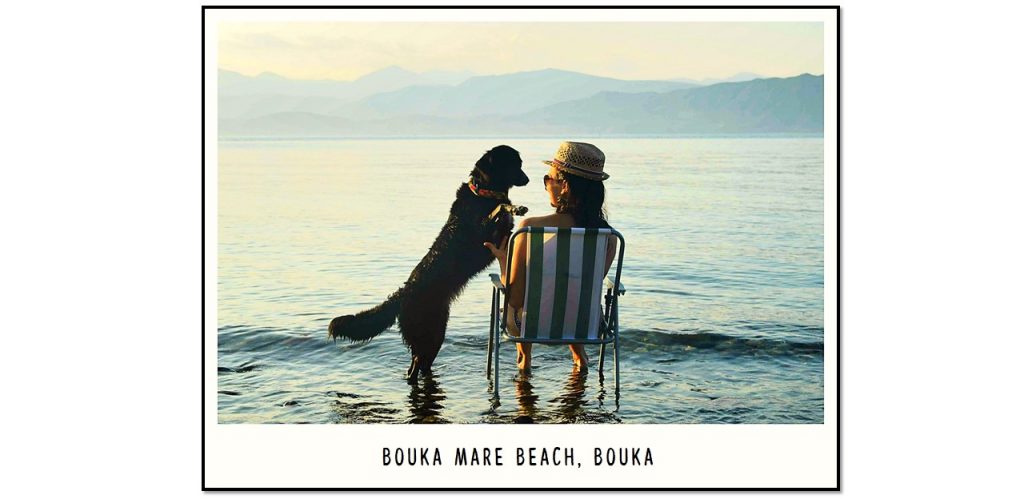 CAN I LET MY DOG SWIM IN THE SEA?
The best activity you can do with your dog in summertime or hot weather is swimming. Luckily, dogs are allowed to swim in the sea but you should go far from other swimmers. By experience, I know that everyone is not comfortable swimming next to pets. There will always be someone to tell you that they don't want your dog in the sea. If you let your dog swim in a crowded beach, you risk to get a fine. Therefore, just take your dog to a more isolated side of the beach, far away from people. Your dog will have more space and you will get peace of mind. Make sure no water enters in your dog's ears. They are very sensitive and can develop an ear infection (otitis). If they shake their head a lot, scratch their ears and seem uncomfortable, go to the vet.
WHAT ARE MY DUTIES?
As dog owners, we are responsible for our pets. We need to have them under control and make sure they don't disturb other people. We also have to clean after our dogs by picking up their poop and pouring some water on their wee. This is the law so we risk to pay a fine if we don't. As a responsible dog owner, remember to take plastic bags and a bottle of water with you each time that you walk your dog.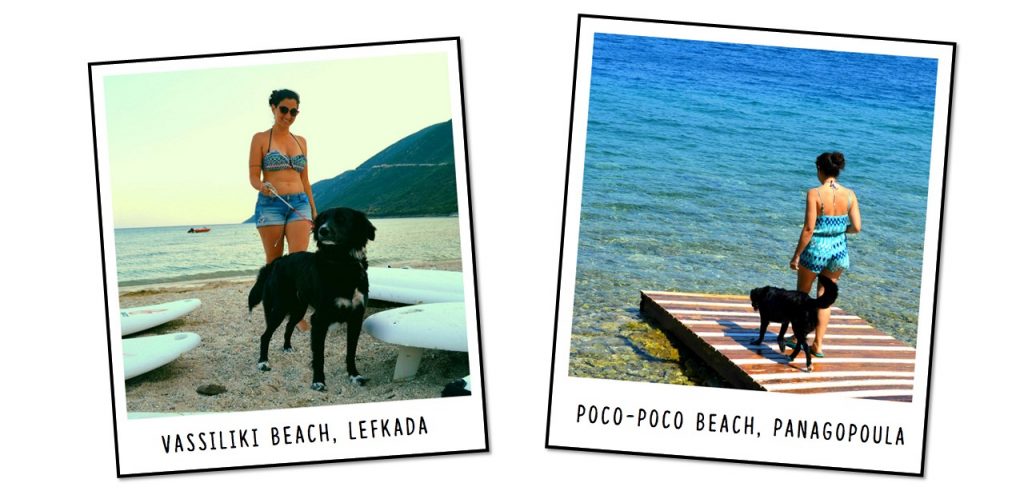 DOES MY DOG NEED SPECIAL CARE IN THE SUMMER?
It sounds silly but keep in mind that your dog doesn't wear shoes. Pavement, metal, cement and asphalt get extremely hot in the summer sun. You don't feel it because you wear shoes, but your dog's pads can get burned. Best advice is to be mindful of hot surfaces and walk your dog on the cool side of the street or in the grass. Besides, never leave your dog in a parked car. The car retains more heat than an open area, even if it is in the shade. Plus, a dog may get overexcited or panic, making dehydration more likely.
WHAT ABOUT INSECT BITES?
In summertime, insect bites and stings are common occurrences faced by all dog owners. Fleas, ticks, mosquitoes and also gnats (small flies) are your enemies. Some of them can cause inflammation and lead to infection, others can cause severe diseases. For example, mosquitoes can transmit heartworm (dirofilaria) while gnats are responsible for kala-azar (leishmaniasis). Dogs living or traveling in a Mediterranean country like Greece are more exposed to these two severe diseases. Preventing bug bites is an essential component of a safe summer vacation with your four-legged companion.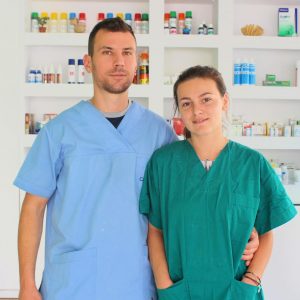 MORE INFORMATION:
You can read the whole text of the law 4235/2014 (Α'32) in Greek here.
DOGGY THANKS TO: Iro Papouli and Vaggelis Nouskalis, our official vets in Greece.
They helped us write this article and gave us good advice! These two young vets are very professional and passionate about their job. Their office is located in Aigio (Eisodion 18) but they also perform home visits. If you look for pet supplies, they sell pet food, leashes, collars, and of course medicines. Tel: (+30) 26910 68583.
Photos & contents @ The Tropical Dog 2015-2018.