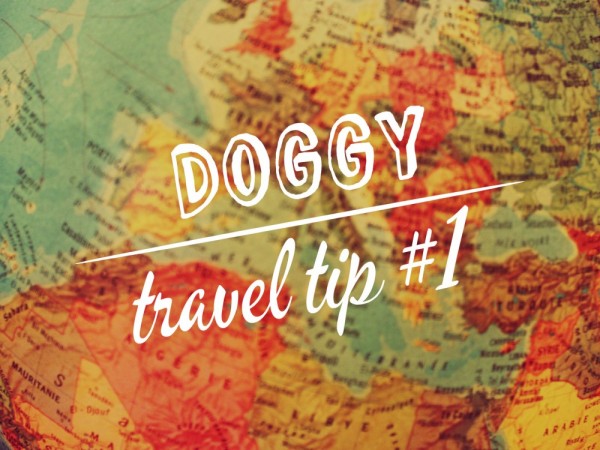 Do you want to bring your dog along with you when you travel abroad? That's great! But you must take some steps in order to make sure your dog will cross borders without incident. The first step is to make an appointment with your veterinarian as soon as possible.
There are a lot of things you need to look at since you need to meet the conditions required by both the airline and the IATA (International Air Transport Association), but also comply with sanitary regulations that vary from a country to another.
Well don't panic… I also felt quite lost the first time, but I did my research. As a result, I share with you the 5 things you should check with your veterinarian before planning your travels with your dog. Some countries don't require all of them. But if you have these 5 things done, you'll get peace of mind whatever your destination is.
1- Vaccination record
Your animal must have all required vaccines in order and up-to-date. The most important one is the anti-rabies vaccine. Keep in mind that a dog cannot be vaccinated before it is 6 to 8 weeks old. That's why airlines don't allow the transport of puppies less than 10 weeks old.
 2- Passport
If you live within the European Union, your dog should also possess a European passport, provided and completed by an authorized veterinarian. The passport identifies your pet and certifies that it is properly vaccinated. If you live in another country, just ask your vet if a pet passport exists.
3- Electronic microchip
All dogs traveling to or within the European Union must be identified by an electronic microchip. It is a radio-frequency identification implant that provides permanent ID for your dog. Microchips carry only a unique identification number and are injected under the loose skin between the shoulder blades. It doesn't hurt. The process doesn't even require anesthetic and takes only a few seconds.
4- Sanitary certificate
A veterinary examination before travel will tell you if your pet is healthy enough to travel and if he or she is free of any contagious diseases. Most airlines and destination countries require that pet carriers hold an original sanitary certificate (also called health certificate) issued by an official veterinarian within 7 to 10 days before the departure. Make sure to worm your dog and administer an anti flea and tick treatment.
5- Blood test neutralizing rabies virus
This test aims to evaluate the efficiency of the anti-rabies vaccine so it needs to be done at least 30 days after the anti-rabies vaccination. The good news is that once it's done, it's valid for life! You just need to keep the vaccination up-to-date (once a year). Be careful, some countries require blood tests at least 6 months before departure.
 * * *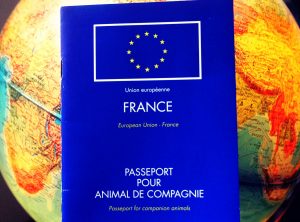 Please note: for some countries, additional sanitary conditions apply. The IATA website is very useful and provides information about pet transport regulations in every country. Check it out! You can also check with the embassy of your destination country.
I strongly advise you not to cross borders without these 5 things done. Animals without the necessary certificates will be returned to place of origin or put into quarantine at your expenses (that's expensive). They also risk to be euthanized. Do you really want to take the risk?
Dr. Philippe Brun is Shark's official vet in France. His office is in Bordeaux. He and his assistant Marine have always been nice and professional. Dr Brun provided Shark's passport and did his blood test neutralizing rabies virus. Adress: 302 avenue Thiers, 33100 Bordeaux. Phone number: 05 56 32 36 61.