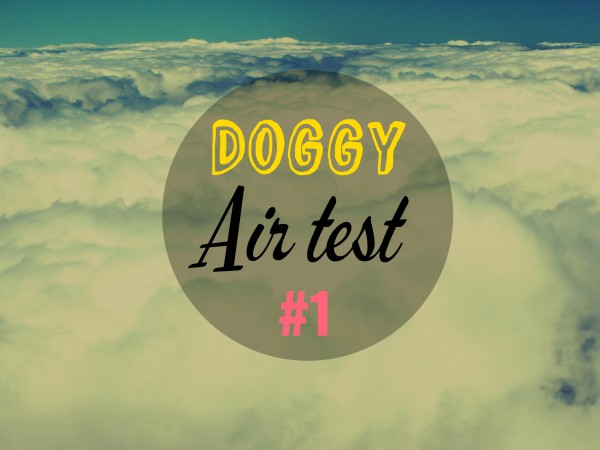 Have you already traveled by plane with a medium or big dog? If so, you know how stressful it is to let your beloved pet go into the hold of an aircraft.
If you have never traveled with your dog or plan to do it, if you are wondering which airline is better when it comes to pet transport, well you're in the right place.
As my dog and I travel quite a lot, we try different airlines and compare their pet policies and services. Our aim is to showcase which ones are better in terms of rates and service.
For the first Doggy Air Test, we put AIR FRANCE, the national French airline, on the test stand.
---

Shark and I traveled on an Air France flight from Mauritius to Paris in January 2015. A 12-hour flight is extremely long. But when you spend 12 hours stressed out, wondering if you will find your dog alive at the arrival, believe me, it seems truly endless. But Shark made it to France!
Below, you will find all you need to know if you plan to travel with your dog on an Air France flight. Then, you will find out our tips and our evaluation.
TRANSPORT RULES:
IN THE CABIN: dogs weighing less than 8 kg / 17 lb (including the transport bag or container) and guide dogs regardless of their weight. 1 animal maximum per passenger.
IN THE HOLD: dogs weighing more than 8 kg / 17 lb and up to a maximum weight of 75 kg / 165.3 lb. 3 animals maximum per passenger (this number may be restricted, depending on the aircraft type).
BY FREIGHT: if the dog and its container weigh more than 75 kg / 165 lb; if the dog is traveling to a country that authorizes animal transport only by freight.
Category 1 dogs, as defined by the French Ministry of Agriculture, Food and Forestry, are not permitted for transport in the cabin, or as baggage or cargo. Category 2-defined dogs are permitted for transport on cargo flights provided by Air France.
Since October 2014, it is forbidden to transport snub-nosed animals in the hold on Air France flights because they can suffer from breathing difficulties in high-stress situations. Snub-nosed dogs include: Affenpinscher, Boston Terrier, Boxer (all breeds), Brussels Griffon, Bulldog (all breeds), Cane Corso, English Toy Spaniel, French Mastiff, Japanese Spaniel, Lhassa Apso, Mastiff (all breeds), Pekingese, Presa Canario, Pug (all breeds), Shih Tzu, Shar Pei, Tibetan Spaniel.
RATES FOR 2017:
Flights in metropolitan France: 60€ in the hold – 30€ in the cabin
Flights in Europe or between Europe and North Africa (Morocco, Algeria, Tunisia) or Israel: 100€ in the hold –  55€ in the cabin
Flights between metropolitan France and Cayenne, Fort-de-France, Pointe-à-Pitre, Saint-Denis (Réunion): 75€ in the hold – 55€ in the cabin
Flights within the Caribbean: 75€ in the hold – 30 € in the cabin (to/from Miami 55 €)
Other flights: 200€ in the hold – 125€ in the cabin
You must pay these fees at the airport. They are calculated based on a departure flight and for a single container (holder or bag). If your trip includes one or more connecting flights, the fee is calculated based on your departure country and your final destination.
TIPS:
I strongly recommend that you contact the airline before booking your trip to make sure your dog can travel with you. Specify their weight, age and breed. Ask them if there is any restriction to pet transport to your destination.
Once you make sure you can travel with your dog, book your trip and send an email to Air France to inform them that you will travel with a dog. You can't book your dog's trip on their website.
Make sure your dog's container is approved by the IATA (International Air Transport Association). You must respect the conditions of transport indicated in this document: travel container size, materials, locking mechanisms, etc. Print and complete this form before arriving at the airport.
The airline requests you to arrive at the check-in counter 3 hours before departure for an intercontinental flight, or 2 hours before a flight departing within France or Europe. Seriously, if you want your dog to travel on the same flight as you, you need to arrive very early.
Once you get on the aircraft, kindly ask a crew member to check if your dog has been put in the hold. I also always ask them to make sure the pilot is informed that an animal is traveling in the hold.
EVALUATION:
  Excellent experience
I really appreciated the whole service provided by Air France as to pet transport. First, they have very clear rules explained in details on their website which is also full of useful information. Second, the fee you pay for your pet transport is fair since it is proportional to the distance traveled and not the weight of your dog, as is the case in many airlines. Third, when I was on board, I felt reassured by a crew member who took the time to explain to me the traveling conditions of an animal in the hold. Therefore, I totally recommend choosing Air France for your next trip with your dog !
***
Read ALL MY TIPS TO TRAVEL TO TRAVEL WITH YOUR DOG BY AIR!
***
Feel free to ask me a question or share your experience 😉
Photos & contents @ The Tropical Dog 2015-2017.