If you are looking for a peaceful and laidback place to stay in on Isla Grande with your dog, go to the eco-hotel El Hamaquero!
El Hamaquero is an eco-hotel located on the South-west of Isla Grande. It has a large cabin which can accommodate 6 people on simple beds and 2 small cabins perfect for couples. The confort is rustic but everything is clean. The toilets and the kitchen are basic and outdoors. You should know though that since there is no fresh water on the island. They bring it by boat from Cartagena so you need to use it with a lot of moderation.
The cabins are located on a field just in front of the turquoise sea. One of the things we loved the most was our morning swim. Wake up, put your swimming suit, walk a few meters and dive in the crystal clear waters… What a pleasant way to save fresh water! Oh, and as the name of the hotel suggests, the place has quite a lot of hammocks! Just choose one and relax 🙂
As the owner lives in Bogota, the eco-hotel is managed by a super nice local family. The mother is responsible of the general intendance and cooks tasty local dishes while the father organizes the boat trips to Cartagena and the excursions on the island. As to the kids, they make some beautiful jewels with pearls. Good to know: you can choose to sleep on a bed, in a hammock or you can also camp on the field, depending on your budget.
Shark and I really felt at home in eco-hotel El Hamaquero! Be ready to meet some other dogs, pigs, chickens, peacocks, parrots…!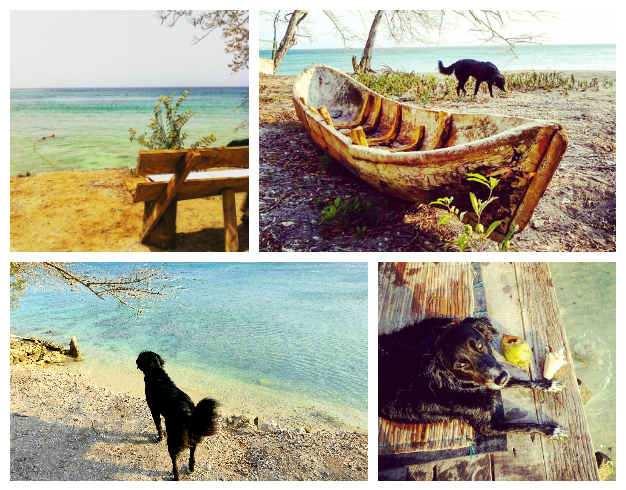 MORE INFORMATION:
Visit the website of El Hamaquero for more information about the hotel's services and the prices
Visit Booking for more pictures and client's comments.
RELATED POSTS: ISLA GRANDE #1: HOW TO GET THERE WITH A DOG
ISLA GRANDE #3: WHAT TO VISIT WITH A DOG
ISLA GRANDE #4: WHERE TO RELAX WITH A DOG

Photos & contents @ The Tropical Dog 2015-2017.